Valuations for social media players get a lot a press, but social media's cousin online retailing is having a moment of its own. Online retailers with alternative business models offer a particularly interesting perspective on valuation.
Fueled by large inventory liquidations during the Great Recession, flash sale sites such as Gilt Groupe, Rue La La, Zulily, and Ideeli grew revenue quickly. The websites offer limited time, member-only sales that allow them to move inventory much faster than traditional retailers.
The rapid evolution of the flash sale business made these retailers attractive targets and IPO candidates and it didn't take long for suitors to come knocking. In 2011 Nordstrom purchased HauteLook in a deal valued at $195 million ($180 million in stock and up to $90 million in earn out), Rue La La has changed hands several times, and this year Groupon purchased Ideeli for $43 million. Zulily had a successful IPO last year and Gilt Groupe is rumored to go public sometime this year.

Zulily is currently trading at more than 6x revenue, and has proven to be a fairly volatile stock. Since its IPO at $39 a share in November 2013, the stock has ranged from a low of $28.75 to a high of $73.50, and close at $38.18 on May 27, 2014.
Nordstrom recognized a $25 million impairment on HauteLook in 2011. While Nordstrom reported a 27% increase in HauteLook's revenues last fiscal year, the reporting unit's profitability remains unclear.
Despite being one of the first movers in the flash sale business, Gilt Groupe reportedly has yet to turn a profit, and Groupon's purchase of Ideeli represented a substantial discount to the $107 million in funding Ideeli secured from its original investors.
Groupon's purchase price allocation for Ideeli may be the most telling valuation indicator for these retailers. At $7.1 million, Ideeli's relationships with brands (suppliers) were its most valuable intangible asset.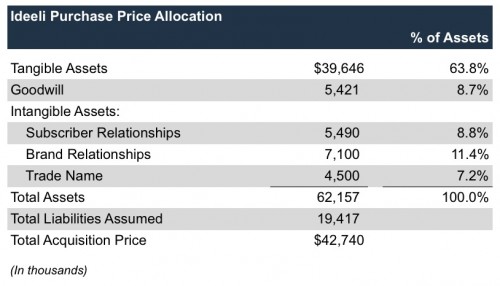 While website members are indeed a crucial asset to the flash sale model, much like a traditional department store, the flash sale retailers are ultimately dependent on other brands and designers to supply them with inventory. As the economy has improved and inventory liquidations have become less frequent, a retailer's access to discounted inventory has become an increasingly important asset. Whether or not the flash sale retailers can evolve beyond their current business model remains to be seen.
---
Mercer Capital's Financial Reporting Blog
Mercer Capital monitors the latest financial reporting news relevant to CFOs and financial managers. The Financial Reporting Blog is updated weekly. Follow us on Twitter at @MercerFairValue.