The worldwide market for orthopedic products in 2016 was estimated to be nearly $48.2 billion, an increase of 3.2% from 2015. Demographics will continue to be a key driver of industry expansion, with population growth and rapidly-growing international markets driving the need for musculoskeletal care. Increasing life spans, the increasing prevalence to remain active, and increasing obesity rates will impact the number of individuals with joints subject to degeneration, thereby increasing demand for orthopedic/joint replacement procedures.
Subspecialties
Orthopedic devices are commonly divided into several primary sectors that correspond to the major subspecialties within the orthopedic field. These subspecialties include:
Large Joints: Implants, instruments, and surgical assistance systems to replace or revise failed knee and hip joints. Generally dominated by large medical device players (Zimmer, Stryker, J&J, Smith & Nephew).
Spine: Implants and instruments and surgical assistance systems used in the treatment of degenerative disc disease, herniated discs, scoliosis, vertebral fractures, or other spinal conditions. Devices used include pedicle screws, plates, rods, interbody cages, artificial discs. Medtronic and J&J are market leaders, with other smaller players (Nuvasive, Globus Medical) controlling sizable share.
Trauma: Implants and instruments for internal and external use (plates, screws, nails, pins, wires, staples, external fixators). May be referred to as fracture repair. Market led by large incumbents, some smaller players focusing on extremities.
Arthroscopy/Soft Tissue Repair: Arthroscopy devices include arthroscopic visualization products, fluid management systems, manual instruments, and powered instruments, while soft tissue repair includes devices utilized in cruciate ligament, hip, meniscus, and shoulder fixation. Also referred to as "Sports Medicine." Arthrex and Smith & Nephew have over 50% market share, with J&J and Stryker also controlling a large portion of the total market.
Orthobiologics: Biologic products such as allograft tissue, synthetic bone grafts, autologous platelet/ plasma systems, and cell-based repair systems. Products utilized in other orthopedic segment settings. Low market concentration relative to other orthopedic segments.
Extremity: Implants, instruments, and surgical assistance systems to replace or revise failed joints in the shoulder, elbow, wrist, ankle and digits. Market led by both large incumbents and small niche players, such as Wright Medical, Exactech, and Orthofix.
Product Segmentation
Knee, hip, and spine represent the largest medical device segment based on total revenue. These segments are generally controlled by larger, diversified industry participants who are able to leverage their size and efficiencies to capture market share at relatively lower costs. The remaining segments, particularly biologics, arthroscopy, and extremities are smaller pieces of the total market but represent growth opportunities for both small niche players and larger device manufacturers.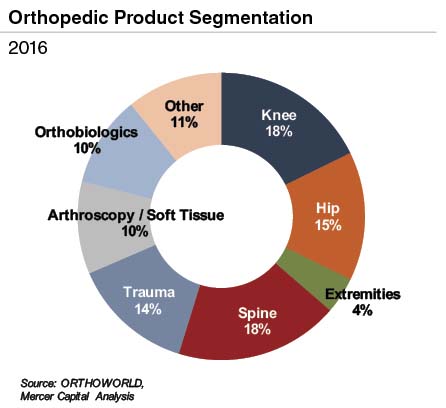 Major Companies & Market Shares
Five multi-national companies currently dominate the orthopedic industry, each with approximately $2 billion or more in annual sales and combined revenue of nearly $29 billion (59% total share). This represents a slight decline over the last several years, falling from 61% total market share in 2015 and 63% in 2014.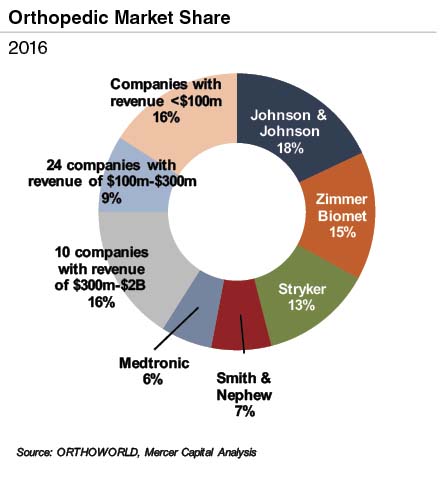 Global Trends
The worldwide orthopedics market is expected to grow at an annualized rate of 4.0% between 2016 and 2022, slower than the average growth expected for the medical device industry overall (5.1%). Certain challenges are expected to weigh on the orthopedic device market over the next several years. Increased competition between manufacturers for market share in a mature market will continue to put downward pressure on prices, along with new reimbursement regimes in the U.S. and in Europe.[1]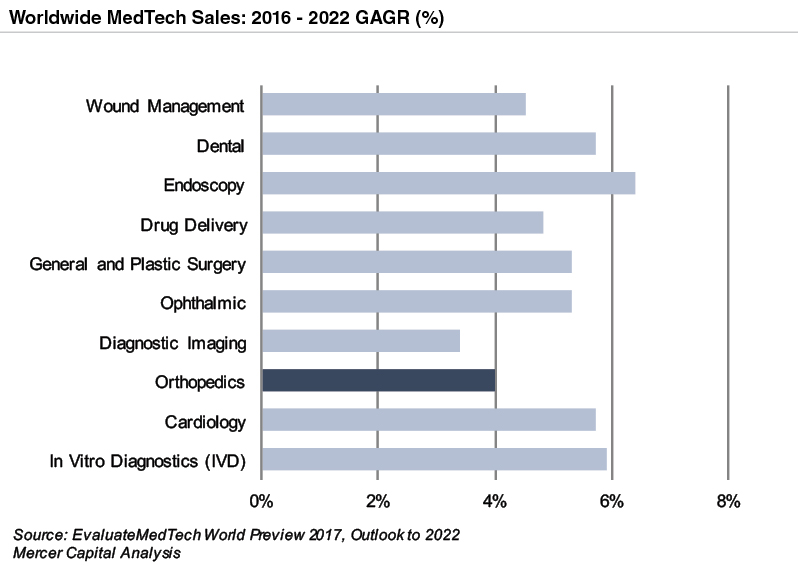 While overall orthopedic growth is projected to grow slower than other device segments, certain areas within orthopedics are expected to outperform over the next several years. The maturing hip (2.3%), spine (2.0%), and knee (3.7%) markets saw slower growth in 2016, while the extremities (8.0%) and arthroscopy / soft tissue segments (5.6%) realized more robust sales growth over the year. Momentum in these niche segments is expected to continue over the next several years as manufacturers look to diversify into these underserved and untapped device markets.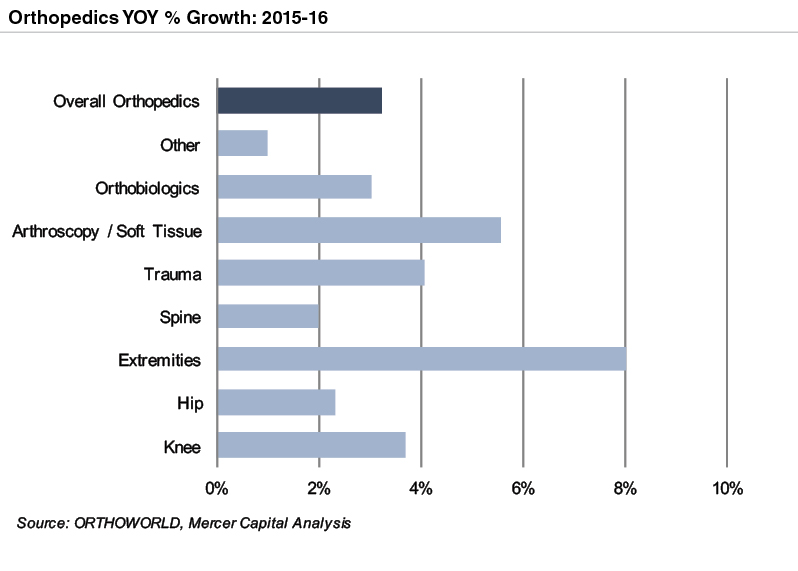 [1] Growth estimated per "EvaluateMedTech" utilizes sales data differing from total sales data cited previously. Growth rates utilized for perspective.