June 2020 SAAR
A Lackluster Month, But a Move in the Right Direction
After SAAR (a measure of Light-Weight Vehicle Sales: Auto and Light Trucks) rebounded in May, June's results seem to pale in comparison. However, with SAAR coming in at just over 13 million, this is still an increase from May's SAAR of 12.3 million, albeit a small one. Sales have continued to remain below the previous year's numbers, with June 2020 declining 20% from the same period 2019.
After SAAR rebounded in May, June's results seem to pale in comparison.
Despite the country continuing to reopen, supply constraints, especially of popular pickup trucks, have been cutting into potential gains for the industry.  Rollbacks on the financing offers that dealerships had depended on at the beginning of the pandemic have also cut into vehicle sale gains.  Haig Stoddard, senior analyst for Wards Intelligence, noted that both extensive job and wage losses related to the pandemic also precipitated flat SAAR, and  that "with June 30 inventory expected to remain relatively close to May's, total sales are not expected to get much stronger in July from June."
With no sign that sales will be returning to pre-COVID levels anytime soon, many dealerships are streamlining operating expenses to boost their bottom line. This has been especially true for advertising expenses, with dealerships reevaluating not only how much and where they spend, but whether the effort is converting to sales. Many dealership managers have cut everything from paid-search campaigns, to third party lead generators, to direct mail since March. While TV and print advertising have taken a hit, social media advertising has continued to do well.
Social media ads have multiple advantages over more traditional advertising mediums. First, it allows for more targeted content as ads can be administered to demographics more likely to be interested in the product. Social media advertising is also cheaper and more transparent; it's easier to track if someone clicks on an ad and ends up being a customer whereas it is less clear whether someone shows up to a Honda dealership because they saw an ad on TV. Although dealerships have long relied on both TV and print to advertise, the impact on advertising may be another way the COVID pandemic is pushing the industry into the 21st century.
Advertising is not the only area that dealerships are cutting costs as employment issues continue to plague the industry.  Though the Paycheck Protection Program loans from the government have softened some of the blow, uncertain future revenues have kept dealerships hesitant to bring back employees. Specifically,  franchised dealers have terminated or furloughed an estimated 300,000 employees, which is more than a quarter of the industry's workforce. This downsizing effect occurred at the onset of the pandemic and has grave implications for workers. Although sales came back in May and June, cash flow going forward is still uncertain, and the pandemic may trigger permanent changes to staffing models. Some of the biggest dealership groups across the country have already announced that thousands of their job cuts are permanent due to factors such as low vehicle sales and success of digital channels.
Pandemic Production Concerns
While cutting costs can help boost bottom-line numbers in the short-term, dealerships are relying on manufacturing ramp-ups to provide the vehicles needed to drive sales. Even though the recent reopening of manufacturing plants reflects a glimpse of normalcy, the resurgence of pandemic cases in the United States could lead to a second shutdown. So far, production appears to be ramping up with minimal disruptions.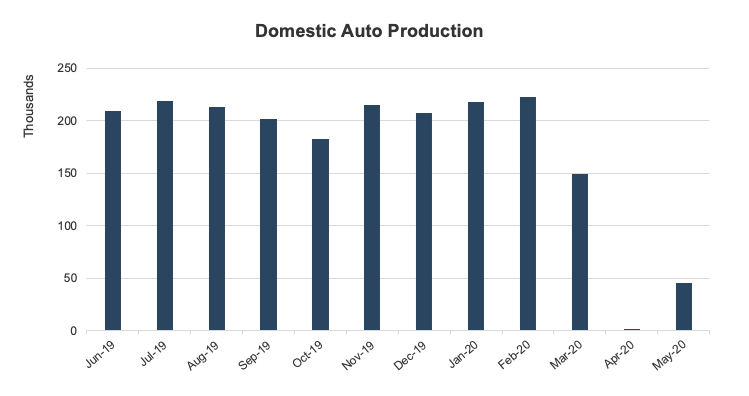 As the New York Times notes, reopening factories will involve developing new procedures to screen workers for COVID-19 symptoms and reducing interactions between employees. Some of these new procedures include allowing time for cleaning workplaces, staggering arrival times, adding transparent barriers to assembly lines, and installing no-touch faucets and doors. Having adjusted their procedures, both Ford and G.M. are nearly back to normal with shift schedules, as ninety percent of GM's hourly workers are back to work.
With cases rising throughout the country, manufacturers are inevitably going to run into problems as the pandemic continues.
However, with cases rising throughout the country, manufacturers are inevitably going to run into problems as the pandemic continues. At Ford's truck plant in Louisville, Kentucky, around 1,300 of the plant's roughly 8,600 workers miss work on an average day, said Todd Dunn, president of the UAW's local at the plant.  Most of these absences have been attributed to virus-related issues such as being unable to get childcare or living with people at higher risk.  The company has been pulling workers from the third shift to cover the first two, as well as hiring hundreds of temporary workers to fill the gaps. Similarly, the GM engine factory is facing issues with its workforce, with about 8% of the employees out sick in mid-June.
Worker discontent could also contribute to delayed production as some workers feel that not enough precautions are being taken.  At Fiat Chrysler's Jefferson North plant in Detroit, employees refused to work because they believed one of their co-workers had the virus. Last month, workers at Ford factories in Michigan and Missouri questioned the automaker's safety protocols after multiple workers tested positive for the virus. The UAW local in GM's SUV plant in Arlington, Texas also pushed for the automaker to make temporary closures, citing the spiking COVID-19  cases in the area.
Manufacturers have been hesitant to shut down again, and Fiat issued warnings after the production stoppage.  Mike Resha, Fiat Chrysler's head of North American manufacturing, wrote in a letter on June 28 that "Unauthorized work stoppages in our facilities create both disruption, and, potentially, safety concerns, and therefore cannot be tolerated [and] will result in zero pay." Both Ford and GM have cited the safety measures they have put into place to protect workers, and no closures are expected.
If manufacturers are able to give their employees peace of mind through enhanced safety efforts, production ramp-ups should help alleviate the pent-up demand that auto dealers are experiencing as a byproduct of this pandemic. However, if these efforts are not a priority, production capabilities could suffer once again.
USMCA and the Auto Industry
As of July 1, 2020, auto manufacturers now have to contend with new regulations with the United States Mexico Canada Agreement ("USMCA") coming into effect. The USMCA was initially signed on November 30, 2018, and will serve as an updated version of the 25-year-old, trillion-dollar North American Free Trade Agreement (commonly known as "NAFTA"). Included in the updated agreement are new policies on labor and environmental standards, intellectual property protection, and digital trade provisions. It also will directly impact the automotive industry.
According to IndustryWeek, while NAFTA originally required automakers to use 62.5% of North American-made parts in their cars to be imported duty-free (aka no tariffs), the new agreement gradually raises the bar to 75% by 2023. This imposed adjustment will incentivize automakers to increase the amount of North American parts they use in their cars and light trucks. Furthermore, 40 to 45% of automobile parts must be made by workers who earn at least $16 an hour by 2023.
The new agreement could significantly impact the automotive supply chain by increasing production costs.
The new agreement could significantly impact the automotive supply chain by increasing production costs. However, the USMCA removes the threat of a tariff fight within North America, so the tradeoff may be worthwhile. However, last-minute changes in the agreement have created confusion in the industry. Specifically, Kristen Dziczek, vice president of the Labor & Economics Group at the Center for Automotive Research in Ann Arbor, noted concerns as to how "[…] the labor value rule is going to be implemented, we found out this week."
Automakers who are currently dealing with the fallout from the pandemic and efforts to keep workers safe also have to worry about being in compliance with new regulations. To assist manufacturers during this volatile time, the federal government is providing some leeway with education and outreach efforts being a priority. If auto manufacturers incur higher costs, they will attempt to pass these onto auto dealers, who will in turn seek to pass them on to consumers in order to maintain their earnings (and valuations).
Looking Forward
All things considered, going forward, both the continued reopening of the economy and manufacturing plants working at full capacity are going to be critical to raise dealership's flattened sales numbers. However, predicting the trajectory of the U.S. economy, let alone the trajectory of the auto sector, is extremely difficult considering the volatility exhibited during the pandemic.
While May showed signs that the country may be returning to normal, the surge of cases in the U.S. in June is causing state governments to reconsider reopening plans. Another complete shutdown would be devastating for many dealerships. For auto dealerships to return to normal, it will take precautions on all ends of the supply chain, with manufacturing plants taking extra measures to keep their workers healthy, and dealerships taking extra precautions to ensure customer safety.