August 2021 SAAR was 13.1 million units, significantly lower than August of 2020 at 15.2 million units and lower than last month's figure of 14.6 million units. This level of sales is the lowest recorded since June 2020's 13.0 million during the earlier stages of the COVID-19 pandemic. August's sales rates reduced the year-to-date SAAR to 16.1 million units from last month's end total of 16.5 million units.
These deflated sales figures come as no surprise as inventory shortages have been present in the industry since June, but most experts did not predict a drop in sales of this magnitude. According to NADA, many dealers started August with record-low inventory levels, and by the end of the month, inventory had fallen an additional 5.2% to a new record low of 1.06 million units. Combine the inventory draw down with full-year North American production estimates now below 14 million, and the year-to-date SAAR is overestimating full-year 2021 domestic light vehicle sales.
Auto manufacturing plants continue to be intermittently shut down in response to supply shortages, and these shutdowns will likely persist until early to mid-2022. Sales are likely to remain low across the industry during this period of uncertainty, even when paired with consistently swelling demand from consumers.
Many more trends and observations in the auto dealer industry, over the last three months, have persisted into August, such as the prioritization of retail over fleet customers and the elevation of new and used vehicle prices to record highs. According to J.D. Power, the average new vehicle retail transaction price reached a record $41,378 in August. This marks the first time that average transaction prices are above the $41,000 level.
Incentive spending has also remained low for dealers, boosting GPUs and sustaining high levels of profitability amidst declining sales volume. The average manufacturer incentive per vehicle is on pace to be $1,823, the lowest amount on record for August. Not coincidentally, the total retail profit per unit is on pace to reach an all-time high of $4,430, more than doubling the $2,109 achieved the year before.
Can Trade-Ins Bridge the Gap for Dealers?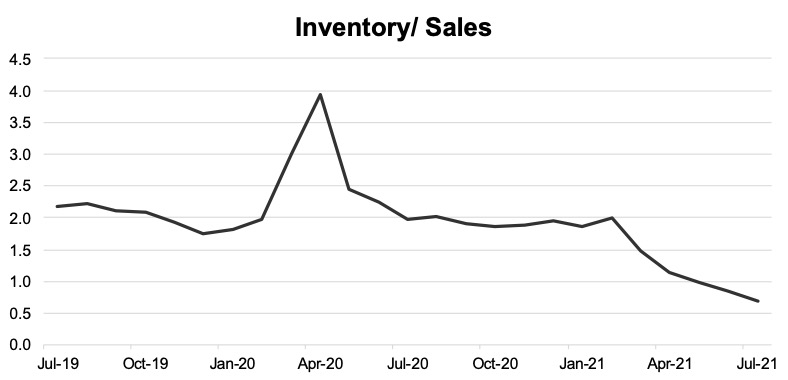 Auto dealers around the country have been experiencing inventory shortages for months now, so a dip in the industry inventory sales ratio comes as no surprise. The ratio continued its nosedive in July to 0.68 for domestic dealers, much lower than the industry's average of 2.4 since 1993. Inventory relative to sales has never been this low during that stretch, and many dealers can only react to the conditions presented to them by OEMs and other means of acquiring vehicles such as consumers' willingness to sell their personal vehicles.
OEMs are scrambling to manufacture as many vehicles as possible, but semiconductor and other input shortages have forced firms to make decisions on which vehicles to prioritize. This has led to large swings in the market share for vehicle classes being produced or being put on hold. Many OEMs have prioritized crossovers, which make up the majority of light truck sales, and light trucks are increasingly outselling autos (77%/23% split of August sales to light trucks). According to NADA, the market share for crossovers came in at 45.7% of total light vehicle sales in August, or 59.4% of light truck sales.
If manufacturers cannot meet the demand for vehicles at the auto dealer level, dealers must continue looking to consumers to fill their lots. Typically, to encourage consumer trade-ins, many dealers offer competitive levels of trade-in equity for used vehicles. This means that a dealership must make the right offer that reflects their need, or another dealer will outbid them. Getting outbid on a trade in frequently means the loss of two vehicle sales (replacing the vehicle of the selling person, then selling that trade in). With high GPUs on both new and used, dealers are incentivized to bid aggressively, which has pushed up trade in values.
In 2021, the competition has intensified beyond what we have seen in recent memory. According to Motor Trader, used car values have undergone an unparalleled shift upwards. Used vehicle values, on average, have increased by more than 20% in less than six months. During typical market conditions, vehicles might have depreciated by 5% over the same time frame, implying a valuation swing of 25% or more. Many consumers have taken this opportunity to sell their car or truck at a high valuation, but dealers should be wondering how long the used-vehicle market can reliably supply their lots.
Nobody wants to be caught "holding the bag" if vehicle pricing normalizes. Until then, vehicle pricing will continue to increase in a virtuous cycle as higher trade in prices beget higher purchasing power, which fuels increases in the prices of replacement vehicles.
An important determinant of what to expect over the next few months is certainly the value of the used vehicles being bought and sold. Sonic Automotive president, Jeff Dyke, seems to think that values might fall in September. He posits that "New car inventories are going to get better progressively over the next few months as we get to the end of the year," and that is certainly what it would take for the market to begin to normalize.
Auto Trader's consumer sentiment survey for August revealed that 26% of consumers believe that vehicle ownership is more important today than it was pre-pandemic and 50% feel more confident in their ability to afford their next new car or truck than they did a year ago. The survey indicates that demand might not cool down for a while, making it hard to believe that prices will start to fall.
It is reasonable to expect that consumers will continue to supply lots with used vehicles as long as they are incentivized to do so. With high and rising prices expected to hang around, auto dealers should expect to rely on used vehicles to bridge the gap for the remainder of the year.
As dealers know, the various auto dealership departments can ebb and flow through the business cycle, but it appears no matter the economic environment, the interconnected nature of their profit centers allows them to perform regardless.
What to Expect?
Last month's 2021 SAAR estimate of 16.5 million units seems less likely than it did a month ago. Production stoppages and a low number of units available-for-sale are expected to remain commonplace throughout the industry over the next several months. Keeping an eye out for manufacturer's announcements over the next several months should help gauge how long the supply issue is expected to last. As noted previously, we expect total light vehicle sales will trail YTD SAAR of 16.1 million. However, we think North American production of 13.9 million in 2021 could potentially represent a lower bound.
If you would like to know more about how these trends are affecting the value of your auto dealership, feel free to contact a member of the Mercer Capital auto team.