On July 29, 2021, Krause Financial Services announced that its parent company, Krause Brokerage Services, had acquired long-term care specialty firm, LTC Solutions. Mercer Capital served as exclusive financial advisor to Krause Brokerage Services.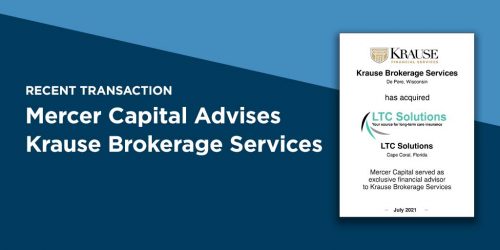 Mercer Capital provides investment banking, transaction advisory, and valuation services to middle market companies throughout the U.S. We have significant experience advising boards of directors, management, trustees, and other fiduciaries of middle-market public and private companies.
Whether you are selling your business, acquiring another business or division, or have needs related to mergers, valuations, fairness opinions, and other transaction advisory needs, we can help.