Lean on Me
Active Managers Combine to Stem the Tide of Fleeting Assets
Albeit unlikely that Bill Withers was alluding to the plight of active management in his 1972 hit solo, it does appear to be an apt descriptor for recent dealmaking in the RIA sector.  Standard Life's $4.7 billion purchase of Aberdeen Asset Management earlier this month follows shareholder pressure to right the ship after years of significant underperformance from both firms.
The market seems less convinced.  After an initial pop upon announcement, ADN and SL are down roughly 10% over the last couple of weeks.  This probably came as no surprise to Legg Mason CEO Joseph Sullivan, who likened this kind of business combination to "two drunks holding each other up."  That may be harsh, but the market quickly pulled away the punch bowl just a few days after the announcement to underscore his point.  The sobering reality is that many active managers don't justify their fees, and promised synergies are rarely achieved in practice.
It is difficult to say if this kind of deal is an anomaly or sign of things to come for the struggling sector.  A recent piece in The Wall Street Journal suggests more to come.  The trend may have started in November with Henderson Group's purchase of Janus Capital and may be a viable way to improve earnings following years of client outflows.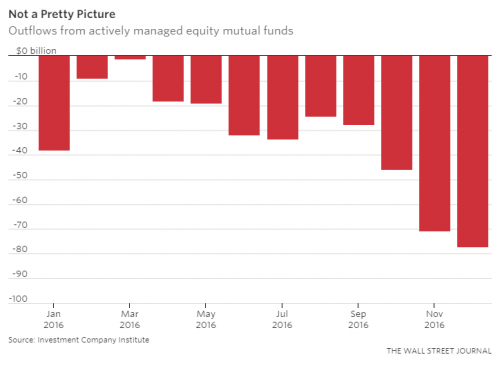 Only time will tell if this is the start of a trend or a few deals in isolation, but the sector is getting cheaper despite the recent rally.  In other words, market gains are being undone by marketing failures or, in this case, loss of client assets due to underperformance.  With most active managers underperforming the market (even before fees), most passivists will say this is long overdue.  As fees on ETFs and other passive strategies continue to dwindle with performance, the value-added proposition for many active managers evaporates.
We've blogged about this phenomenon before, and while linking it to Death Week may be a bit pejorative, the sector has certainly taken a blow in recent years.  Still, we don't foresee it going away entirely – imagine what would happen to stock prices if nobody were watching them.  The few managers who have a long-term track record or history of alpha generation will be poised to take market share if they haven't already.  Alternatively, they could find another drunk to lean on.
Happy (late) St. Paddy's Day.