The June 2021 SAAR totaled 15.4 million units, which is up 12.4% compared to June 2020 (the lowest June figure in recent memory due to the COVID-19 pandemic) but down 9.9% from May 2021.  New light vehicles sales fell for the second straight month in June, highlighting the ongoing supply and demand imbalances in the market for new cars and trucks.
After a strong start to the year, driven by feverish demand from retail and fleet consumers, a shortage of new car and truck inventory has started to weigh on sales.  The Inventory to Sales Ratio, published along with SAAR, continues to fall, as seen in the graph below.  This ratio captures what many auto dealers already know: demand has been strong and supply chain issues have not gotten any better.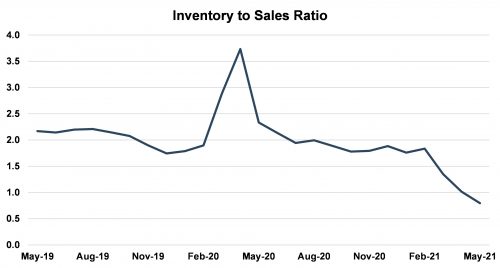 With such strong demand intersecting low supply, many vehicles are selling at or above MSRP. According to J.D. Power, in mid-June, 75% of vehicles sold for MSRP or above, up from 67% in May 2021 and up even more from the pre-COVID-19 pandemic average of 36%.
SAAR ran hot from 17.0 million to 18.6 million from March to May this year, making supply even shorter. Inventories have plummeted as dealers are not able to replenish their lots.  While this has led to lower floor-plan costs and higher GPUs, the decline in SAAR in June shows dealers may finally be experiencing what people were concerned about. Business owners can draw down inventories to maintain sales levels, but eventually, those inventories will run out. Lower inventory levels are expected to continue to limit the sales pace of dealers around the country.
Microchip Issues Persist
According to the NADA, the inventory crunch is likely to get worse before it gets better.  Average inventories are expected to remain flat in June compared to May at around 1.5 million units, before dropping again to around 1.3 million units by the end of July.  Microchip shortages continue to plague the industry and are a predominant factor in the slowdown, though dealers have noted other parts and areas of vehicles are in short supply as well.  With little to mitigate the situation on the horizon, it has become clear that this shortage will impact the manufacturing of new vehicles for months to come.  This chip shortage is not unique to the United States or to the Automotive industry, as Automotive News Europe recently reported that the "exponential increase in demand for microchips will need a long term solution."
We note the "end" to the microchip shortage continues to be kicked down the road
Many sovereign governments are considering taking steps to increase production, as the number of industries that require microchips continues to grow. Economic agents are considering economy-wide solutions to this sweeping problem, but relief is not expected until sometime in early 2022. Until then, dealers will most likely have to continue to operate at lower-than-normal inventory levels or focus on vehicles that utilize less chips. We note the "end" to this shortage continues to be kicked down the road, so even the expectation this situation will be alleviated in early 2022 may not comfort dealers that have seen expectations continue to get pushed out.
Several U.S. automotive manufacturing plants have had to suspend operations in response to the chip shortage. For example, the Ford plant in Chicago that produces the Ford Explorer will be shut down from the week of July 5th to the week of July 26th. Additionally, the Ford plant in Kansas City that produces the best-selling F-150 pickup truck announced it will be shuttering the production line for a few weeks in July as well. Ford's Michigan assembly plant that recently started shipping the Ford Bronco will also be down for two weeks in July due to parts shortages. These shutdowns are not specific to Ford, as most auto manufacturers have been trying to find ways to react to the ongoing situation.
It's Not Just Microchips
Many automotive plants have temporarily shut down due to the microchip shortage, but microchips are not the only input that has been scarce. Seating foam, plastics, and other petroleum-based products have been harder to acquire over the last several months due to longer lead times on orders, historically high prices, and very tight supplies.
According to Industrial Specialties Manufacturing, the market is currently unable to supply the U.S. demand for plastics. Experts say that the complete restoration of the plastics industry could come in late 2021 or early 2022, but certain factors must be in play for this recovery to occur, like repairing oil and gas infrastructure, returning to normal volumes of chemical feedstock for plastics production, and repairing plastics compounding and extruding machinery in plants that have yet to ramp up to full production capacity.
Used Vehicles In High Demand
While the story surrounding new cars and trucks has been characterized by supply constraints over the last two months, used cars have stepped into a more prominent role at most car lots to fill this gap. Pent up demand for new cars is pushing car buyers into the used-car market, driving up prices of used cars in the process. Edmunds reported that the average price for used vehicles jumped from $20,942 to $25,410 from this point last year, the highest price jump on record for the auto research firm. This has had ripple effects throughout the economy.
Edmunds reported that the average price for used vehicles jumped from $20,942 to $25,410 from this point last year
The Consumer Price Index jumped 5.4% in June, stoking concerns about runaway inflation. However, the Federal Reserve has maintained its view that inflation is transitory, which appears to be supported by the significant year-over-year increases in used vehicles, gas, and airfare, which have played a large role in the jump in CPI. Excluding these, month-over-month core CPI would have only risen by 0.18% in June according to Bank of America.
Used vehicle prices have climbed at a steep pace due to similar supply and demand-related pressures as the new car market, with scarcity issues coming in the form of hotly contested wholesale markets where dealers typically acquire most of their used inventory. Dealers are being forced to spend more to fill their lots with used vehicles, making it harder for buyers to negotiate on used car prices than in the past. Jonathan Banks, Vice President of Valuation Services at J.D Power had this to say about the used market:
"After increasing for 24 consecutive weeks, wholesale auction prices peaked in June, attaining their highest level on record, and have now begun to gradually decline. Despite the recent cooling, the used market remains incredibly strong and, at the end this year, prices are expected to be up by approximately 29% on a year-over-year basis. The used market's continued strength is driven primarily by the expectation that used supply will remain a challenge and that new-vehicle market challenges will remain in place for the foreseeable future."
What Forecast to Expect
After an unusually hot start followed by a tightened market environment, this year has been unpredictable for dealers and manufacturers in the automotive industry. As far as demand is concerned, it is unlikely that the desire for new and used vehicles will cool off any time soon, as many consumers return to work and may be in search of a new or used vehicle to get them there. However, new light vehicle sales for the remainder of the year will likely continue to be supply-constrained.  If production can recover and exceed expectations, we could see sales close to 17 million units by the end of the year.  However, given the more likely outcome, total light vehicle sales are expected to be somewhere between 16.3 and 16.5 million units in 2021.
If you would like to know more about how these trends are affecting the value of your auto dealership, feel free to contact any members of the Mercer Capital auto team.  We hope that everyone is continuing to stay safe and healthy.