AutoZone Provides Roadmap for Management Succession
The Founder's Exit Doesn't Need to Be the End of the Story for Shareholders
The Family Business Director blog comes to you each week from Memphis, Tennessee.  Memphis is proud to be the home of AutoZone, Inc., one of the largest auto parts retailers in the U.S.  AutoZone founder and long-time director Pitt Hyde recently announced that he would not stand for re-election to the board of directors.
Mr. Hyde's announced transition highlights three lessons for family business directors and managers.
Although publicly traded since 1991, AutoZone traces its roots to a family business.  Mr. Hyde's grandfather founded Malone & Hyde, a grocery wholesaler, in 1907.  The first AutoZone store – originally "Auto Shack" before a bit of subsequent re-branding – opened in 1979, and the growing concept was spun out of Malone & Hyde in 1986.  Mr. Hyde turned over the reins as President and CEO of the company ten years later.
Management transition is a sensitive topic for many family businesses.  Founders of successful family enterprises are by definition exceptional individuals.  The challenge for family business directors is ensuring that the unique attributes of key managers contribute to the sustainability of the family enterprise instead of crippling the business through unhealthy over-reliance or dependence on a single individual.  Mr. Hyde's announced transition highlights three lessons for family business directors and managers.
Lesson #1 – Think More Broadly About Managerial Success
For a senior executive of a family business, success must be defined more broadly than the current financial results of the business.  The notion of success should also encompass how the company is positioned to prosper after the executive's tenure is over.  This broader view of success will not take hold automatically, so directors need to evaluate how they are equipping, encouraging, and incentivizing senior management to think about sustainability.
Are your senior executives focused on building a business that can flourish in their absence?  Are you building a culture in which working yourself out of a job is a goal to be achieved rather than a fate to be feared?
Lesson #2 – Commit to Developing a Successful Team & Culture
Culture builds slowly in organizations, but once formed, culture is remarkably persistent even when there is turnover at the top.  Of course, culture can be either good or bad.  There have been plenty of stories in recent years about companies whose success has been undermined by a toxic culture.  Family businesses are no exception.  Ironically, a "family-first" culture at a family business can inhibit the retention of capable non-family executives that eventually become essential for the sustainability of the family business.
AutoZone is known for a culture that is obsessively focused on the customer experience in their stores.  Culture is the environment that empowers the team to execute the founder's vision on a greater scale than the founder possibly could by himself or herself.  At the time of Mr. Hyde's retirement in 1997, the chain had grown from that original Auto Shack in Forrest City, Arkansas to approximately 1,500 locations.  In the following two decades, the culture and team that Mr. Hyde had developed grew the concept to over 6,000 stores.
How do you and your fellow directors describe the culture of your family business?  Do the employees, customers, and suppliers who experience the family business's culture every day describe it the same way?
Lesson #3 – Develop a Passion for Things That Matter Outside the Business
Although few would likely admit it, we suspect one reason that key executives avoid walking away from the family business is that they have not developed anything compelling to walk toward.  Mr. Hyde's philanthropic endeavors have made, and continue to make, Memphis a better place to live.  Turning over management of a successful family business need not be followed by a "retirement curse."  Whether a new business venture or philanthropy, family business executives who intentionally cultivate interests outside the family business are more likely to execute a successful transition to the next group of managers.
Are you and your fellow directors encouraging senior managers to develop outside interests that will make eventual transition easier?
Does it Really Matter: What's the Financial Benefit?
Family business directors are stewards of the financial resources that the family has allocated to the business.  So what are the financial benefits of focusing on management succession?  There are two principal benefits that directors need to be aware of.
First, an emphasis on management succession increases the likelihood of continued financial success for the family.  AutoZone shares opened trading on April 2, 1991 at a (split-adjusted) price of $6.88 per share.  At the time of Mr. Hyde's transition out of the President and CEO roles almost six years later, the share price had grown to approximately $25, a compound annual return for investors on the order of 25%.  The team and culture that Mr. Hyde left behind contributed to continued shareholder returns, with the share price today on the order of $800 (an annualized return over more than two decades of approximately 17%).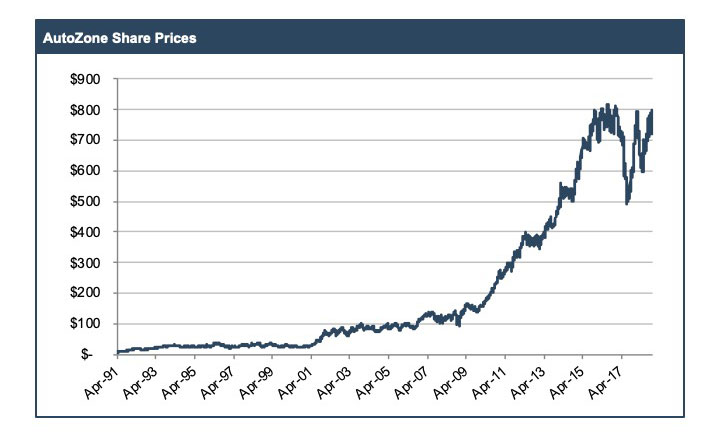 Second, an emphasis on management succession actually increases the value of the family business in the present.  The flipside of failing to plan for management succession is allowing the family business to remain unduly dependent upon a single individual.  For multi-generation family businesses, such dependencies increase the risk profile of the company, which reduces the value of the business, and by extension, the family's wealth.  Even when there is no intention to sell, directors should be mindful of the value of the family business and aware of steps they can take to enhance or protect that value.  Reducing key person dependency through active planning for management succession is an important step in doing so for many family businesses.
Management succession needs and strategies will necessarily look different for every family business, but AutoZone provides a great case study for directors to consider.  Management succession is not just a human resources issue, but can have major financial repercussions for the family.  Our professionals welcome the opportunity to discuss in confidence how management succession is influencing the value and sustainability of your family business.
For additional perspective on management succession, see Chapter 7 of our new book, The 12 Questions That Keep Family Business Directors Awake at Night.