Can You Hear Me Now? Lessons from a $20 Billion Family Business Fight
"If you cannot get rid of the family skeleton, you may as well make it dance." – George Bernard Shaw
Thankfully, the Family Business Director blog does not cover much tabloid news. However, recent turmoil engulfing the Rogers Communications (NYSE: RCI) family, who are controlling shareholders of the $20 billion Canadian wireless communications and media conglomerate, piqued our interest. Numerous outlets have covered the drama, pulling back the curtain on a bitter family battle for control of the company.
What can the public family strife affecting the Rogers family teach us (other than hug our moms a little more)? Well, quite a bit. Below we summarize the family drama and provide three strategies to keep in mind to stave off harsh family infighting that can, ultimately, bleed over into your company's ability to operate effectively.
Rogers Family Dispute Timeline
The table below highlights key developments in the Rogers family saga in recent months (adapted from Reuters). The summary is far from exhaustive.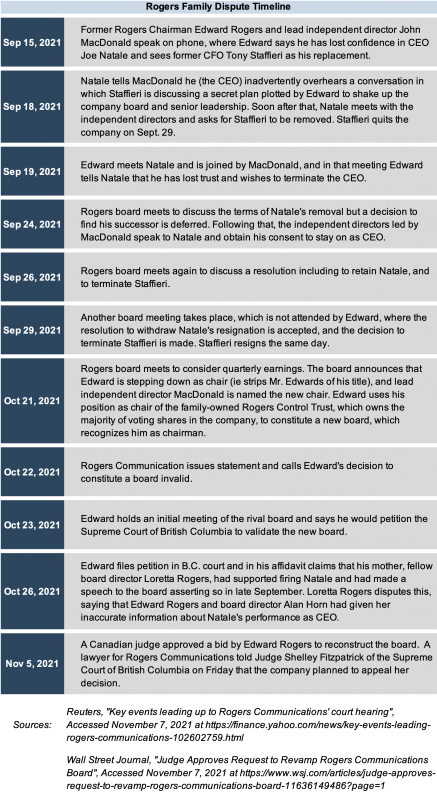 Click here to enlarge the image
So what went wrong, and what can you do to avoid these mistakes? We cover that next.
Prioritize Communication and Don't Forget the Relationship
The issue at hand is, at first blush, a leadership dispute: one group supporting the current CEO (Ms. Loretta Rogers, widow to the company's founder, along with her two daughters) and another opposed to current leadership (Mr. Edward Rogers, son to the founder and former chairman). However, as we have written about previously, family business relationships are complex. What may be banal or standard in a traditional business setting can be far from it when the parties are parents and children. So always have the family dynamic in mind.
Additionally, the chain of events was kicked off with a pocket-dial, revealing the son's secret plot (with help from the CFO, no less) to oust the existing CEO. We suspect things could have been less contentious if what amounts to an attempted "corporate coup" did not take place prior to more formal leadership discussions. Were Edward Roger's concerns with the CEO known to the rest of the board? Was Loretta Roger's position understood? Was communication prioritized? Evidence points to multiple resounding "nos."
Defuse the Time-Bombs in Your Governance Documents
Following the revelation of Edward Roger's dissatisfaction with the existing CEO, multiple board meetings were held to discuss whether to retain the company's CEO. The independent board weighed the removal of the CEO, with an imminent acquisition of Shaw Communications (NYSE: SJR), as unwise. The board voted to withdraw the CEO's resignation and force the resignation of the CFO. Given what could be perceived as severe insubordination from the CFO (secret ousting of a superior to his benefit), this seems appropriate. The board additionally removed Edward Roger's chairman title, escalating the dispute between the two family camps.
However, following board action, Edward Rogers triggered his "ace in the hole." As chairman of the Rogers Control Trust, Edward Rogers had an effective 97.5% voting interest in the company. Edward Rogers used this power in this role to negate independent board action, place a new board in power, and reinstate himself as chairman. Edward Rogers had thrown a knockout punch. As of this writing, a Canadian judge approved the action.
What happened? We have written numerous times on the potential time-bombs lurking in your family business buy-sell agreements. Well, there was a "nuclear option" in Rogers Communications governance and voting structure, and Edward Rogers held the launch codes. When a single shareholder, even if it is family, can overrule the independent board and other family shareholders unilaterally, your structure is broken. A "board-in-name-only" does not represent best governance practice. One wonders how a similar board structure was not present in the Rogers Control Trust (where power resided). We recommend creating guardrails to ward off a scenario like the Rogers family is currently undergoing.
Have a (Neutral) Intermediary
You don't have to read too closely between the lines to see that the family and certain board members may have been less than independent. Thinly-veiled (and completely unveiled) barbs on social media have moved the debate into the open. The conflict between the Edward Rogers camp and the Loretta Rogers group had been brewing for a while. You don't like to see subtweets between siblings.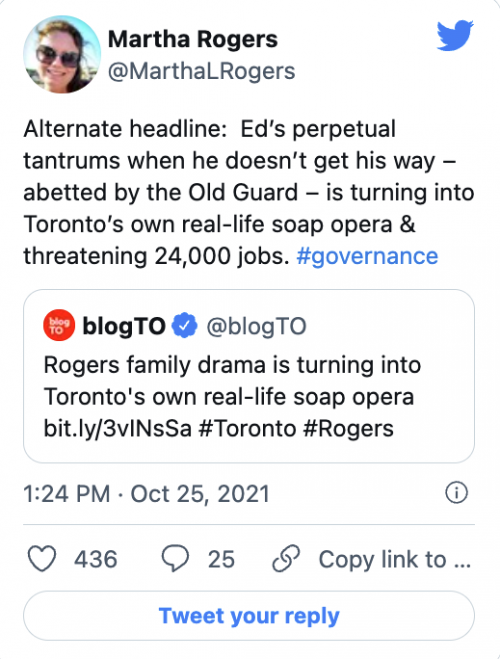 Like our call for communication, having someone in the middle who you and your family trust can be all the difference between passionate, constructive discussions and public feuds. The board appears to have been meant for this role, in theory. However, with members aligning themselves with rivaling family factions, neutrality and independence were lost. You and your family board should aim to go the extra mile to limit any conflict of interest or perverse incentives for board members. Additionally, if significant issues arise, bring in an outside mediator or consultant to help guide the conversation back to business and out of the family drama quagmire.
We Are Family
The family battle culminated in a "victory" for the eldest son, Edward Rogers, over his mother and two sisters. Justice Shelley Fitzpatrick on November 5th ruled in favor of Edward Rogers. "These family squabbles are an interesting backdrop to this dispute that would be more in keeping with a Shakespearean drama," she noted, but "at best, they are a distraction."
Not to dig up the past, but we previously wrote on the Larson brothers and the contentious shareholder redemption of shares in a fossil-hunting enterprise. The result? The brothers refuse to talk to each other. Many families wisely prioritize being able to share a holiday meal when making business decisions. You and your family board are sure to learn lessons on what not to do and what steps you can take to avoid publicly damaging family brawls by studying the Rogers story. Prioritize communication and remember your familial relationships, craft conflict-reducing governance documents, and introduce truly independent intermediaries in contentious situations are three ways you can avoid the worst of the Rogers family drama.
Mercer Capital has experience in thousands of valuation and financial consulting engagements for family business clients. Give one of our professionals a call if we can help guide your family through some of your family's own valuation issues.