Corporate Finance in 5 Minutes
New Video Released on Family Business On Demand Resource Center
Family shareholders are entitled to know what long-term strategic decisions are being made on their behalf by the managers and directors of the family business and why those decisions are being made. In this video, Travis Harms discusses three fundamental corporate finance questions that will help family business shareholders understand the basics of corporate finance and will ultimately result in more engaged and valuable shareholders.
---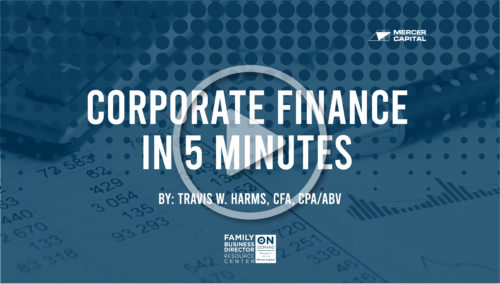 (you will be redirected to www.familybusinessondemand.com)
---
If you want to dive even deeper into the world of corporate finance, read our whitepaper "Corporate Finance in 30 Minutes." In the whitepaper, we provide more insight into the three key decisions of capital structure, capital budgeting, and dividend policy to assist family business directors and shareholders without a finance background make relevant and meaningful contributions to the most consequential financial decisions all companies must make.  Our goal with this whitepaper is to give family business directors and shareholders a vocabulary and conceptual framework for thinking about strategic corporate finance decisions, allowing them to bring their perspectives and expertise to the discussion.
Don't forget to check out our dedicated family business site. The Family Business On Demand Resource Center is a one-stop shop for enterprising families and their advisors facing the financial challenges that are common to family businesses.  There, you'll find a curated and organized diverse collection of resources from our staff of family business professionals, including more 5-minute videos, articles, whitepapers, books, and research studies.
The perspectives we offer here are rooted in our experiences at Mercer Capital, working with hundreds of enterprising families in thousands of engagements over the past forty years. Our main focus is on the financial challenges faced by family businesses like yours. There's nothing else like it, and we look forward to your visit.