The New 3 Circles of Family Business and How to Be a Good Owner
Recap of the Transitions 2023 Conference
We were pleased to be a sponsor of last week's Transitions conference organized and hosted by the publishers of Family Business Magazine.  This year's event brought together a diverse group of enterprising families for a set of conversations on the topics most critical for ensuring the success and sustainability of family businesses.  As always, the conference organizers ensured ample opportunities for peer-to-peer sharing of best practices, battle scars, frustrations, and wins.
The 3 New Circles of Family Business
The organizing framework for this year's conference was "The New 3 Circles."  The conference title was a playful reference to the "original" three circles of family business created by Renato Tagiuri and John Davis in 1978. The three circles illustrate the complex relationships formed by the overlapping spheres of ownership, family, and business as depicted below.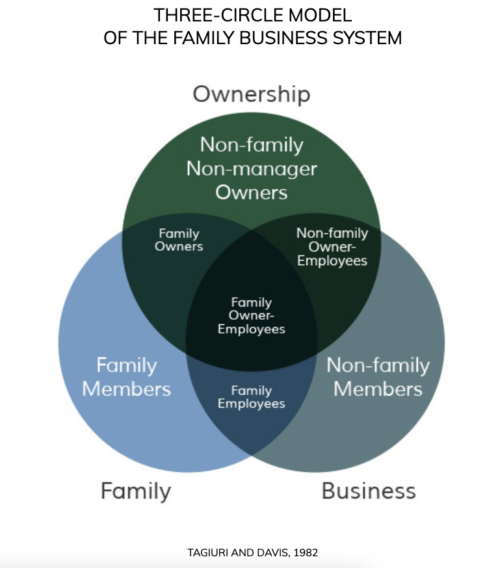 Of course, the original three circles are just as relevant today as in 1978.  However, this year's Transitions conference organization highlighted three "new" circles perpetually relevant to all enterprising families: engagement, succession, and governance.  (No, not that ESG.)
As Peter Begalla and Dennis Jaffe discussed in an opening session, these "circles" raise questions that family business leaders need to be thinking about.
Engagement: How do we build family relationships across branches and generations?  How do we share information and ideas?  How do we handle conflict?
Succession: What will our business look like in the future?  How and when will we pass on ownership to the rising generation?  How do we develop talent for the future?
Governance: What businesses are we in together?  What are the key leadership roles, and how are people selected for them?  How do we share and distribute family wealth?
How to Be a Good Owner
In addition to the various plenary sessions, breakout meetings throughout the conference allowed attendees to drill down on particular topics of interest.  My colleague Nick Heinz and I were pleased to lead a breakout session entitled "How to Be a Good Owner."  You can download a copy of our discussion guide for that session here.
The attendees in our session shared many of their experiences – both positive and challenging – grappling with a set of five questions associated with developing good owners for your family business.
How has your family encouraged shareholders to take a long-term perspective? Freed from the public market's often myopic fixation with next quarter's earnings, the ability to take the long view is commonly cited as a strategic benefit of being a family business.  Good family shareholders recognize that benefit and work toward adopting that perspective themselves.
What steps does your family take to prepare individuals to become shareholders? Family shareholders may be born, but good family shareholders are made.  It is unfair to assume that family members will naturally be good shareholders; they need to be prepared.
How much financial information does your family business share with owners? How often?  Information is currency inside a family system.  Intentional systems for sharing financial information with family shareholders are critical for promoting positive engagement and reducing the likelihood of discord and mistrust.
How does your family deal with shareholders who are not being good owners? Ideally, this would never come up, but it does in the real world.  Even if it's not a current issue, your family is not immune to the possibility.  There is a spectrum of strategies, from appeasement to expulsion, with plenty of options in between.  When the time comes, how will you decide which strategy "fits"?
How does your family solicit input from non-director shareholders? Families "take the temperature" of family shareholders in various  Whether using informal conversations or more formal surveys, actively soliciting feedback from family shareholders helps leaders better serve the family and should not be ignored.
If you've been to a Transitions conference before, you know the benefits.  If you haven't, we hope to see you there next spring!