Unfriended? Long-Term Planning and Facebook's Stock Collapse
Meta Platforms (NASDAQ: META), formerly known as "Facebook," recently released its third-quarter earnings and guidance for 2023. Let's just say the market was less than pleased. Meta's stock fell over 20% in after-hours trading, which is down over 65% year-to-date. Per Figures 1 and 2, the stock is currently sitting at its lowest level since 2016, with a corresponding decline in implied valuation multiples.
Figure 1 :: Meta (Facebook) Stock Performance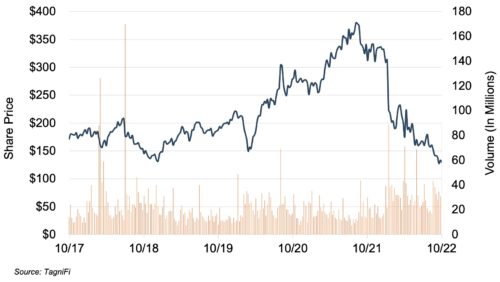 Figure 2 :: Meta (Facebook) Variation Multiples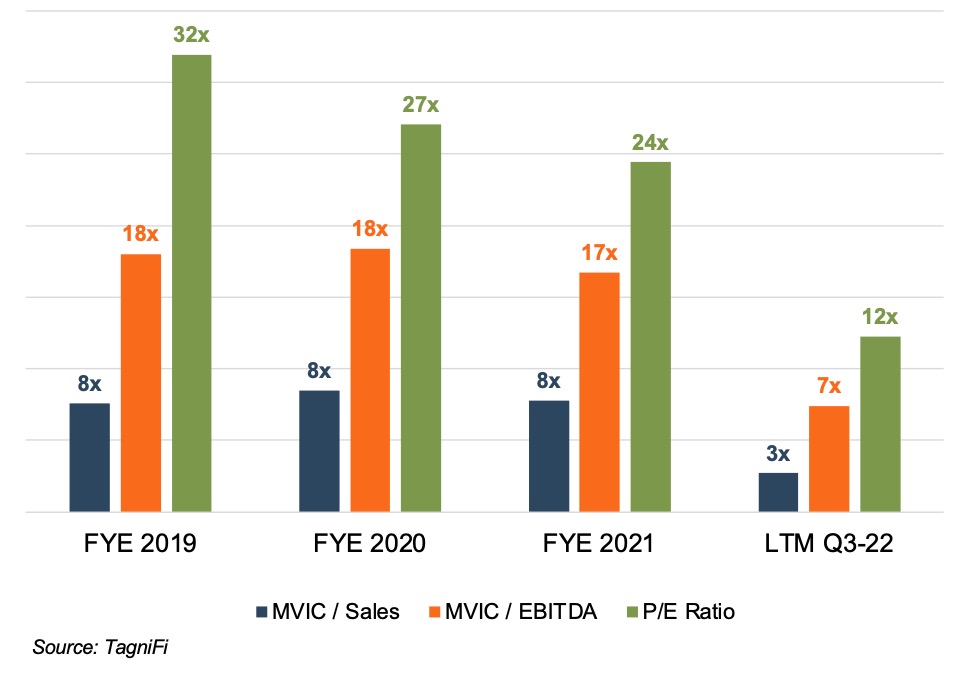 A quote from Yahoo Finance piqued our interest:
"Investors in Meta stock wanted to hear one thing on the embattled company's earnings call late Wednesday: an acknowledgment by founder Mark Zuckerberg that leaner spending times were ahead as margins have been squeezed by an ill-timed metaverse build out and a slowing ad market…They heard the opposite."
Reading between the lines, it appears the market responded negatively to Facebook's continued commitment to high spending and capital expenditure into the metaverse, artificial intelligence ("AI"), and virtual reality ("VR") offerings, despite a contraction in margin and a potential slowdown in the U.S. economy.
But so what? We think the current sell-off presents two lessons to family businesses: Maintain a long-term perspective even in rough weather, and understand the season your business is in.
Next Quarter or Next Generation?
Mr. Zuckerberg appears to be rebuffing the Street's next-quarter-ism and focusing on the long term. A snapshot of Meta's performance highlights this "horizon" difference in Figure 3.

Click here to expand the image above
As shown in Figure 3, despite slowing revenues, Meta's capital expenditure increased nearly 50% from year-end 2021, and R&D expenses increased by over 32%. While the markets looked for belt-tightening, Mr. Zuckerberg went back for seconds.
Readers of the Family Business Director will know that one of the strengths of family businesses is their ability to make tough decisions for the long-term health of their businesses despite possible negative, near-term impacts. Publicly traded companies often lack this advantage (or grace), as Facebook is acutely highlighting. While we don't know how Meta's strategy will turn out, Meta's current strategy appears forward-looking for better or for worse.
Plant or Harvest?
Mr. Zuckerberg on Meta's near-term challenges:
"I think we're going to resolve each of these things over different periods of time," Zuckerberg said. "And I appreciate patience and I think that those who are patient and invest with us will end up being rewarded."
Patience. When was the last time you or your family board asked for patience? Knowing what time, or season, it is for your family business will help you gauge how patient (or impatient) you need to be. Is it "planting" season or "harvesting" time? Planters are family businesses that are currently investing more cash flow in future growth than their existing operations generate. In contrast, harvesters generate more cash flow from current operations than they invest for future growth.
The goal of planting is to promise a future harvest. But as any farmer knows, it is a promise, not a known fact. You have to plant before you harvest. As a result, the principal peril of planting time is the risk that the harvest will turn out less attractive than expected. In contrast, harvest time promises you will finally reap the benefits of the risks and investments but potentially starve the business of needed investment.
It would appear Mr. Zuckerberg will continue planting despite the market's scream to harvest before more storms arrive. As highlighted in Figure 3, Meta's adjusted EBITDA fell nearly 21% from the end of 2021, but capital expenditure continues to climb, and guidance expects operating expenses (including research and development) to climb further in 2023. With the most recent quarter's performance and macroeconomic woes, one could argue that Meta should ease off the gas and focus on core operations. However, failing to plant could let complacency set in and starve the company of future growth opportunities. Family businesses should take a step back and check what time it is for their family business and if a change of posture is in order.
Next Frontier or Next Flop?
Palmer Luckey, who sold Oculus VR to Facebook for $3 billion, had this to say on the metaverse in a recent interview:
"It's hard for me to really wholeheartedly say, 'Oh, Horizon Worlds, what an absolute disaster,' because I look at it and I see something that's being developed in the open, developed in public. It is terrible today, but it could be amazing in the future. I think Mark will put in the money to do that."
Will the metaverse be a winner? Digital real estate? AI technology? Meta's fourth-quarter earnings? We won't pretend to know what the future holds or how much patience investors ought to have. But we continue to think a competitive advantage of family businesses is the ability to be patient. Meta is refusing to stop investing in a number of new markets and opportunities despite near-term compressions on cash flow. Does your family business have to make some tough decisions to ensure you are around for another 100 years?
There generally are no shortcuts to achieving long-term wealth, and there will be tough plant-or-harvest decisions along the way. Is your family business at a turning point and needs some direction? Give one of our professionals a call today to help you think about your next move.