In our most recent issue of Portfolio Valuation: Private Equity and Venture Capital Marks and Trends, we provide a brief digest and commentary of some of the most relevant market trends influencing the fair value of private equity and venture capital portfolio investments. Below are key highlights covered in our Third Quarter 2017 newsletter.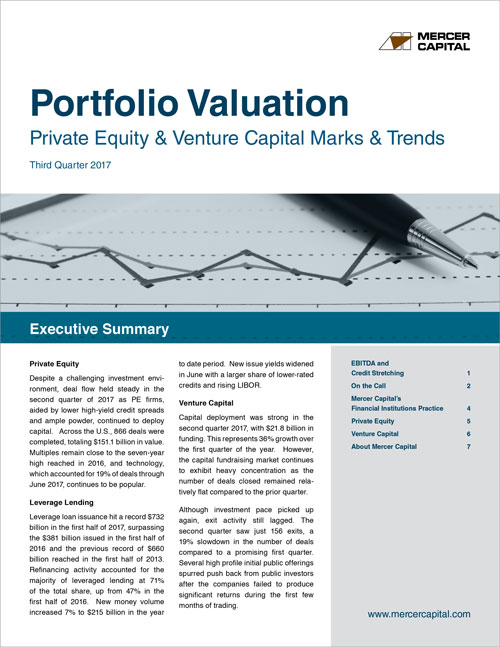 Private Equity
Despite a challenging investment environment, deal flow held steady in the second quarter of 2017 as PE firms, aided by lower high-yield credit spreads and ample powder, continued to deploy capital. Across the U.S., 866 deals were completed, totaling $151.1 billion in value. Multiples remain close to the seven-year high reached in 2016, and technology, which accounted for 19% of deals through June 2017, continues to be popular.
Leverage Lending
Leverage loan issuance hit a record $732 billion in the first half of 2017, surpassing the $381 billion issued in the first half of 2016 and the previous record of $660 billion reached in the first half of 2013. Refinancing activity accounted for the majority of leveraged lending at 71% of the total share, up from 47% in the first half of 2016. New money volume increased 7% to $215 billion in the year-to-date period. New issue yields widened in June with a larger share of lower-rated credits and rising LIBOR.
Venture Capital
Capital deployment was strong in the second quarter 2017, with $21.8 billion in funding. This represents 36% growth over the first quarter of the year. However, the capital fundraising market continues to exhibit heavy concentration as the number of deals closed remained relatively at compared to the prior quarter.
Although investment pace picked up again, exit activity still lagged. The second quarter saw just 156 exits, a 19% slowdown in the number of deals compared to a promising first quarter. Several high-profile initial public offerings spurred pushback from public investors after the companies failed to produce significant returns during the first few months of trading.
For those interested in reading more of our portfolio valuation and venture capital research, click here.
---
Mercer Capital monitors the latest financial reporting news relevant to CFOs and financial managers. The Financial Reporting Blog is updated weekly. Follow us on Twitter at @MercerFairValue.