Asset Manager Dealmaking Up in 2015 on Lower Volume
---
Despite a rocky second half of the year for the equity markets, RIA transaction activity posted solid gains in 2015. According to Bloomberg, asset manager deals increased to 239 through November of this year from 211 in 2014 on lower volume from the lack of mega-deals like TIAA-CREF's 2014 purchase of Nuveen. Still, 2015 numbers were buoyed by a few notable transactions including Edelman's $800 million sale to Hellman and Tri-State's recent purchase of The Killen Group.
As always, we caution against reading too much into the volume figures since transaction value is often not reported, though it is promising that the number of deals has increased fairly consistently over the last few years. Whether this reflects more interest from buyers (who seek the safety of recurring revenue in a ZIRP environment) or sellers (in an industry with aging players and a poor track record for internal succession) remains to be seen.
Pricing as of December 31, 2015
Last week's post reveals that pricing remains firm but not egregious, an environment conducive for continued transaction activity in the sector. Prospective buyers will also be intrigued by many of these businesses now trading at a 30% discount to their 52 week high.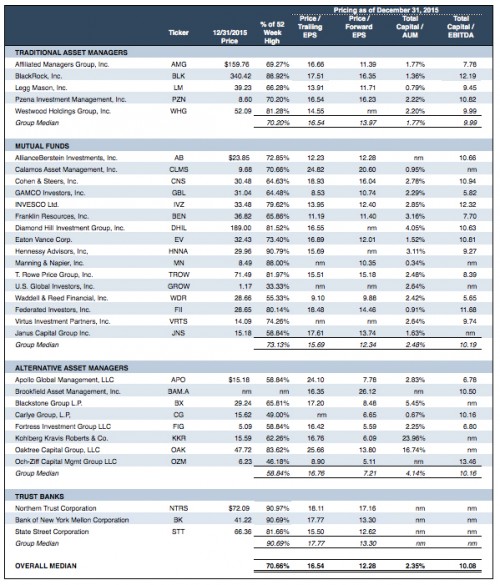 Asset Manager M&A History
Placing the recent uptick in its larger historical context reveals a lull in deal making after the active 2006 to 2009 period that culminated in BlackRock's purchase of Barclay's asset manager business.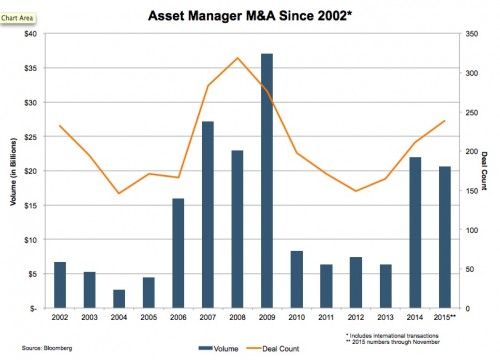 The sector's ability to shrug off the most recent correction is a testament to its resiliency in the face of declining management fees and impending regulatory changes.
M&A Outlook
Despite the recent uptick, we believe the backlog of available deals remains fairly robust given the four year pause in transactions from 2009 to 2013 and the aging demographics of many investment management firms. The real threat to deal making would be a longer, more pronounced downturn or continued volatility in the equity markets that would crater AUM levels and investor confidence. We note the decline in transaction activity following the financial crisis of 2008 and 2009 as indicative of what another bear market could do to M&A trends.
The outlook for deal making is therefore tied to market conditions, so the recent downturn would likely curtail the M&A momentum and valuation levels if it continues in 2016.
---
The RIA Valuation Insights Blog presents a weekly update on issues important to the Asset Management Industry.