Asset Manager M&A Trends
Deal Activity Continues to Accelerate Through the Third Quarter 2018
Asset manager M&A was robust through the first three quarters of 2018 against a backdrop of volatile market conditions.  Several trends which have driven the uptick in sector M&A in recent years have continued into 2018, including increasing activity by RIA aggregators and rising cost pressures.  Total deal count during the first three quarters of 2018 increased 45% versus the same period in 2017, and total disclosed deal value was up over 150%.  In terms of both deal volume and deal count, M&A is on pace to reach the highest levels since 2009.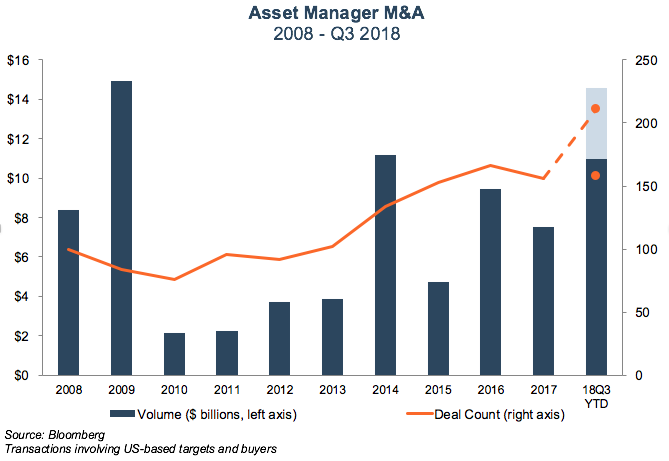 Thus far in the fourth quarter, M&A shows no signs of slowing down.  Just last week, Invesco Ltd. (IVZ) announced plans to acquire the OppenheimerFunds unit from MassMutual for $5.7 billion in one of the largest sector deals over the last decade.  IVZ will tack on $250 billion in AUM as a result of the deal, pushing total AUM to $1.2 trillion and making the combined firm the 13th largest asset manager by AUM globally and the 6th largest by retail AUM in the U.S.  The deal marks a major bet on active management for IVZ, as OppenheimerFunds' products are concentrated in actively-managed specialized asset classes, including international equity, emerging market equities, and alternative income.  Invesco chief Martin Flanagan explained the rationale for scale during an earnings call last year:
"Since I've been in the industry, there's been declarations of massive consolidation. I do think though, this time there are a set of factors in place that weren't in place before, where scale does matter, largely driven by the cost coming out of the regulatory environments and the low rate environments in cyber and alike. And, you have to be, as a firm, you have to be able to invest in the future.  And I think a number of smaller-sized firms are finding that hard." Martin Flanagan, President and CEO, Invesco Ltd. – 1Q17 Earnings Call
RIA aggregators continued to be active acquirers in the space, with Mercer Advisors (no relation), and United Capital Advisors each acquiring multiple RIAs over the last year.  The wealth management consolidator Focus Financial Partners (FOCS) has been active since its July IPO as well.  In August, FOCS announced the acquisition of Atlanta-based Edge Capital Group, which manages $3.5 billion in client assets.  FOCS also announced several sub-acquisitions by its affiliates during the third quarter.
Consolidation Rationales
The underpinnings of the M&A trend we've seen in the sector include increasing compliance and technology costs, broadly declining fees, aging shareholder bases, and slowing organic growth for many active managers.  While these pressures have been compressing margins for years, sector M&A has historically been muted.  This has been due in part to challenges specific to asset manager combinations, including the risks of cultural incompatibility and size impeding alpha generation.  Nevertheless, the industry structure has a high degree of operating leverage, which suggests that scale could alleviate margin pressure as long as it doesn't inhibit performance.
"Absolutely, this has been an elevated period of M&A activity in the industry and you should assume alongside our proprietary calling effort, we're looking at all of the opportunities in the market." Nathaniel Dalton, CEO, Affiliated Managers Group Inc. – 2Q18 Earnings Call
 "[I] think again these trends towards greater regulation, greater exposure, greater need to diligence managers and all that kind of stuff, greater suitability, all these things are driving towards doing business with fewer managers, larger managers, more diversified managers…" Joseph Sullivan, CEO, Legg Mason, Inc. – July 2018 Earnings Call
Consolidation pressures in the industry are largely the result of secular trends.  On the revenue side, realized fees continue to decrease as funds flow from active to passive.  On the cost side, an evolving regulatory environment threatens increasing technology and compliance costs.  Over the past several years, these consolidation rationales have led to a significant uptick in the number of transactions as firms seek to realize economies of scale, enhance product offerings, and gain distribution leverage.
Market Impact
Recent increases in M&A activity come against a backdrop of a bull market in asset prices that has continued through the third quarter of 2018.  Steady market gains have more than offset the consistent and significant negative AUM outflows that many active managers have seen over the past several years.  In 2016, for example, active mutual funds' assets grew to $11 trillion from $10.7 trillion, despite $400 billion in net outflows according to data from Bloomberg.  Because of increasing AUM and concomitant revenue growth, profitability has been trending upwards despite industry headwinds that seem to rationalize consolidation.
M&A Outlook
With over 11,000 RIAs currently operating in the U.S., the industry is still very fragmented and ripe for consolidation.  Given the uncertainty of asset flows in the sector, we expect firms to continue to seek bolt-on acquisitions that offer scale and known cost savings from back office efficiencies.  Expanding distribution footprints and product offerings will also continue to be a key acquisition rationale as firms have struggled with organic growth.  An aging ownership base is another impetus, and recent market gains might induce prospective sellers to finally pull the trigger, which could further facilitate M&A's upward trend during the rest of 2018.