Asset Manager Valuations Mixed at the Start of 2017
---
A quick glance at year-end pricing of publicly traded asset managers reveals a continued skid in cap factors for mutual fund providers offset by some multiple expansion for traditional and alternative asset managers.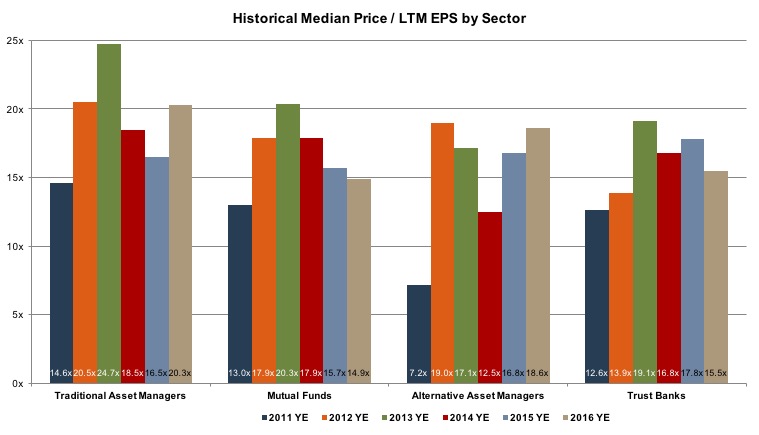 This downward trend in mutual fund valuation metrics is likely attributable to their diminished growth prospects in the face of heightened competition from ETF products and passive investment strategies.  Alternative and traditional asset manager valuations, on the other hand, have been buoyed by the recent stock market rally and the anticipation of higher management fees.  While this should benefit all sectors of the RIA space, mutual funds seem to be facing stronger headwinds.
Actual share price performance by sector highlights the recent momentum enjoyed by publicly traded trust banks, which we blogged about last week.  RIAs have also performed well over the last few months, which is likely attributable to higher AUM balances in a rising stock market.  On balance, these gains have more than offset the January sell-off for most classes of asset managers.  Publicly traded PE firms and hedge funds are a notable exception and have been adversely affected by fee compression and relatively poor performance in an otherwise upward trending market.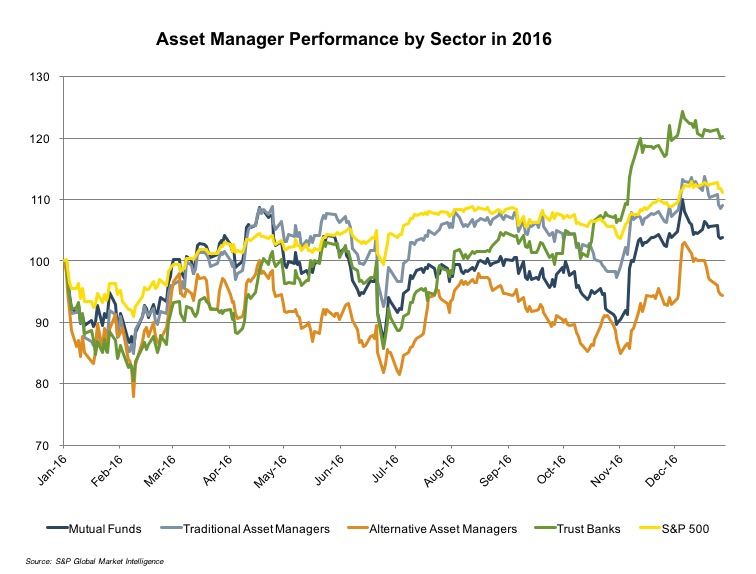 The outlook for these businesses is similarly market driven – though it does vary a bit by sector.  Trust banks are more susceptible to changes in interest rates and yield curve positioning.  Alternative asset managers tend to be more idiosyncratic but still influenced by investor sentiment regarding their hard-to-value assets.  Mutual funds and traditional asset managers are more vulnerable to trends in active and passive investing.  All are off to a good start in 2017 after entering bear market territory just one year ago, showing how much can change for these market-leveraged businesses in a relatively short time.
---
The RIA Valuation Insights Blog presents a weekly update on issues important to the Asset Management Industry. Follow us on Twitter @RIA_Mercer.