Don't Call it a Comeback!
Most Classes of Asset Managers Show Signs of Life After Several Quarters of Underperformance
---
Maybe the recent trend has nothing on Rocky Balboa or Gordon Bombay, but the past few months have been promising for most publicly traded RIAs. Relatively stable market conditions and better than expected earnings are the likely culprits for the group's "comeback," which has the overall index up 13% since February.
Still, as Coach Bombay can attest, [wounded] "ducks fly together," and all classes of asset managers have underperformed the broader market over the last year, with hedge funds and PE firms leading the descent. We've discussed this sector's plight ad nauseam, and it shouldn't be surprising that the most expensive asset class with the worst overall performance would continue to be shunned by investors – both on an absolute and relative basis.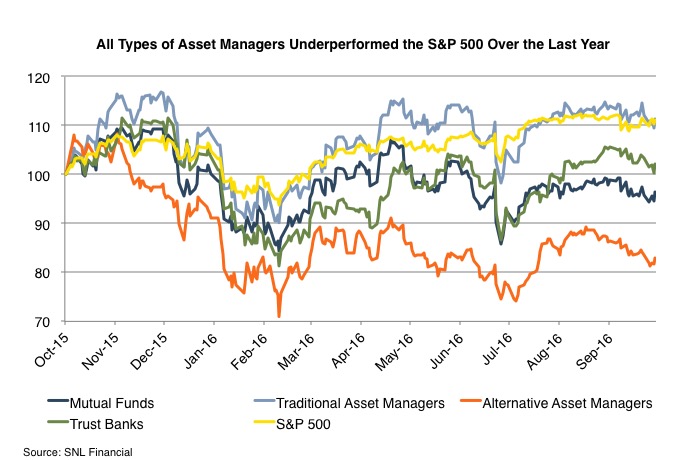 Further, there hasn't been much in the way of multiple relief as valuations are flat to down for most categories of asset managers in 2016. The cost of capital remains subdued (or subjugated, depending on your perspective), so the market seems to be anticipating lower growth prospects for the sector as a whole. Fee pressure, regulatory overhang, and index investing are all to blame and will likely remain a headwind to the sector for the foreseeable future.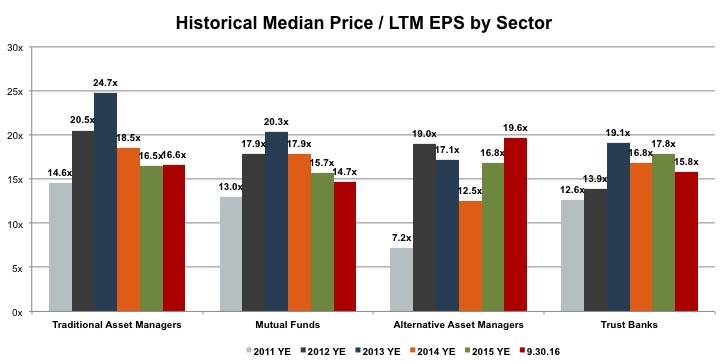 So why the recent uptick in pricing? Is this truly evidence of a comeback or is this simply mean reversion? If prices (P) are generally up over the last few months, and P/E ratios are flat to declining, then that would suggest earnings (E) are actually rising for most of these businesses. We'll see how Q3 fared in a few weeks, but recent earnings calls have focused on market volatility and the threats and opportunities inherent in the trend towards passive investing. Meanwhile, the markets have stabilized (for the most part) and drifted upward since February, likely buoying AUM, management fees, and earnings over the last two quarters.
Since the S&P is still up 25% over the last three years while the SNL asset manager index is down 11% during this time, we'll refrain from the Rocky Balboa / Apollo Creed, Team USA / Iceland comparisons for now. It does, however, suggest that the 30% index decline that started last spring may have been overkill, particularly considering that most of the broader indices were basically flat over this time. So probably no Miracle on Ice, but we'll let you know what RIA execs are saying about the recent trend during the next round of earnings calls in a few weeks.