How RIA Owners Can Rethink Compensation
Money Talks
Salary and bonus discussions are some of the most stressful conversations business owners have each year, and RIA principals are no exception. Since personnel costs are by far the largest expense item on an RIA's income statement, it is understandable that these principals frequently question (and are questioned about) their compensation decisions. While there is no one-size-fits-all formula for compensation, we have discovered three ways to ease some of the anxiety around these discussions.
1) Define the Philosophy of Your Compensation Model
Compensation can do more than simply reimburse your employees for their time, but only if it is well planned and communicated.  A good compensation model can help your company attract, retain, and motivate talent. We often think about compensation in four buckets.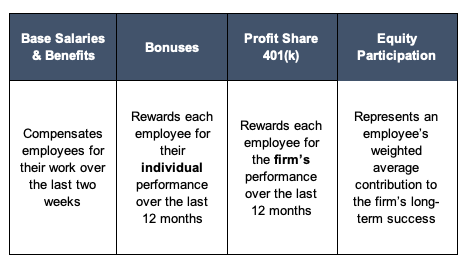 2) Pay Bonuses More Frequently
One benefit of a recurring revenue business is that a firm's performance can be calculated on a more frequent basis.  Paying bonuses quarterly, or even bi-annually, can take away some of the stress that annual bonus discussions bring.  Additionally, quarterly bonus discussions provide an opportunity to deliver meaningful feedback to your employees on a more regular basis.  Employees do their best work when they feel valued; why not remind them of that more than once a year?
3) Compare Your Margins to Peers
While there is significant variation in how RIA owners think about compensating their employees (and themselves), there is some uniformity across the industry as to how much RIAs should pay out in total compensation.  As shown below, publicly traded RIAs with under $100 billion in AUM pay out roughly half of revenue as compensation.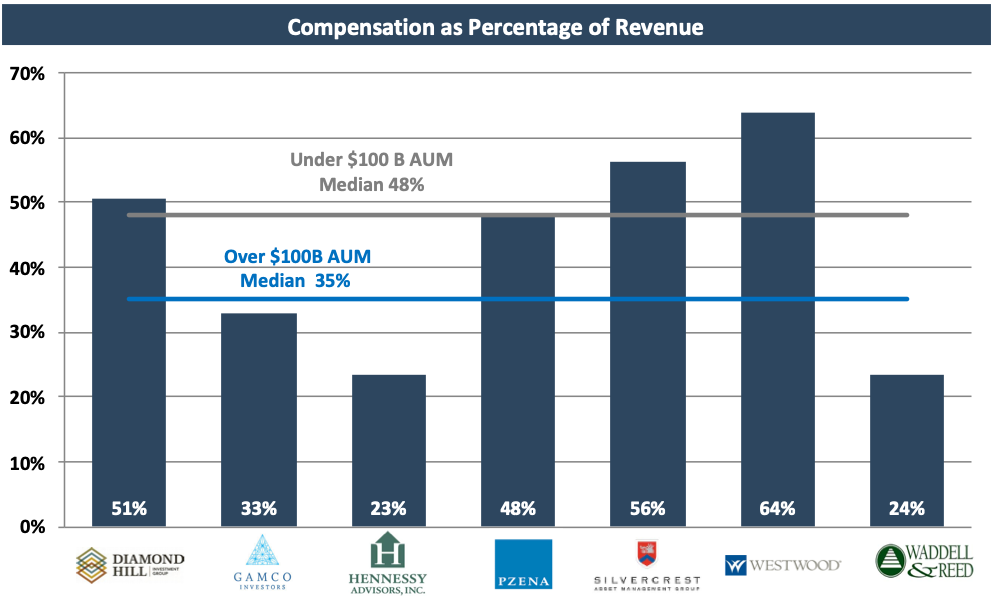 Considering this metric along with typical operating margins for RIAs (usually 20% to 30% depending on size, type, and location) can help you gauge whether your compensation expenses are in sync with the market.
To learn more about more on common compensation questions join us at RIA Practice Management Insights, as Matt Crow and I spend a half-hour answering your question about RIA compensation practices.
---
Only 2 WEEKS until the RIA Practice Management Insights conference begins!
Mercer Capital has organized a virtual conference for RIAs that is focused entirely on operational issues – from staffing to branding to technology to culture – issues that are as easy to ignore as they are vital to success. The RIA Practice Management Insights conference will be a two half-day, virtual conference held on March 3 and 4.
Join us and speakers like Jim Grant, Peter Nesvold, Matt Sonnen, and Meg Carpenter, among others, at the RIA Practice Management Insights, a conference unlike any other in the industry.
Have you registered yet?