RIA Industry Extends Its Bull Run Another Quarter
Publicly Traded Asset/Wealth Managers See Continued Momentum Through First Quarter as Market Backdrop Improves
It was about a year ago that share prices for publicly traded investment managers hit rock bottom, as investors reacted to the downside of having a revenue stream tied to the overall market.  Since then, it's been a straight-line recovery that's continued through the first quarter of 2021, riding the wave of the larger bull market.
Today, most individual stocks in our indices are hovering near 52-week highs.  Aggregators have fared particularly well over the last twelve months on low borrowing costs and steady gains on their RIA acquisitions.  Traditional investment managers have also performed well over this time on rising AUM balances with favorable market conditions.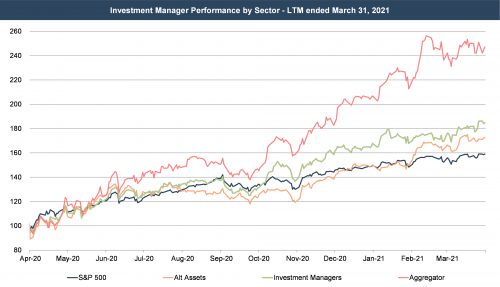 The upward trend in publicly traded asset and wealth manager share prices since March 2020 is promising for the industry, but it should be evaluated in the proper context.  Pre-COVID, many of these public companies were already facing numerous headwinds including fee pressure, asset outflows, and the rising popularity of passive investment products.  While the 11-year bull market run largely masked these issues, asset outflows and revenue pressure can be exacerbated in times of market pullbacks and volatility. The fourth quarter was also favorable for publicly traded RIAs of all sizes as shown below.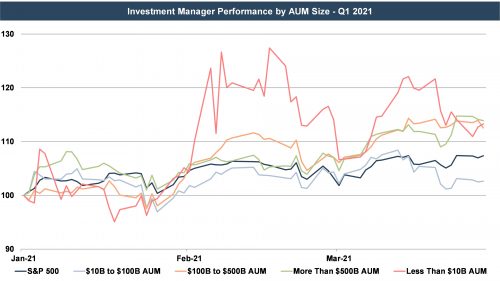 As valuation analysts, we're often interested in how earnings multiples have evolved over time, since these multiples can reflect market sentiment for the asset class.  LTM earnings multiples for publicly traded asset and wealth management firms declined significantly during the first quarter last year—reflecting the market's anticipation of lower earnings due to large decreases in client assets attributable to the overall market decline.  Multiples have since recovered as prospects for earnings growth have improved with AUM balances.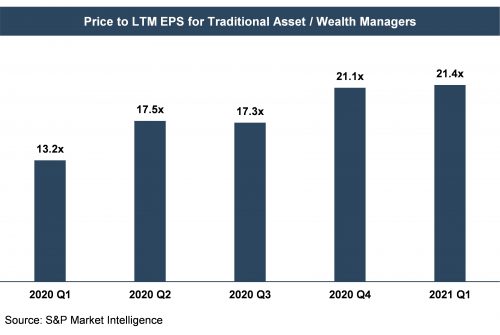 Implications for Your RIA
The value of public asset and wealth managers provides some perspective on investor sentiment towards the asset class, but strict comparisons with privately held RIAs should be made with caution.  Many of the smaller publics are focused on active asset management, which has been particularly vulnerable to the headwinds such as fee pressure and asset outflows to passive products.  Many smaller, privately held RIAs, particularly those focused on wealth management for HNW and UHNW individuals, have been more insulated from industry headwinds, and the fee structures, asset flows, and deal activity for these companies have reflected this.
The market for privately held RIAs has remained strong as investors have flocked to the recurring revenue, sticky client base, low capex needs, and high margins that these businesses offer.  Like the public companies, value likely declined during the first quarter of last year, but these were largely paper losses (not many transactions were completed based on value during the height of the downturn).  Likely, not more than a quarter or two of billing was impacted last year by the market downturn.  Since then, revenue and profitability have recovered rapidly, and value has likely improved as well similar to the publicly traded asset/wealth managers.
Improving Outlook
The outlook for RIAs depends on a number of factors.  Investor demand for a particular manager's asset class, fee pressure, rising costs, and regulatory overhang can all impact RIA valuations to varying extents.  The one commonality, though, is that RIAs are all impacted by the market.
The impact of market movements varies by sector, however.  Alternative asset managers tend to be more idiosyncratic but are still influenced by investor sentiment regarding their hard-to-value assets.  Wealth manager valuations are tied to the demand from consolidators while traditional asset managers are more vulnerable to trends in asset flows and fee pressure.  Aggregators and multi-boutiques are in the business of buying RIAs, and their success depends on their ability to string together deals at attractive valuations with cheap financing.
On balance, the outlook for RIAs has generally improved with market conditions over the last several months.  AUM has risen with the market over this time, and it's likely that industry-wide revenue and earnings have as well.  The first quarter was generally a good one for RIAs, but who knows where the rest of 2021 will take us.