Sterling National Regifts Trust Department to Midland
---
Last Christmas, a gift grab almost ripped my entire family apart.  If you have never participated in a gift grab and all of its associated horrors, the rules are simple enough.  Each participant is tasked with finding a gift under a specific price point that (hopefully) everyone would enjoy.  On the day of the gift exchange, numbers are drawn by random to determine the order, with the first player choosing a gift to open, and the second player choosing whether to steal the opened gift or open a new one, and so on.  If a player has a gift stolen from them, they get to open a new gift.
What was supposed to be a "fun" game soon devolved into a sort of passive-aggressive warfare, the likes of which I have never seen.  By the time every gift had been allotted, factions had been made, treaties broken, and at least three of us were on the verge of tears.  I, meanwhile, was happy as a clam with my punny bag of "hand soap" – quite literally, soap shaped into little hands that was once lovingly described as looking like a "bag of amputated baby hands."  No one else wanted them, but what can I say; I'm a sucker for word play.
As inspiration for fair deals and perfect swaps, we looked into Midland State Bancorp's recent acquisition of Sterling National Bank's trust department.  From what we've read about the deal, it appears both parties walked away with what they wanted.
In November of 2014, Sterling National Bank announced the acquisition of Hudson Valley Bank ("HVB") in order to expand Sterling's loan and deposit market into the greater New York City metropolitan area.  The deal was a lucrative one in terms of both market expansion and balance sheet growth.  As of the closing in June of 2015, Sterling acquired 28 new branches across five counties, with $288 million in assets, $1.8 billion in loans, and $3.2 billion in deposits.  Along with the deal, however, Sterling also happened to acquire HVB's small, but not immaterial, trust department with over $423 million in managed assets.  The only problem was that Sterling had opened an additive gift that they did not have the structure for and was too small to stand on its own, but too large to ignore.
Midland States Bank announced its acquisition of Sterling's wealth management assets in February of this year, the majority if which happened to be in Special Needs and Settlement Trusts.  Midland's structure was well suited for the deal, with a specialty in trusts that had developed through a prior acquisition in 2013.  The deal closed for $4.8 million, retaining all 12 members of Sterling's trust department, and bringing its wealth management AUM up to $1.6 billion.  The EBITDA margin was not disclosed in the announcement of the deal (the fact that the price alone was reported, is unusual), but following a typical EBITDA margin of 20% to 30% for a trust department, the deal falls within a range of EBITDA multiples from 5.7x to 8.6x.  The midpoint of the range, 6.8x, depicts a strategic sale that was neither a fire sale nor a purse buster.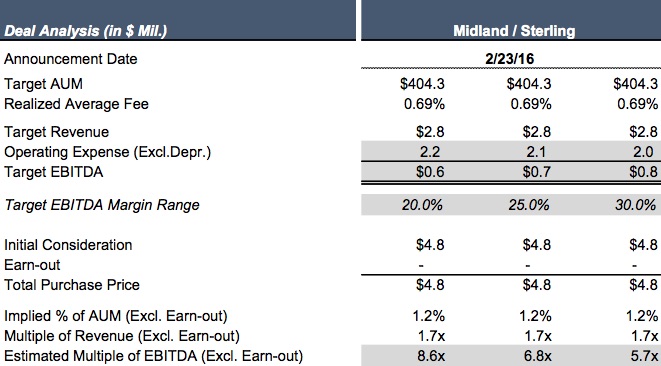 This appears to be a gift exchange done well – greater manpower and AUM for Midland's trust department, and a cleaner balance sheet and some cash to boot for Sterling's bank practice – a strategic deal for both buyer and seller.  My family should take note.
With another holiday season upon us, we hope that if you get dragged into a gift grab, your gift be perfect for you.  And if you're in need of some creepy soap, I know a guy…
---
The RIA Valuation Insights Blog presents a weekly update on issues important to the Asset Management Industry. Follow us on Twitter @RIA_Mercer.