Why Has the Public Market Soured on RIA Consolidators?
Recent Capitulations for AMG and Focus Suggest Investors are Starting to Question Their Business Model
While it's no secret that the last year has been especially challenging for the RIA industry, Affiliated Managers Group (AMG) and Focus Financial (FOCS) have underperformed most of their peers by a fairly significant margin in the last few months.  AMG is down nearly 50% over the last year, and Focus has lost over 50% of its value since peaking last September. For this post, we'll offer our take on the driving forces behind this decline.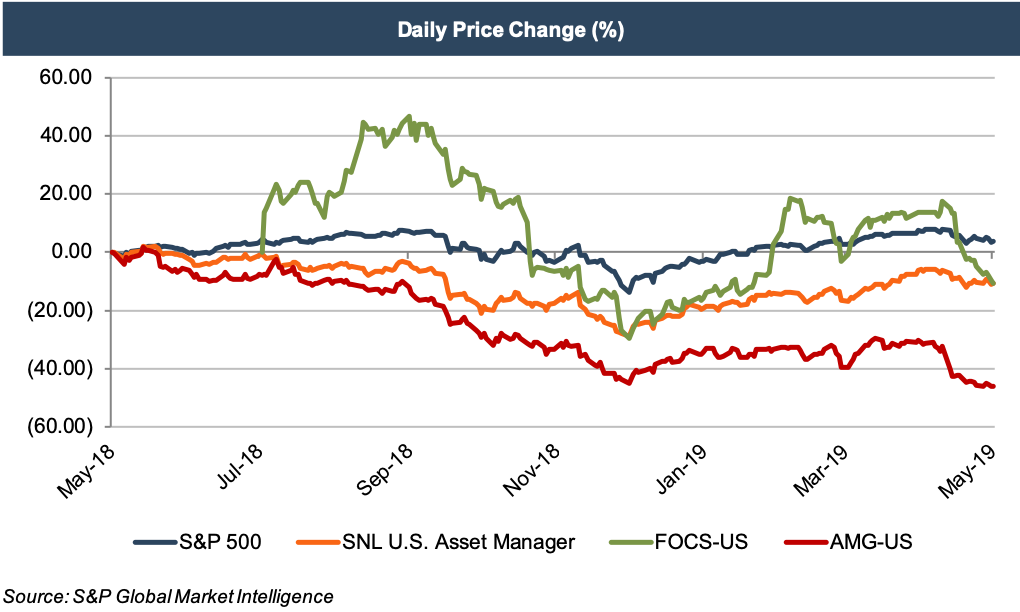 1) AMG and Focus' Underlying Investments Have Likely Depreciated with the Industry, and These Losses Have Been Amplified by Leverage
If the RIA sector has underperformed the broader market by 10-15% in the last year (per above), it stands to reason that businesses that invest in this industry would experience a similar decline.  Then you have to factor in leverage.  Both AMG and Focus employ debt financing to make acquisitions, which magnifies losses when things go bad.  Even though the balance sheet isn't a focal point for most RIAs, AMG and Focus both have growing debt obligations and deficit tangible equity.  Their income statements aren't much better as Focus remains unprofitable (on a reported basis), and AMG is battling margin compression.
Asset managers, in particular, have struggled over the last year, which may explain AMG's underperformance relative to Focus during this time.  Fee compression, poor investment performance, and continuous asset flows from active to passive products are largely to blame for the sector's recent woes.
2) Market Declines Can be Particularly Damaging to High Beta Securities like AMG and FOCS
A quick perusal of the graph above shows how sensitive these businesses are to market gains and losses.  The fourth quarter and recent weeks show significant declines as the market pulls back.  Volatility has likely compounded this issue as nervous investors shun active managers and look to products designed to mitigate losses.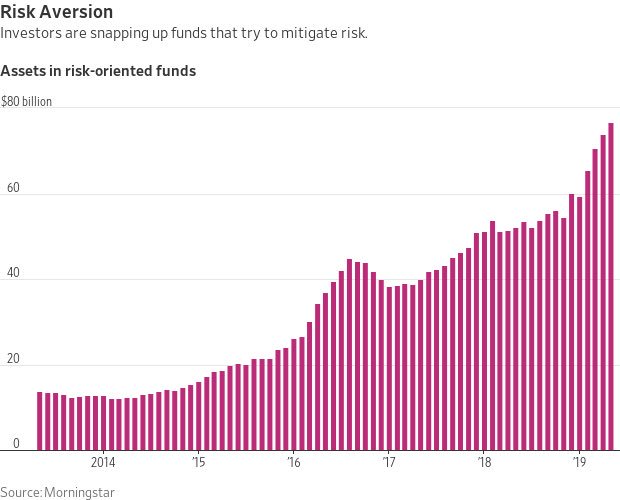 While Focus Financial CEO Rudy Adolf contends that Focus is relatively well insulated from market downturns, the reality is that this business (and AMG) levers up to buy companies that invest primarily in stocks or equity funds.  This dynamic creates an inherently volatile and market sensitive security that will almost certainly underperform the market in a downturn or correction.  The opposite is also typically the case, but not always.
3) Goldman Sachs' Recent Entry in the RIA Consolidation Space Means More Competition for Buyers and Possibly Lower Returns
Goldman's acquisition of RIA consolidator United Capital could be a game changer for M&A in the wealth management space.  A buyer of Goldman's scale and resources is great for RIAs looking to sell, but not so great for other aggregators competing for deals.  Hightower also intends to ramp up RIA acquisitions in an already crowded space.  AMG and FOCS's correction over the last couple of weeks may be attributable to these developments.
A buyer of Goldman's scale and resources is great for RIAs looking to sell, but not so great for other aggregators competing for deals.
The public market seems concerned about AMG and Focus' ability to find deals at attractive valuations (and returns).  While Focus has strung together over 20 acquisitions so far this year, keeping up that pace may be a tall order—especially if competition for deals increases.  AMG, on the other hand, has had a two-year acquisition dry spell that recently ended with the acquisition of Garda Partners.
For aggregators like AMG and Focus, acquisitions are a key part of the growth strategy.  While these firms try to foster organic growth as well, acquisitions are still the fastest path to scale.  If the public market's reaction to AMG and Focus is any indication, the outlook for this strategy appears to be facing some challenges.
Don't Read Too Much Into This… 
Focus and AMG are often regarded as bellwethers for financial advisory firms and asset managers, respectively.  We disagree.  They're both in fundamentally different lines of business.
AMG and Focus use debt financing to buy RIAs of one kind of another.  They're not managing assets on behalf of clients (at least not directly).  They have huge balance sheets and debt obligations, unlike most investment managers.  They're monitoring their own investments, not their clients'.  As publicly traded firms, they're probably more concerned with the beating the Street and appeasing a much broader ownership base.
Sure, the fortunes of AMG and Focus are tied to the fortunes of the firms they invest in over the long run.  But the business of acquiring RIAs is not the same as the RIA business.  So, while AMG and Focus may have lost half of their value in recent months, your business probably hasn't.
…But You Should Still Pay Attention
We don't think you should panic because publicly traded consolidators have struggled in recent months.  We do think it's important to recognize the challenges they're facing, especially if you're starting to think about an exit strategy.  The RIA acquisition model isn't dying, but investors seem to be anticipating a market share shift away from AMG and Focus.
We don't think you should panic over publicly traded consolidators' recent struggles, but we do think it's important to recognize the challenges they're facing.
It's also worth noting that these acquirers often use their own stock as part of the total consideration.  For AMG and Focus, you know exactly how much that's worth.  For closely held aggregators like Hightower and Captrust, their stock price is not readily apparent.  Given what's happened to AMG and FOCS over the last year, it's probably reasonable to assume that other consolidators are not worth as much as they once were.  Even if they are publicly traded, you should be wary of any lock-up provisions since their stock prices are so volatile.
In all likelihood, these businesses and other consolidators will continue to drive industry M&A.  RIA aggregators like AMG and Focus are just one of many exit options for RIA owners, but we'll likely see their share of overall transaction volume increase with Goldman backing United Capital, and Hightower changing course to compete with Focus et al.  As the industry ages, these businesses are poised to play an increasingly important role in resolving the succession dilemma.  A few years ago, many of our clients had never heard of AMG or Focus.  That has definitely changed.