Auto Brands and the 2022 World Cup
Who Are the Top Ranked Countries?
After failing to qualify in 2018, the United States Men's National Soccer Team went over 3,000 days between World Cup matches. After returning to the World Cup stage this year, the U.S. team notched draws against Wales and England, meaning that the U.S. will advance to the knockout stages if they win against Iran.
In the spirit of the Cup, we compare the FIFA rankings of the world's largest vehicle-producing countries. Spoiler alert: there is no correlation. But in our research, we found plenty of interesting nuggets. We also discuss top vehicle-producing nations that did not qualify for the World Cup and nations that did but do not have a significant presence in auto production. We also get into brand presence and Blue Sky multiples of these nations' vehicle brands.
FIFA Rankings, World Cup Groups, and Vehicle Production Data
As the industry's supply chain issues have shown us in 2022, the world economy is interconnected. Both the World Cup and personal vehicles demonstrate a wide variety of cultures and consumer preferences. Vehicle production data in this piece is based on depressed 2022 levels reported by the International Organization of Motor Vehicle Manufacturers, or "OICA." We note this data may not perfectly illustrate nuances between manufacturing vs. assembly. For example, none of the top 10 most popular vehicle brands in Brazil in 2021 were actually Brazilian, which ranks 6th globally in population as well as car production.
The table below shows all 32 countries in the World Cup that are also captured in the reported 37 largest global auto producers for 2022.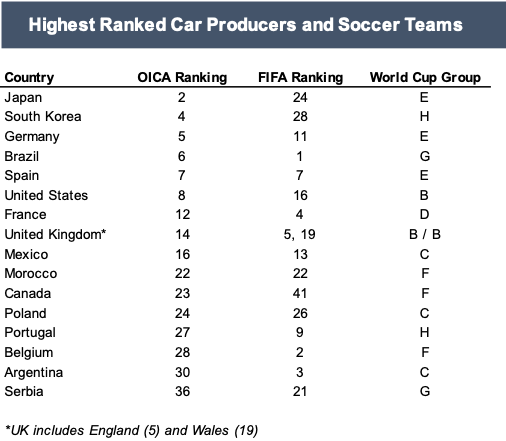 Only Brazil and Spain are ranked in the top 10 of both categories, with reigning World Cup champion France producing the 12th most cars in 2022 according to OICA. Germany is also ranked highly in soccer and car production, coming in 5th in cars produced and 11th in the World FIFA Rankings.
The "Group of Death"
In world soccer, the "Group of Death" refers to which group looks to be the most difficult to advance to the knockout stages. With the expanded tournament and group determination based on FIFA rankings, the odds of a prohibitive favorite being in the same group as two other favorites are significantly reduced. However, the Russian invasion of Ukraine meant the last three spots had not been determined at the time of the drawing. These three spots, eventually won by Wales, Australia, and Costa Rica, were placed into Pot 4 despite their FIFA rankings. This led to Group B having teams currently ranked 5, 16, 19, and 20, or a sum of 60.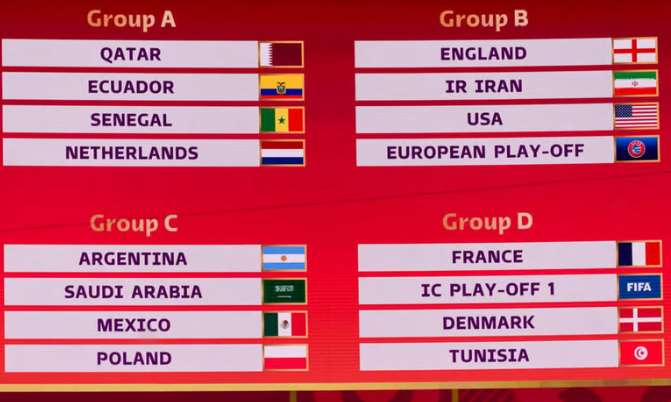 The next toughest World Cup group in terms of combined FIFA ranking is Group E with Spain, Germany, Japan, and Costa Rica. In terms of vehicle production, this would certainly be the Group of Death with three of the top seven vehicle-producing countries. When you consider that China (FIFA 79) and India (FIFA 106) are two of these, that's some heavy concentration in Group E. Group A is the only group that does not have one of the world's largest auto-producing countries.
Top Vehicle Producers That Missed Out on the World Cup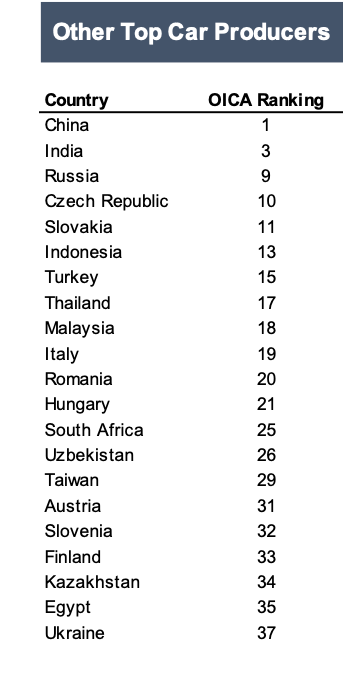 Now that we have looked at World Cup participant nations' auto production industries let's look at nations that did not qualify. While China and India have no significant soccer history, some high-level soccer teams are also top car producers, including Russia, the Czech Republic, Slovakia, Turkey, and Italy. See the table "Other Top Car Producers" for the OICA rankings of the nations that missed out on this year's contest in Qatar.
Russia hosted the 2018 World Cup and advanced to the knockout stages but was disqualified from the 2022 tournament given the ongoing conflict with Ukraine, who failed to qualify after a 0-1 loss to Wales (which was delayed due to the war). Perhaps the biggest shock to the casual observer is the omission of Italy, who won the World Cup in 2006 and the European Championships in 2020. A poor showing in the notoriously difficult European qualifying process ended for Italy after a shocking loss to tiny North Macedonia, who went on to lose to Portugal in the playoff.
World Cup Teams That Do Not Produce Many Automobiles
As noted previously, no teams from Group A are considered top auto producers.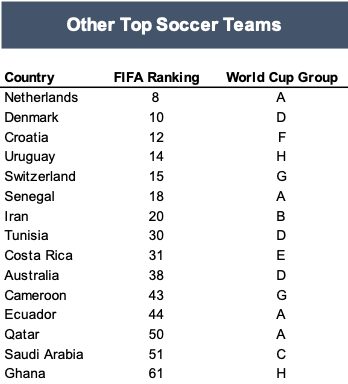 Based on geography, each of the six World Cup confederations has at least one World Cup participant without significant auto production. Costa Rica is the only country from CONCACAF (North and Central America) omitted from the OICA list though it is a relatively short distance from Mexico. Conversely, Morocco is the only African team on the top producer list. Strictly by these rankings, both Spain (7) and Morocco (22) are equally capable of playing professional soccer and producing vehicles.
Auto Brands by Country
Shifting away from production, there are four countries with brands that have a significant presence in the U.S.: Japan, the U.S., Germany, and South Korea. While German vehicles are associated with luxury, Japanese vehicles are viewed as more durable. German dealerships tend to fetch higher Blue Sky multiples in the U.S., but there's an interesting comparison with their soccer teams here. While Germany is a favored high performer, Japan is viewed as more durable. Perhaps this is how Japan came from behind in the 2-1 upset when it looked like Germany might run away with it at halftime last Wednesday.
Brands by country are shown below. Other major brands in the U.S. are Jaguar/Land Rover and Volvo, which are from the U.K. and Sweden, respectively.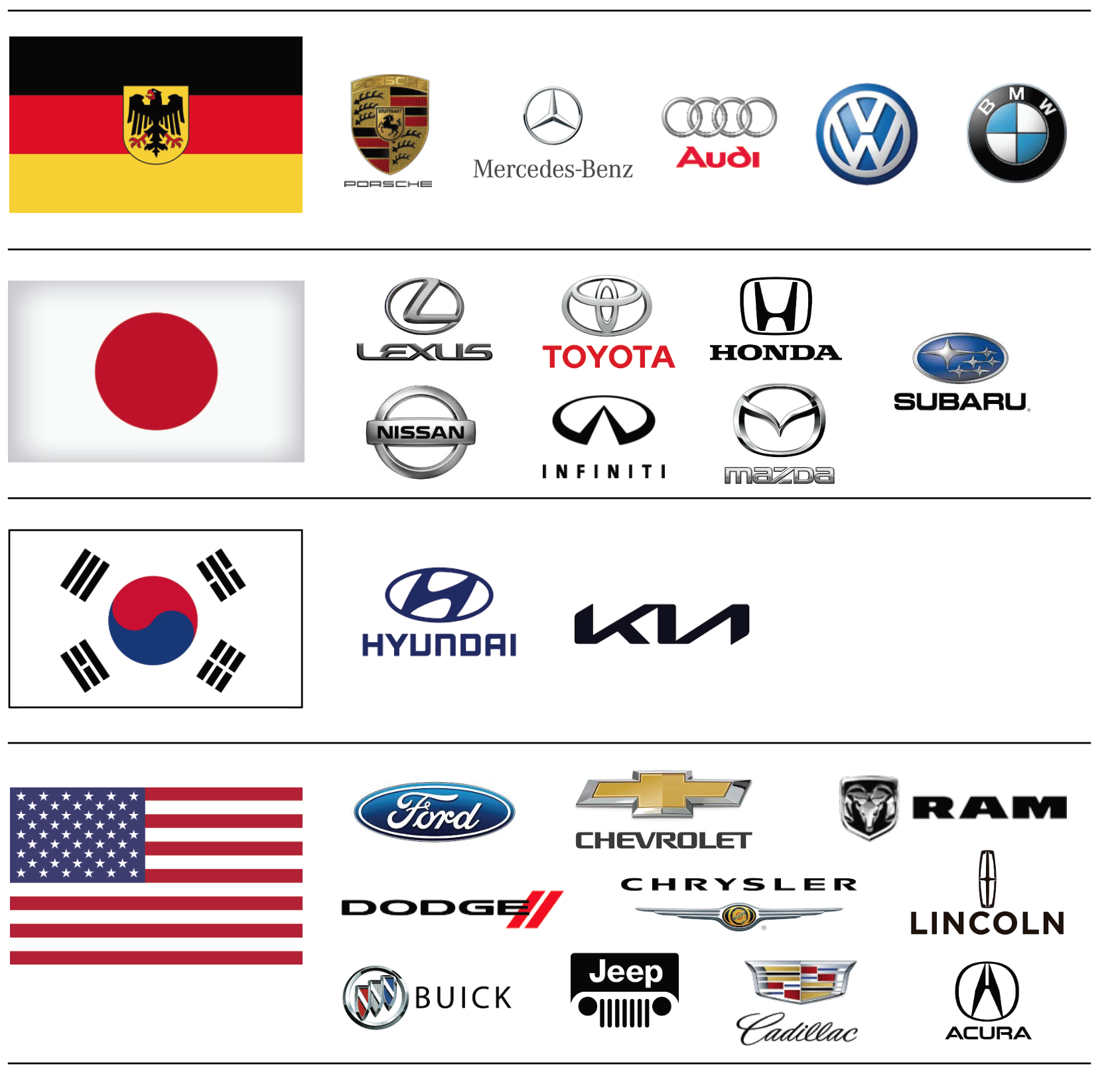 Auto Brands by OEM and Blue Sky
Below, we've tabulated major brands in the U.S. market, sorted by Blue Sky value according to the Q3 Haig report. We've included the OEM for each brand and their home country.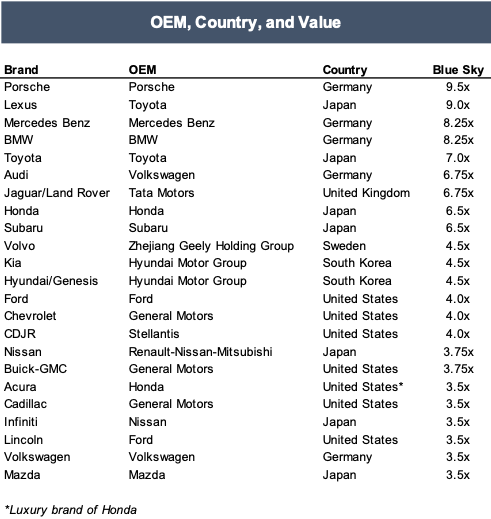 While Acura is Honda's luxury brand, it was first launched in the U.S. and Canada in 1986 and is primarily based in North America today. In 1989, Toyota and Nissan responded by launching Lexus and Infiniti, respectively. Other OEMs with multiple dealerships brands in the U.S. market include:
VW (Audi is a luxury offering acquired in the 1960s)
GM (Cadillac is a luxury offering acquired in 1908)
Hyundai (also owns Kia; neither of which are considered luxury)
Ford (Lincoln is a luxury offering acquired in 1922)
While Toyota has become one of the most desirable dealership brands, they are still deemed less valuable than Lexus dealerships. Audis have declined from their runup in popularity about ten years ago, but they remain considerably more valuable than their VW counterpart, who continues to climb out of its emissions scandal.
While Blue Sky multiples are positively correlated to luxury brands compared to the domestic/mass market, Cadillac, Infiniti, and Lincoln are all less valuable than the mass market version offered by their OEMs. According to Haig's Blue Sky multiples, Cadillac is below all GM brands (Chevy and Buick-GMC), Infiniti is below Nissan, and Lincoln is below Ford. Whether it's an issue of product mix or lack of attention/investment compared to core brands, there's a clear dichotomy in performance compared to Lexus and Audi.
Conclusion
While we would have liked to run a statistical model based on brand desirability or production, we know the correlation would be spurious at best. But that won't stop us from cheering on the boys in red, white, and blue!
Mercer Capital follows key trends in the auto industry to stay current with the operating environment of our privately held auto dealer clients. To see how prevailing trends may impact your dealership, contact a Mercer Capital professional today.