Blue Sky Multiples Remain Flat as Earnings Plateau
Dealers Continue to Perform through Negative Economic Indicators
The first half of 2022 was tumultuous, which Haig Partners succinctly summarized in their Q2 Haig Report. Negative headlines and headwinds aplenty:
Inflation driving up costs for dealers and reducing affordability for customers
Interest rates rising also drives up dealer costs and reduces affordability
Gas prices spiked (and are receding) which also reduces affordability (though this has only indirect impact on dealer costs)
The stock market (as measured by the S&P 500) is down 18.2% year to date and GDP growth has been negative for two consecutive quarters
There is geopolitical uncertainty surrounding China-Taiwan and Russia's invasion of Ukraine
Supply chain issues have plagued the industry for over a year and a half and consumers are well aware of the high transaction prices of vehicles
Available monthly data for these economic indicators are displayed since December 2019 in the following graphs below.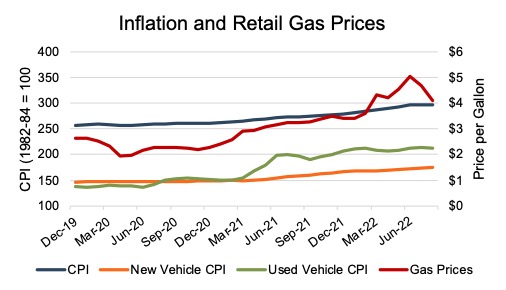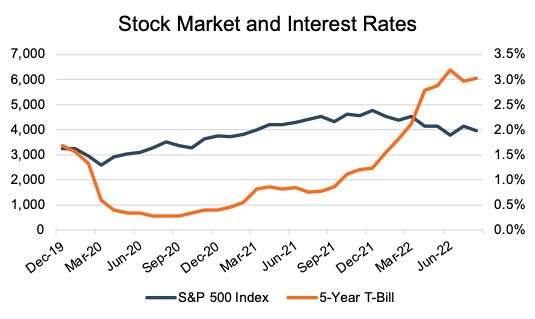 In spite of these conditions, dealers have navigated this environment to deliver record profits. However, Haig points to the public dealers' earnings in Q2 as an indication that dealer earnings may have plateaued. The future direction of profitability is hard to predict, but with all the historical indicators for the industry flashing red, eventually, even the supply-demand imbalance cannot overcome all of these challenges. Whenever supply starts to rebound, the key question will be the degree to which gross profitability reverts as well.
Blue Sky Multiples – Luxury Brands
After three straight quarters of changes in 2020, not a single luxury dealership saw a change in its multiple range in the next seven quarters. However, after years of only reporting a value range due to a lack of profitability, Cadillac dealerships reported at a range of 3x-4x in Q4 2021. Similarly, Infiniti and Lincoln reported a multiple range of 3x-4x in the Q2 2022. Value ranges are used instead of multiples when many of the brands' dealers are not profitable, but with improved earnings performance industry-wide, Haig is now reporting a multiple range for every brand covered in its report for the first time since at least Diesel Gate in 2014. We note the 3x-4x range for Cadillac, Infiniti, and Lincoln matches the 3x-4x range of Acura dealerships, which have consistently reported a multiple range at the low end for luxury dealerships.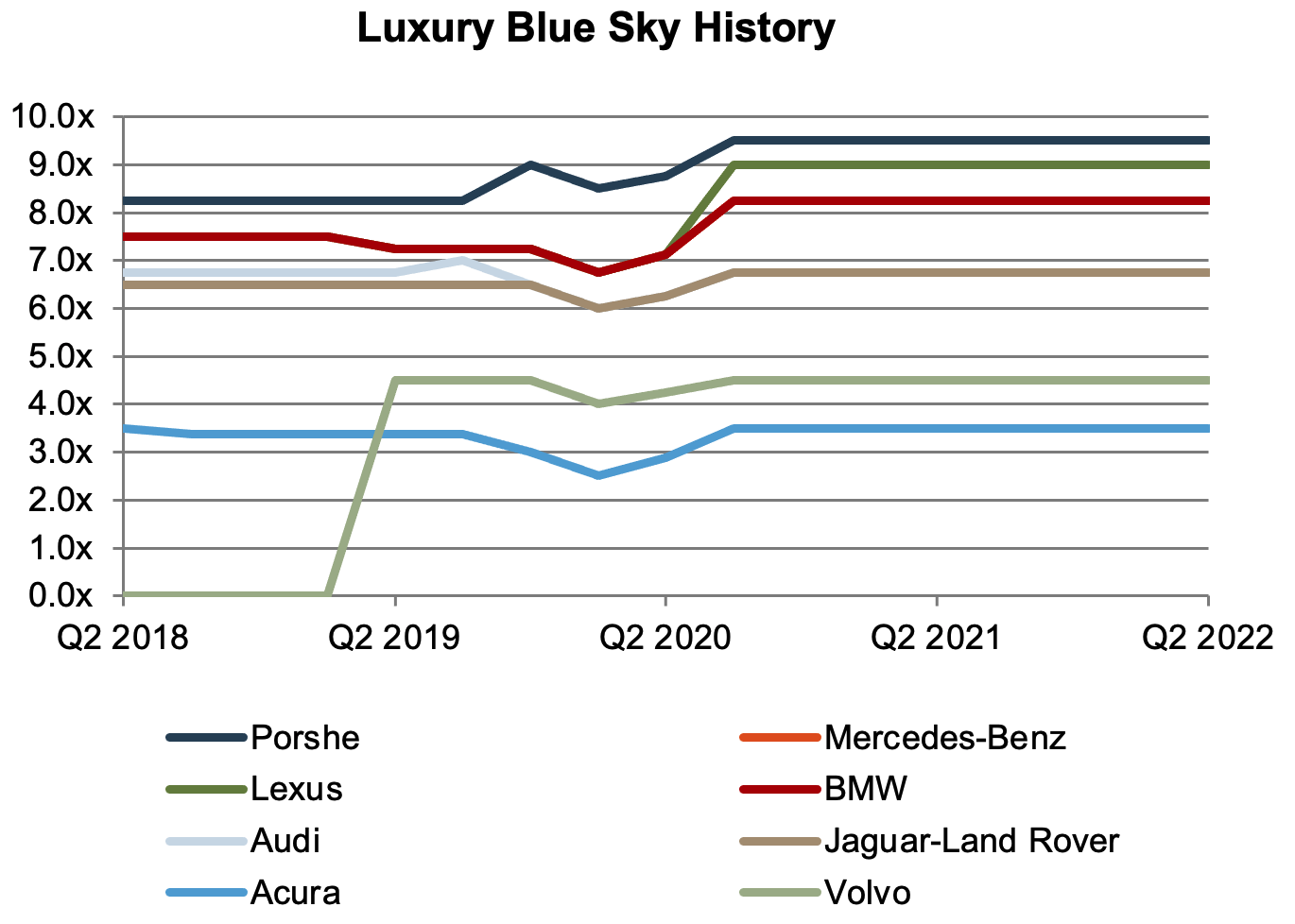 Blue Sky Multiples – Mid-Line Import Brands
During the first half of 2022, Hyundai and Kia saw another 0.25x improvement in multiple to a range of 4x-5x, building on a 0.5x improvement in Q3 2021. There are now three distinct tiers of mid-line brands: Toyota paces the top group (followed by Honda and Subaru), Hyundai and Kia, despite improvements, are still 2.0x below the top three, followed by VW, Nissan, and Mazda, which are about 1.0x below Hyundai and Kia and in line with the lowest multiples of the luxury brands.
Toyota dealerships still fetch higher valuations than Audi and Jaguar-Land Rover dealerships. While they don't sell luxury vehicles, Toyotas are viewed as dependable vehicles. Potentially more important to dealers, Toyota has indicated it has no plans to replace dealerships with an agency model and is committed to a phased transition into EVs while also offering ICE vehicles and hybrids. Haig declared that Toyota might be the most desired brand in the industry. We find this interesting as Toyota dealerships remain a bargain in terms of Blue Sky's multiple range as compared to the top-of-the-line luxury dealerships. Desirability may also be factoring in cost, and the supply of luxury dealerships for sale may have an impact on the higher multiples for Porsche, Lexus, etc., particularly considering Toyota Motor Corporation owns Lexus.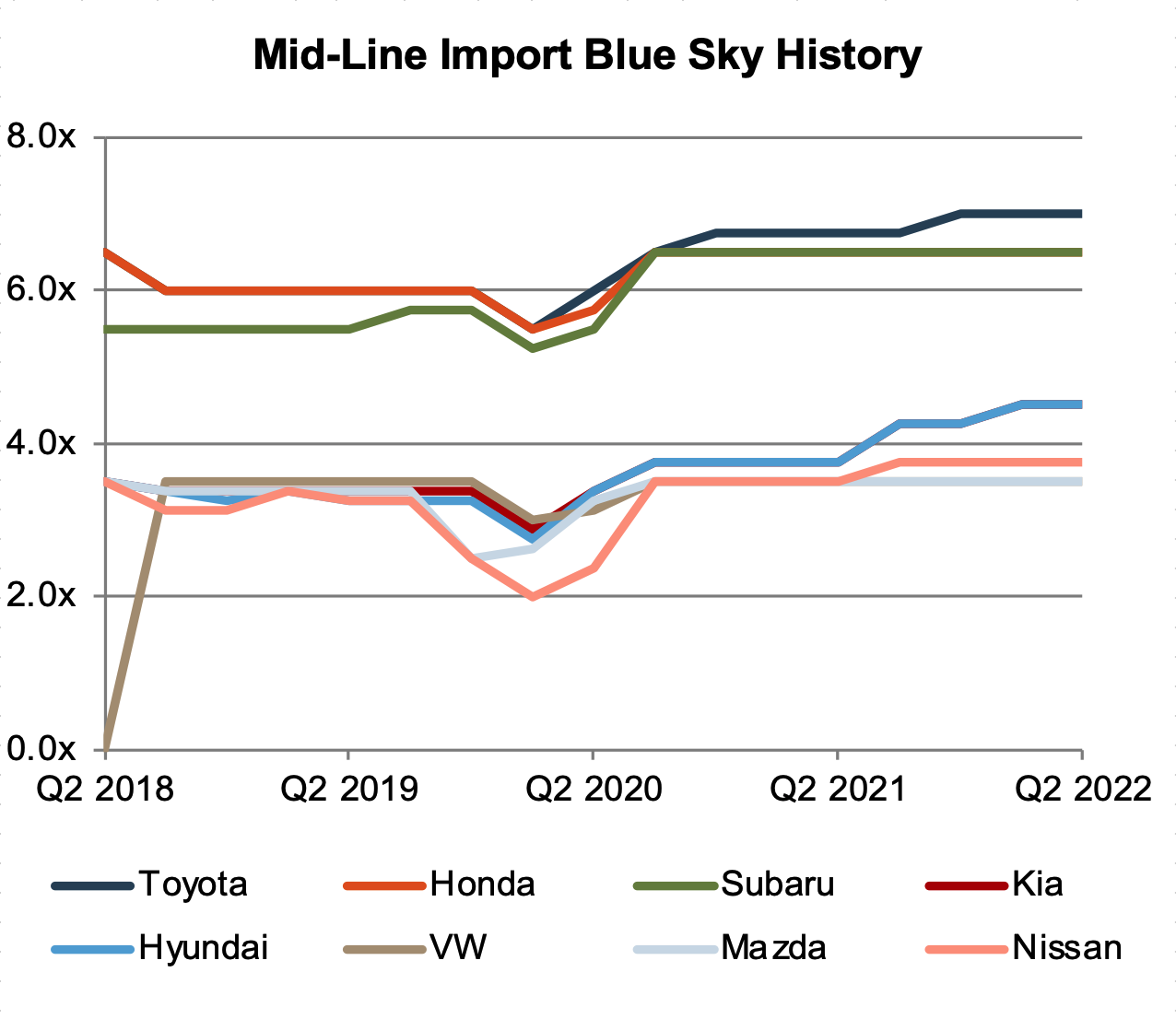 Blue Sky Multiples – Domestic Brands
Domestic franchise multiples have not changed since Q3 2020. With the rise of Hyundai and Kia's multiples over the past year, domestic brands' multiples are now generally in between the second and third tier of mid-line imports, where they once held a slight advantage over some of those brands. One would think that supply chain constraints would more negatively impact import brands than their domestic counterparts. However, the past two years have demonstrated that even domestic brands rely heavily on the global supply chain for their inputs, particularly microchips.
In the last four years, domestic brands Ford, Chevrolet and Buick-GMC are the only brands across all of the published Haig multiples that have decreased. In Q2 2018, these brands' multiples were half a turn higher than they are in Q2 2022. Stellantis actually increased over that same period but only by 0.25x.
It is important to note that the published blue-sky multiple ranges, while certainly reasonable, do not imply that dealerships are actually transacting at these multiples. With the performance of most dealerships remaining elevated, owners on the lower end of Blue Sky multiples are less likely to transact when the payback period on an investment is so short unless they need liquidity or are approaching retirement without an identified succession plan.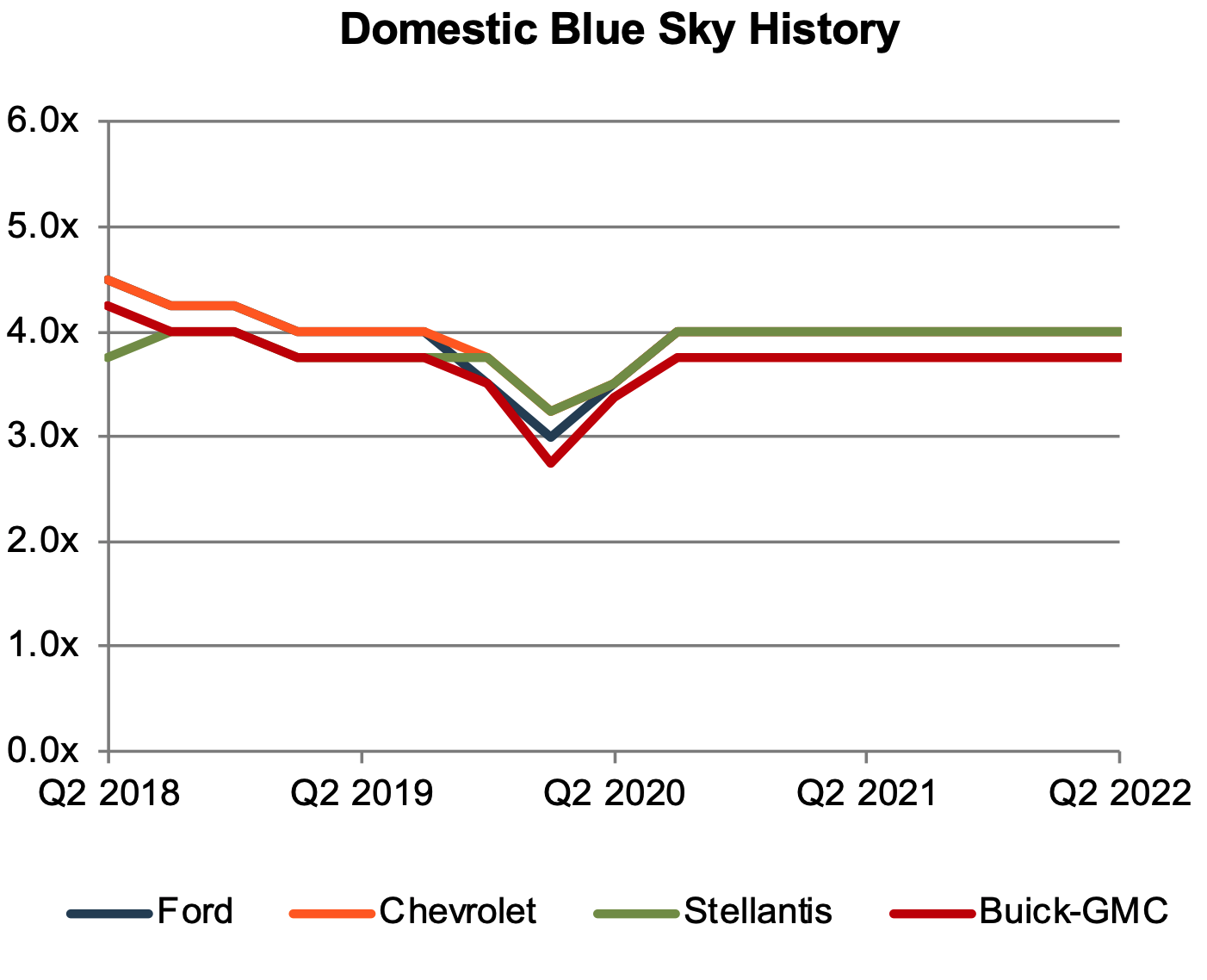 Conclusion
Blue Sky multiples provide a useful way to understand the intangible value of a dealership. These multiples provide context for someone familiar with the auto dealer space but perhaps not the specific dealership in question. Buyers don't directly determine the price they are willing to pay based on Blue Sky multiples; they analyze the dealership and determine their expectation for future earnings capacity (perhaps within the context of a pre-existing dealership where synergies may be present) as well as the risk and growth potential of said earnings stream. The resulting price they are willing to pay can then be communicated and evaluated through a Blue Sky multiple, and if a dealer feels they are being reasonably compensated, they may choose to sell.
For dealers not yet looking to sell, Mercer Capital provides valuation services (for tax, estate, gifting, and many other purposes) that analyze these key drivers of value. We also help our dealer clients understand how their dealership may or may not fit within the published ranges of Blue Sky multiples. Contact a Mercer Capital professional today to learn more about the value of your dealership.