Changing Advertising Trends for Sunday's Big Game
How the Auto Industry Is Spending Advertising Dollars
So it's the week of the big game. What are you most looking forward to?  The game?  The food – appetizers and snacks?  The halftime show? Or maybe the commercials?  Inevitably, all of us probably have this same list of things in some particular order.  The festivities will probably look entirely different this year with smaller gatherings and pandemic protocols affecting travel and public viewing at restaurants and sports bars.  But what will this year's commercial line up look like?
The big game has historically been a showcase for national companies and advertisers to try and leave a lasting impression on a mass audience.  Each of us probably has a running short list of the most iconic and memorable ads from prior games:  the Budweiser frogs, Wendy's "where's the beef?" or Coca-Cola and mean Joe Green tossing his jersey to the childhood fan.  But, these advertisements aren't for the faint of heart – they are very costly.  2021 is no different with Viacom/CBS having an asking price of about $5.5 million for each 30-second spot.  The price tag serves as a barrier to entry for all but larger national brands or those few each year trying to splash onto the scene.
The auto industry, specifically the OEMs, are no strangers to advertising during this annual football holiday.  Looking back over the last five years, an average of seven auto manufacturers have participated with a high of nine advertisers during the February 2016 game and a low of five at the February 2019 game.  The chart below displays the number of advertisements in each of the past five games, plus this year's game.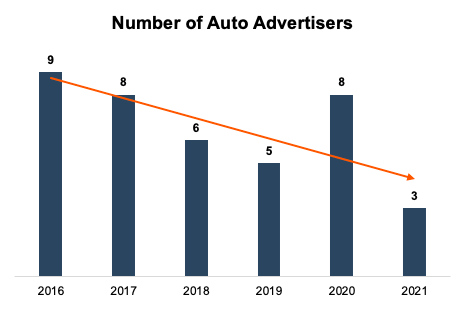 What's different in this year's game?  Well for starters, the pandemic has adversely affected television ratings and the public's consumption of sporting events.  The Fox Network, which broadcast last year's game, had sold out its commercial inventory by Thanksgiving of the prior year.  This year's broadcast partner, CBS/Viacom, only recently sold out its commercial inventory in the past week.  Traditional national brands and advertising participants (such as Coca-Cola, Anheuser-Busch/Budweiser, PepsiCo, and Avocados From Mexico) are sitting out this year from running in-game advertisements.  How will the auto industry participate? As of this week, only three automotive companies/brands are scheduled to run in-game advertisements which would mark the lowest number of participants in the last five years.  In addition to the lower number of auto spots, the messaging choice is also a reflection of trends in the auto industry over the past year: electric vehicles and online/remote retail sales. There are three companies participating in this year's game.
General Motors – advertisement focusing on their ultium battery technology for use in electric vehicles.
Cadillac – advertisement focusing on their lyriq electric crossover vehicle.
Vroom – advertisement parodying the pains of the dealership buying experience to highlight their safely delivered, contact-free online buying experience.
Will this year serve to be an aberration or is it a reflection of advertising changes impacting the auto industry and auto dealerships?
Auto Dealership Advertising Trends and Spending
As we have previously discussed, three expense categories that declined in 2020 that helped auto dealerships maintain profitability despite declining retail sales were advertising, personnel, and inventory costs.  Let's examine some of the trends within advertising spending.
The auto industry has historically placed heavy reliance on television and print advertising.  According to Zenith Media, television is the second largest advertising channel for auto advertisers and as a whole, auto advertisers spend nearly 32% of their advertising budgets on television, whereas the average brands only spend 27% of their advertising budgets on television advertising.
How are auto dealerships and auto advertisers adapting?  First, consider several statistics revealed by LocaliQ in their Automotive Social Media Marketing strategy article.
72% of Americans use at least one form of social media.
78% of all car buyers consider social media in choosing their next vehicle.
47% of car buyers spend time on Facebook Marketplace according to their study.
Over the past year, the pandemic forced many auto dealerships to shift to offering more online and remote retail services.  While overall advertising spending was expected to decline in 2020, the automotive industry had already been spending more advertising dollars on digital media.  The chart below shows the total automotive industry's digital spending in the U.S. for 2017 through 2019, along with anticipated figures for 2020 and predicted figures for 2021.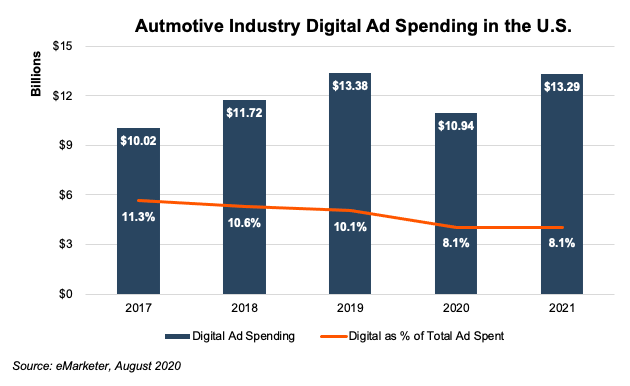 While advertising spending had been increasing in digital channels prior to 2020 and is predicted to return to prior levels in 2021, the digital component to the overall advertising budget still remains a small percentage.  In another view of digital spending, Zenith Media found that auto brands lagged behind average brands in this category also, with only 42% of budgets for the auto brands dedicated to digital channels in 2019 as compared to 49% by average brands.
Where are individual auto dealerships spending more advertising dollars in 2020?  One channel highlighted by the studies discussed previously is Facebook. Facebook and Google are the two premier places companies across a variety of industries advertise and according to a study by Dealers United, the average dealership spent nearly $2,300/month in June 2020 as compared to only $1,600/month at the start of the year.  These numbers were only expected to maintain those levels or climb higher as the year came to a close.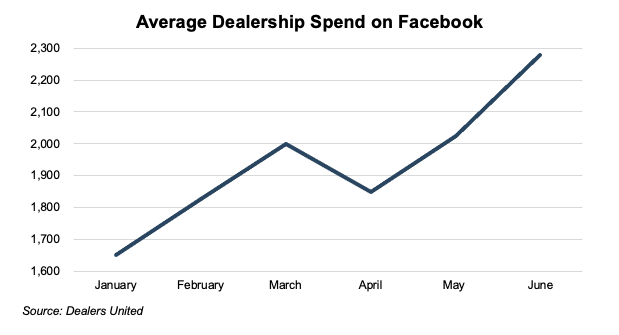 Digital media advertising allows auto dealerships to optimize the way car users search and shop using mobile devices.  These outlets offer the dealership better tools to track their customers, interact with them, and offer a means of customer feedback and improved customer service.  The costs for some digital channels can be a fraction of the cost of traditional television and print advertising.  Combine lower costs and more targeted advertising, and online strategies seem like a no brainer. Maybe this plays a role in the decline in advertisements at this year's Big Game.
While the three commercials this year also highlight trends we've seen this year with EVs and online sales, there's another trend among the advertisers. Digital ads may be more targeted and have higher conversion rates/ROI, but there is no substitute for national TV advertising for events like the Big Game if you want to get a big message out to as many people as possible. We see this in politics, which really heats up around election day.
Vroom, GM, and Cadillac are all looking to make big statements. For the traditional brands, GM and Cadillac want to be known as going in on EVs. They aren't going to be gas-guzzling forever, and they don't want consumers to view them as the old guard that can't adapt to new technology. GM recently announced its intention to be fully electric by 2035; advertising an EV during the game is just another way of amplifying this message.
Vroom is also trying to get their name out there. While their IPO may have generated some buzz last year, it seems like just about every IPO this year saw huge gains, so the typical branding advantage of such a jump was probably more muted. Consumers are more likely to have heard of Carvana, as it has a few more years on Vroom, and its car "vending machines" are well known by now. For a company like Vroom to compete, they have to spend considerable advertising dollars on getting their name out there and drive traffic to their site. So far, Carvana seems to be winning this battle, so an ad during this year's game just might help Vroom catch up.
Conclusion
The auto industry and particularly the manufacturers will always maintain some level of national television advertising.  Over the last several years and specifically the last year, auto dealerships have shown the ability to adapt their operations including how and where they choose to spend their advertising dollars.
As you watch the big game this weekend, pay attention not only to the memorable commercials but which brands are advertising this year and which brands are not.  Also, look at their messaging. If you're an operator of an automobile dealership, how are you choosing to spend your advertising dollars and how has that changed in the last year?  What is your message?
To discuss how these trends are affecting your dealership and their impact on the value of your dealership, contact a professional at Mercer Capital today.