Used Cars are Stealing the Spotlight
Consumers Seek Budget Friendly Options as Economic Struggles Continue
Lightweight vehicle sales have continued to improve since April, albeit at a slower pace than in previous months. August's SAAR came in at 15.2 million units, a 4% increase from July.  This is notably a smaller increase than we have seen in previous months compared to the 11% increase in July and other double-digit increases across the previous months.
August's SAAR came in at 15.2 million units, a 4% increase from July
SAAR has yet to rebound to pre-COVID levels, down 11% from this time last year. However, it is worth noting that there were two fewer selling days last month than in August 2019, which also included the Labor Day sales weekend.  September 2020 sales are likely to see a boost from the previous year with this calendar difference.  However, even after making an adjustment to factor in the calendar discrepancy, retail sales volume in August was still off by 10% year over year. Overall for the year, total SAAR values are 80% of what they were in 2019.
As NADA notes, there was higher vehicle turnover at dealer's lots than this time last year with 45% of vehicles sold this August spending fewer than 20 days on the lot.  This is up from 35% in August 2019. Vehicle incentives have continued to decline as well, down $49 from August 2019 and $848 from highs in April 2020.
Overall Economic Struggles Continue to Plague the Industry
Although dealerships have shown an astute ability to pivot their business models to withstand this pandemic (check out our post on dealerships shifting to online sales for more on this), the overall stagnation in the economy from this dragging pandemic continues to be a hurdle for most industries.  The government's stimulus package, which included the $1,200 payment to Americans and the extra $600-a-week payment to mitigate the effects of the pandemic, contributed to increased retail spending through June. However, with no second round of checks having been distributed and these packages expiring, spending has once again taken a hit.
August retail sales were up 0.6%, below the 1% consensus estimate.  July retail sales were also revised lower, to 0.9% from 1.2%. Sales at auto dealerships make up about 20% of total retail sales. Without Congress passing another stimulus bill, growth in sales could continue to decline.  This could have stark implications for dealerships going forward, as lower spending affects big-ticket items such as automobiles more acutely than smaller necessities.
Used Car Market Is Picking Up Speed
With a shaky economy on many people's minds, a winner in the auto dealer industry is emerging: the used car market. With new car advertisements flooding airwaves, used cars have often been overlooked in favor of "what's new." We are also at fault for this, with several of our recent blog posts being centered around electric vehicles and new vehicle inventory constraints.  However, used cars are stealing the spotlight.
The first signs of the used car boom came in May and June with the overall economic downturn, with J.D. Power calculating that auto dealers sold 2.1 million used vehicles in May and June, 9% more than they did in the same time in 2019.  This trend continued into July with 2.2 million used vehicles stockpiled at U.S. dealerships that month, representing a 22% drop compared to July 2019.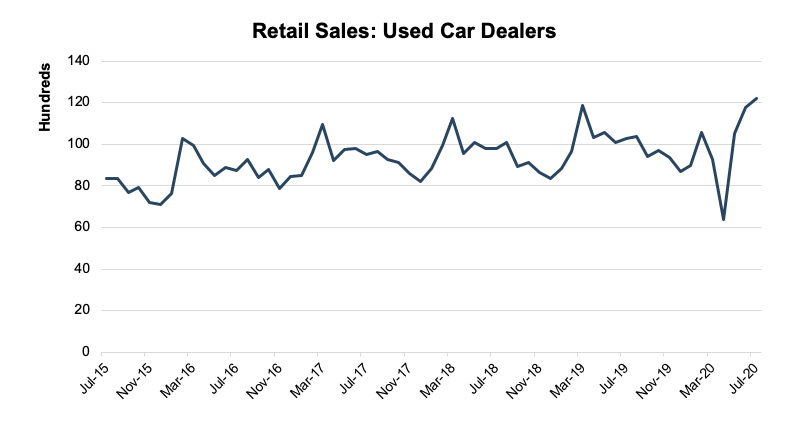 There are a few reasons for used cars having a moment in 2020, and most of these stem from the COVID-19 pandemic. Many people have lost job security but also need a car so they are buying used cars to save some extra cash. Consider that the average new car price has increased 2.9% since last year to $38,035 while used vehicle prices have increased 0.7% and are 44% less than new prices. However, used prices are anticipated to climb as demand increases.

New vehicle inventory constraints are also continuing to plague new car dealers. Although manufacturing has ramped up, it is still failing to meet consumer demands, and many models have been slim or scarce. As Thomas King, president of the data and analytics division at J.D. Power noted:
Given the ongoing disruption that COVID-19 has on the industry, the fact that retail sales of new vehicles are only 4% below the pre-virus forecast is evidence of strong consumer demand for vehicles. The modest decline also is a result of significant inventory constraints. These constraints are directly curtailing sales where vehicles are not simply available and are creating follow-on effects that are affecting overall volumes. Specifically, the constraints mean that manufacturers are reducing vehicle incentives while dealerships are reducing the discounts off MSRP that they have historically needed to offer.
With new vehicle inventory being tight, consumers may be showing up to dealerships in search of a new car that's unavailable, but salespeople can sometimes effectively pitch them on a different used vehicle instead.
Another reason for the used car market's success has to do with a topic we have also discussed previously in our blog: the decline in consumer sentiment for public transportation. With consumers trying to avoid being in close quarters are the pandemic drags on, Americans are buying used vehicles as backups to avoid trains, buses, and ride-sharing services.
Finally, the used car industry has been at the forefront of using technology to reach their consumers remotely. As we discussed in our blog post on the Vroom IPO, Carvana and Vroom have been leading the way on bringing car buying into the 21st century and enabling consumers to purchase their product from anywhere.  Although new car dealerships are picking up on the trend and adapting to circumstances, competing with many of these online used car dealers who have been developing their infrastructure for years is a tall order.
The used car industry's time in the spotlight is limited
With all of this being said, the used car industry's time in the spotlight is limited: automakers will catch up on inventory shortages, dealerships will have the cars that consumers want, and sale incentives will return as well. But how long will it take? As the economy continues to struggle and the pandemic continues, there is not much of a clear answer and most are having to take the "wait and see" approach. However, some dealership owners are bullish on the used car prospects.
EchoPark, Sonic Automotive Inc.'s standalone used vehicle store, recently turned a profit for the first quarter ever, mirroring the used car dealership success we have been discussing. Looking forward, they have high expectations for the brand. As CEO David Smith notes,
As we expand our footprint into other areas across the country, we believe EchoPark will exceed the overall volumes and profitability of our franchised dealerships[…] We believe the combination of our customer-centric shopping experience, high-quality vehicle offerings, rock-bottom pricing and transparent trade-in appraisals is disrupting the pre-owned markets that we serve.
If EchoPark has the success that Sonic Automotive is predicting, we could potentially see more public dealerships trying to capitalize on the used car boom moving forward as well.
Looking Forward
Looking into September, there most likely will not be many significant changes regarding SAAR. As mentioned earlier in this post, year-over-year September may see a boost from the way the calendar year falls, but once adjusted for this, it is unlikely that we will see any significant trend changes to what we have been observing over the past months.
A potential event that could spur car sales, however, is if Congress can come to an agreement on a stimulus package deal. While it is most likely not arriving in September, both parties are eager to pass a bill and get money into American's hands before Congress breaks prior to the election. In doing so, we may see the kind of growth rates in SAAR that we discussed in April or May as the economy gets a boost. Ultimately, however, it will be difficult for the auto dealer industry to reach pre-COVID sales until this recession ends, which will likely coincide with a vaccine. Positive vaccine results are a glimmer of hope for a return to normalcy in the future, but for now, a strong stimulus package that gives Americans more spending money is probably the best near-term scenario in driving auto sales growth.
If you are interested in learning more about what this means for your dealership, feel free to reach out to us. We hope everyone is continuing to stay healthy and safe during this time!