The December SAAR totaled just 12.44 million units, down 3.5% from last month and 23.7% from December 2020. Inventory shortages, supply chain issues, and consistently high demand have been commonplace in the auto industry since the summer. That being the case, December's low SAAR should not surprise many.
Several trends that have been observed in the industry over the last six months have continued to persist. For example, dealers continued to sell out inventories. According to J.D Power, the number of days that a new vehicle sat on the lot fell to a record low of 17 days, beating last month's record of 19 days and even further down from 49 days a year ago.
Transaction prices continued to climb over the last month as well. The average transaction price reached its own record of $45,743 in December, up from $44,000 last month and the metric's first time above $45,000. Light trucks continue to dominate sales, accounting for 77.6% of all new light vehicle sales in 2021. This vehicle class includes crossovers, which accounted for 44.9% of all new light vehicle sales over the past year. Dealer incentives also remained low, falling to just $1,598 of incentive spending per vehicle, an all-time December low. All told, this past month was more of the same for auto dealers and manufacturers.
According to J.D Power, the number of days that a new vehicle sat on the lot fell to a record low of 17 days.
December inventory levels remained low. As a result, the industry's inventory to sales ratio took another step down from 0.39 in October to 0.24 in November. There should be some incremental gains in inventory levels throughout 2022, but the exact point at which the supply chain tide will turn is still unknown. As far as auto sales are concerned, the pace remained red hot. High consumer demand for vehicles continued to empty lots around the country in December. In fact, in spite of the last six month's conditions, 2021 new light sales totaled 14.93 million units, up 3.1% from 2020's 14.47 million. When looking back at the past year in auto, it seems likely that 2021 sales of new light vehicles could have easily climbed to 17 million units in an unrestricted environment given the strong demand.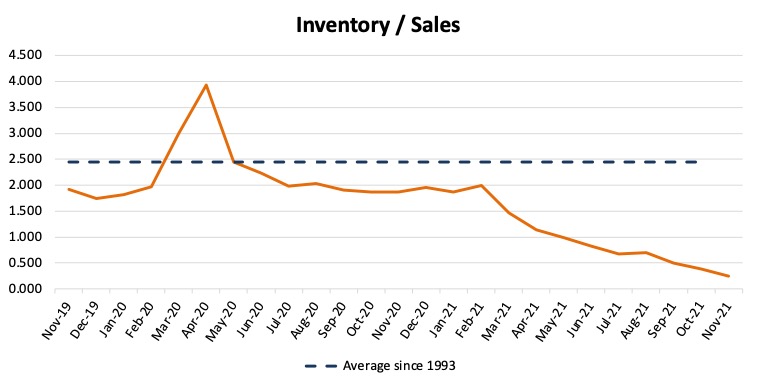 Electric Pickup Truck Race Heats Up
The long-fought war between auto manufacturer's pickup trucks has finally been pushed into the electric vehicle spotlight. As many manufacturers unveil their spin on an electric pickup, there are many questions that dealers and consumers have about brand loyalty and availability for these types of vehicles. The definitive answers to those questions won't come for some time, but the conversation among consumers and those covering the industry has certainly started to heat up.
Many major auto manufacturers have already announced plans to roll out electric pickup models. In December, General Motors released a video teasing an electric version of its GMC Sierra. This came one day after Toyota revealed its plans for an electric pickup in its near future. Nissan Motor Company showed off an electric pickup prototype in November called the Surf-Out, and newly publicly minted automaker Rivian, is taking preorders on its R1T and R1S electric truck and SUV.
Ford announced that it has logged about 200,000 non-binding reservations for its F-150 Lightning, a battery powered truck that goes on sale this spring. The automaker has also announced its investment in a West Tennessee F-150 Lightning facility. Tesla announced its Cyber Truck in late 2019 but has recently removed information about production timelines from its website, implying a slower start to its electric pickup rollout than expected but perhaps still ahead of its competitors. There are several other manufacturers seeking to enter the market, including Lordstown Motors, Bollinger, and Atlis Motors.
Moving on from the manufacturers and onto their customers, brand loyalty has always been more tangible in the market for pickup trucks than for any other class of vehicle. In years past, convincing a [insert name here] truck enthusiast to switch to another brand would have been harder than pulling teeth. However, the age of pickup loyalty may be on its way out due to high and rising sticker prices.
A survey in 2019 conducted by used-vehicle shopping site CarGurus, found rising price sensitivity among truck owners, with more than two-thirds of respondents calling today's pickups overpriced. We note price sensitivity is more likely to be apparent in used vehicle buyers, but brand loyalty was also found to be surprisingly fluid, with more than a third of Ford and Chevy buyers saying that they would consider the rival brand for their next pickup purchase. While these results may be true for gas powered pickups exclusively, the presence of deteriorating pickup loyalty makes for a blurry entrance into the electric market for dealers and manufacturers alike.
The age of pickup loyalty may be on its way out due to high and rising sticker prices.
With all these new models on the horizon, auto makers are hoping to gain an edge in a key battleground for the industry. Pickups are among the industry's most profitable units, especially for U.S. automakers like GM and Ford where they account for a large share of global profit. If consumers embrace the shift to electric trucks, the segment's early performance should inform dealers on how to respond and what works best on their lots. It will be interesting to see how OEMs are able to meaningfully scale production of these EVs in 2022 in light of tight inventories.
January 2022 Outlook
Our outlook for the first month of 2022 shows vehicle inventories remain low, and demand remains high. Incremental inventory improvements are expected to accumulate throughout the year, but many of those improvements are not expected in the next several months. Also, the persistent COVID-19 pandemic could further affect supply chains and production facilities in the coming months as well, adding to the uncertainty.
Mercer Capital provides business valuation and financial advisory services, and our auto team helps dealers, their partners, and family members understand the value of their business. Contact a member of the Mercer Capital auto dealer team today to learn more about the value of your dealership.