Electric-Vehicle Industry Is Heating Up
Policy and Oil Price Implications for EV Sales
I remember watching the movie Cars when it first came out in 2006. I was seven years old and can easily recall the infamous line Lightning McQueen would say before a race, "I am speed." His determination on the racetrack was unrivaled as he went on to win many races and championships. However, Lightning's winning tradition came to a halt in the third movie. He had lost his competitive edge as cars with new technology began to dominate the racetrack.
Unlike Cars, however, the current focus for new auto technologies is less focused on speed, and more on sustainability, as there appears to be a shift in focus away from developing the century-old gasoline-powered vehicle to electric. The electric-vehicle (EV) industry has shown to be an attractive long-term alternative for manufacturers. In this post, we'll survey the landscape including the beginnings of EVs, major players in the industry, and the future outlook.
Origins of the Electric-Vehicle Industry
The first electric-vehicle in the U.S. was introduced in 1890 with a top speed of 14 miles per hour. According to the American Census, by 1900, 28% of all cars produced in the U.S. were electric. However, Henry Ford's mass production of gasoline-powered vehicles reduced the cost of this vehicle significantly. In 1912, a gas-powered car averaged $650 while an EV averaged $1,750, and as a result of this price disparity, EV's lost a great degree of popularity.
Fast forward nearly 100 years, and EV's continue to trail their counterparts. For example, GM's EV1 was produced in 1996 and contained 137 horsepower with a 0-60 mph acceleration time of about nine seconds. Moreover, charge time and range proved problematic with a 15-hour charge time and only a 90-mile maximum cruising range not drawing much consumer demand. As a result, this model was discontinued only after a couple of years of production. Charge time and range problems continued to plague the industry as manufacturers struggled to compete with traditional vehicles. However, in 2008, the EV industry revealed a glimpse of hope when Tesla Inc. released the all-electric Roadster. This vehicle had a range of almost 250 miles on a single battery with a 0-60 mph acceleration time of four seconds. These metrics were unrivaled in the EV industry, and Tesla ascended quickly as competitors could not compete with this level of technology in their batteries.
Tesla's Emergence as Market Leader
While Tesla dominates the industry, CEO Elon Musk revealed his intentions of offering a helping hand to its competitors. He recently tweeted the following: "Tesla is open to licensing software and supplying powertrains & batteries. We're just trying to accelerate sustainable energy, not crush competitors!" Major automotive manufacturers have recognized Tesla's dominance in the industry. Volkswagen (VW) CEO, Herbert Diess, reflects on Tesla's technological achievements: "What worries me the most is the capabilities in the assistance systems. 500,000 Teslas function as a neural network that continuously collects data and provides the customer a new driving experience every 14 days with improved properties. No other automobile manufacturer can do that today." Furthermore, Audi CEO, Markus Duesemann, recognizes the magnitude of Tesla's accomplishments: "Currently, Tesla has larger batteries because their cars are built around the batteries. Tesla is two years ahead in terms of computing and software architecture, and in autonomous driving as well." Tesla's dominance in the EV industry is reciprocated by investor enthusiasm, though as we've noted, plenty of other factors are at play.
Tesla continued to be the market leader in 2019 with its Model 3 alone accounting for 14% of total global EV sales.
As Tesla continues to expand its EV line and invest in new technologies such as autonomous vehicles, other automotive manufacturers have set their sights on expansion of their electric vehicle fleet to try and keep up. GM Chief Executive, Mary Barra is optimistic regarding the trajectory of GM's influence in the EV industry. She states, "We believe in an all-electric future, and we're moving aggressively to have vehicles that people want." GM revealed plans to expand its EV fleet through 2023 with 20 new vehicles including a $20 billion investment towards electric and autonomous technologies. Similarly, Ford plans to invest over $11.5 billion through 2022 and plans to use aspects of its E-Mustang in future EV's.
While other companies are investing in this space, Tesla continued to be the market leader in 2019 with its Model 3 alone accounting for 14% of total global EV sales. Other global models with a presence in U.S. markets that finished strong in sales for the year included the Nissan Leaf (#3), BMW 530e/LE (#6), Mitsubishi Outlander PHEV (#7), Hyundai Kona EV (#9), and the BMW i3 (#10). To put things in perspective, the combined sales of these other models still fell short of Tesla's sales for its Model 3 alone.
The Road to EV Success Paved by Government Subsidies
Consumers and manufacturers are increasingly showing interest in electric vehicles for their ability to reduce one's carbon footprint. However, costs and infrastructure are proving to be difficult hurdles for them to catch up to petrol or diesel alternatives. The battery costs of an electric vehicle are showing to be the most acute, taking up 30% of the total costs of an EV. To help automakers past this hurdle, the government has provided subsidies to encourage electric vehicle sales.  Each automaker is eligible for $7,500 in credits for each electric vehicle sold, up to $200,000 sales. Credit gets halved to $3,750 for six months after hitting that target, and then halved again to $1,875 for another six months. After that, the credit goes to zero. From 2014-2018, U.S. buyers claimed credits for 239,422 vehicles, worth $1.4 billion. So far, Tesla and GM have been the only manufacturers to hit the thresholds. Still, there have been proponents of the government extending incentives or increasing them to further support electric vehicle sales. With just over 2% of American vehicles sold last year being electric, losing federal tax credits could make the expansion of electric vehicles more troublesome.
Costs and infrastructure are proving to be difficult hurdles to catch up to petrol or diesel alternatives.
Beyond cost, electric vehicle manufacturers must improve poor supporting infrastructure. In March 2020, the U.S. had approximately 78,500 charging outlets and almost 25,000 stations for plug-in electric vehicles. While this number has been increasing over the years, it still pales in comparison to the approximately 115,000 gas stations in the U.S (which has sharply declined from much higher levels). Furthermore, a large portion of the total charging stations are in California.
While daily commutes can be supported by overnight charging, consumers need to be confident that they can go on road trips and reliably find a charging station for EV's to really take off. Electric vehicles have historically had an inferior range to their gas-powered counterparts. While the gap has narrowed over time, miles covered on one tank isn't the only hurdle. Gassing up your car takes a fraction of the time required to fully recharge EVs, lengthening consumers' ETA. California currently has 25% of charging stations and 35% of charging outlets. For EVs to become mainstream, access will have to be increased. So far, the government has been willing to subsidize purchases and incentivize production. There are also federal grants for cities and states looking to invest in the necessary charging infrastructure, but it will be interesting to see who foots most of the bill if EVs achieve the scale desired. More accessibility to charging stations should improve consumers' interest in electric vehicles, though it won't fully solve the problems of longer road trips.
State and federal governments aren't just using subsidies to power this shift, as there have been more regulations and requirements for more fuel-efficient vehicles. For example, the National Highway Traffic Safety Administration (NHTSA) and the Environmental Protection Agency (EPA) passed The Safer Affordable Fuel-Efficient Vehicles Rule (SAFE) which went into effect in March of this year. This rule tightens the fuel economy and carbon dioxide standards progressively by 1.5% each year from 2021 to 2026. Passenger cars and light trucks are subjected to this rule. This rule could undoubtedly act as a catalyst for manufacturers shifting additional focus towards EV production.
Further, the Zero Emissions Vehicle (ZEV) program mandates a certain proportion of EV sales to non-electric sales in California and ten other states. Under this rule, plug-in hybrids, battery EV's, and hydrogen fuel cell vehicles qualify as a ZEV. The 2020 ZEV production requirement is 9.5%, but it will rise to 22% by 2025.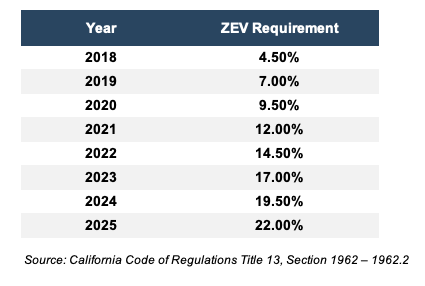 Tesla continues to capitalize on the benefits of producing strictly EV's, as their 10-Q report indicated massive profits from the sales of regulatory credits totaling to $428 million in Q2 (about 7% of revenue). In order to dodge emission fines, other automotive manufacturers will purchase credits to make up for their own deficits in EV sales. For example, last year, Fiat Chrysler Automobiles (FCA) closed a deal with Tesla for about $1.3B in credits to stay in compliance with heightened European environmental regulations taking effect in 2021.
Oil Price Outlook
In the past, high oil prices have increased the incentive to shift to electric. However, the pandemic's disruption to global supply and demand of oil has significantly decreased the urgency in the near term. According to the U.S. Energy Information Administration (EIA), in March and April, consumption fell significantly for liquid fuels largely due to travel declines from stay-at-home orders. During this period, the consumption levels matched those of the early 1980s, hovering at an average of 14.7 mb/d (million barrels per day). As states reopened following the lockdown, liquid fuel consumption levels began to recover. However, amid coronavirus infections surging, another dip in liquid fuel consumption levels may be on the horizon.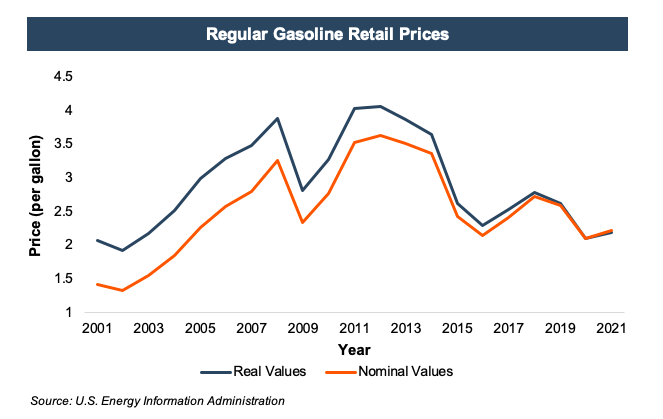 While low oil prices are the current reality, the ultimate resurgence of travel post-COVID-19 is expected to bring back higher oil prices. Volkswagen's chief strategist, Michael Jost, does not view this year's slump in oil prices as a barricade to the company's transition for expanding its EV fleet. Jost does not see oil getting any cheaper in the long run, as he states, "We have a clear commitment to become C02 neutral by 2050, and there is no alternative to our electric-car strategy to achieve this."
While oil prices are expected to rebound, the International Energy Agency (IEA) projects a decline in North American oil demand through 2040, which is contingent upon the implementation of policy initiatives to curb greenhouse gas emissions. While the Stated Policies Scenario suggests only a fall in demand of 4 mb/d, the IEA projects a decline of 11 mb/d under the Sustainable Development Scenario, which the IEA views as a feasible solution for mitigating the potential impacts of air pollution and climate change.

EVs through the Eyes of the Consumer
Clearly, governments have both rewarded early adopters and outlined penalties for manufacturers that don't increase compliance in the future. However, EVs still make up a relatively small size of the overall car market. Despite the aforementioned subsidies, the price mark-up of these vehicles to its gasoline counterparts continues to be a concern. For example, in June 2019, the average retail selling price of new cars was about $36,600 compared to $55,600 for EV's. This is one of the big reasons why consumers are hesitant to purchase an EV. Subaru of America CEO, Tom Doll reflects on the public's unwillingness to accept EV's, as "people don't seem to accept the (EV) price up. They sit at their kitchen table and consider their budget. They're doing the price up for an EV and most say, 'It's just not worth it at this point, with gas prices being so low." Still, Subaru is expected to roll out their first EV model in 2021.
If upfront costs are comparable, lower expenses over the life of the car may make EVs more worthwhile despite road trip drawbacks.
Rising fuel prices may renew interest in EVs, but upfront costs will likely be more important. Lithium-ion battery prices have decreased significantly since 2010, and it is believed that low battery prices will outweigh the benefits of low oil prices, thus propelling EV sales. Tesla's move to develop a new cobalt-free battery could be a game-changer in decreasing over EV prices. The 30% reduction in wholesale battery prices expected in 2023/4 could mean a drop of 10% in car prices. As noted above, EV's on average were about $19k pricier but had opposite trajectories. Where ASP's increased about 2% annually, EV's declined 13.5%. If upfront costs are comparable, lower expenses over the life of the car may make EVs more worthwhile despite road trip drawbacks.
Concluding Thoughts
It is safe to say that Lightning McQueen would be no match against Ford Motor Company's new Mustang Mach-E 1400. It is expected to debut on the NASCAR track soon. As described by Mark Rushbrook, motorsports director of Ford Performance, the all-electric Mustang is "an all-around athlete" with an impressive 1400 horsepower.
Technological innovation plays a vital role in the future of EV's, as we have seen Tesla emerge as the industry leader through its technological advancements in software and battery capabilities. The future of the EV industry seems bright in the long-run as falling battery prices paired with heightened emission standards serve as pillars for sustaining the expansion of this sub-industry, even if consumers are less motivated to make the switch. However, manufacturers with significantly more scale than Tesla shouldn't be too far behind and may ultimately eclipse them. The main concern for auto dealers lies in whether their manufacturer can develop models that are desirable to consumers and meet emissions regulations. Whether or not there is a meaningful shift towards EVs over the coming years, dealers will likely continue to adapt to consumer preferences as they always have.
---
Our thanks to our summer analyst, Will Pesto, who drafted this post in collaboration with our Auto Dealer Group.