Fiat Chrysler & Peugeot (PSA) Merge into "Stellantis"
Analyzing the Timeline and Twists and Turns of a Transatlantic Merger During a Pandemic 
Last week, we analyzed Asbury Automotive Group's acquisition of Park Place, a deal scuttled by COVID-19 that came back to life under revised terms. This week, we are moving upstream to look at the merger between Fiat Chrysler (FCA) and Group PSA (manufacturer of Peugeot and Citroen) and observe the new name of the entity, the merits and hurdles of the ongoing deal, and some potential impacts on auto dealers.
What's in a Name?
A fresh start with a new name feels reasonable.
On July 15th, the name Stellantis was announced, which drew jokes from various people within the industry. The press release indicated the name comes from the Latin verb "stello," meaning to "brighten with stars." The name will be used exclusively at the Group level, as a corporate brand, with the names and the logos of its constituent brands remaining unchanged. While the change drew some attention, we think it's largely much ado about nothing. Sure, the press release was filled with a litany of corporate platitudes about how the name "draws inspiration from this new and ambitious alignment of storied automotive brands and strong company cultures …" but overall we think it might be more of a practical choice considering FCA-PSA doesn't really roll off the tongue. Also considering its 18 brands on a combined basis, the sheer size of the transaction, and many previous corporate name changes, a fresh start with a new name feels reasonable.
While Stellantis won't appear on any of the cars, it's not the only industry participant to not have one of its brands in the corporate name. GM and Daimler are the other exceptions in the industry whose names go back a lot longer. Every manufacturer besides Tesla makes cars under a brand other than the corporate name (Toyota makes Lexus, Volkswagen makes Audis, etc.).
The company includes manufacturers in Detroit, Paris, Turin, Charlton, Russelsheim, and more. A full list of these brands are included in the graphic below.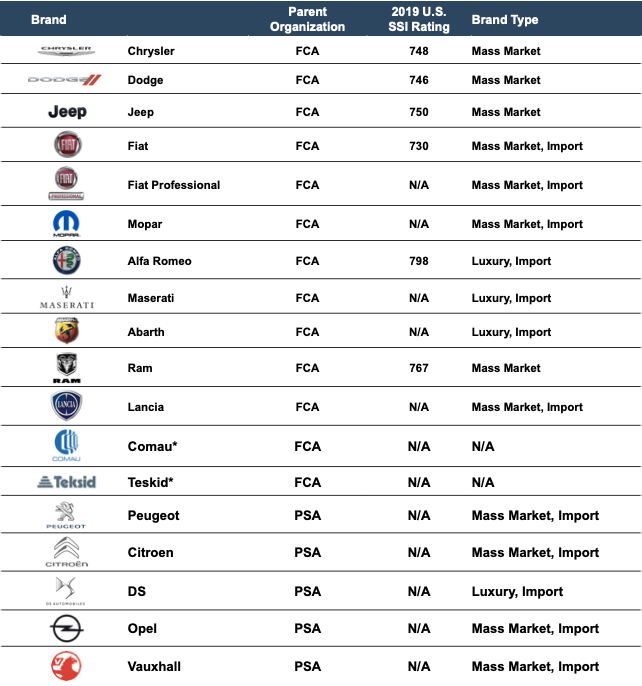 Merits of the Deal
Having exhausted the new name, let's look at the deal. The deal was announced in October 2019, and in December, Group PSA and FCA released a joint press release highlighting:
Benefits of scale in developing more sustainable, tech-savvy (including autonomous) models
Combined company to be 4th largest global OEM by volume (8.7 million units in 2018) and 3rd largest by revenue (170 billion euros in 2018)
Diversification across markets in Europe, North America, and Latin America
Annual run-rate synergies of 3.7 billion euros with no plant closures
50/50 merger expected to lead to investment-grade credit rating with high level of liquidity
The company indicated 40% of its synergies would come from its combined technology, product, and platform. Stellantis expects another 40% of its synergies to come from sourcing its suppliers at a discounted price due to its bargaining power, or as the company called it, "enhanc[ing] its purchasing performance." Savings on marketing, IT, G&A, and logistics round out the last 20% of anticipated savings.
Mergers frequently try to cut duplicative costs and add to pricing power, both from suppliers and customers. However, since the combining legacy companies largely operate on different continents, minimal enhancements to market share are unlikely to drive higher selling prices to dealers and consumers. This could help enhance blue sky values for FCA dealers, which have lagged other brands.  Enhancements to technology and tweaks to its platform could also help improve the brands' SSI ratings, which were generally below their respective averages in 2019.
Pandemic Impact on the Deal Regulatory Hurdles
The initial press release indicated the deal was expected to take 12-15 months subject to "customary closing conditions, […] and satisfaction of anti-trust and other regulatory requirements." While the COVID-19 pandemic was certainly not anticipated, the reasons for the deal are "stronger than ever," according to FCA Chairman John Elkann. Last month, PSA CEO Carlos Tavares also expressed confidence that the $50 billion merger will proceed as planned, noting "the merger with FCA is the best among the solutions to cope with the crisis and its uncertainties."
The deal structure of the Stellantis merger shields it from some inherent issues in acquisitions.
While many auto dealers are seeing transactions being placed on pause, the deal structure of the Stellantis merger shields it from some inherent issues in acquisitions. During the pandemic, acquirors are looking to either use a reduced Blue Sky multiple on 2019 earnings or an old multiple on reduced 2020 earnings. This has widened the bid-ask spread, as dealers don't want to sell at depressed values. With this stock swap merger of equals ("MoE"), each side has to provide equal value to the deal, and pandemic related concerns may cancel each other out. According to Elkann, "both parties in FCA-PSA deal are committed to get parity in the merger deal." PSA shares are set to be exchanged at a rate of 1.742 shares of the new combined company for each share contributed by FCA. However, it is possible the pandemic has disproportionate impacts on the two companies, requiring a change in the exchange ratio based on adjustments to their relative contributions.
There are other issues at play besides the exchange ratio before this deal can be finalized. Both sides have already announced they no longer intend to pay their planned ordinary dividends of 2.2 billion euros for 2019 results which was included in the initial deal. While this is sensible to preserve liquidity in this environment, ordinary dividends aren't expected to be a sticking point. It's FCA's 5.5 billion euros special dividend that may cause problems. According to Tavares, the "time has not come to discuss this issue," though it is widely speculated that it could be revised downwards in light of the downturn in the global auto industry. This may be a point of contention for FCA shareholders. Peugeot shareholders were also supposed to get PSA's 46% interest in Faurecia SE in order to help achieve a merger of equals status. This interest was worth approximately 3 billion euros at announcement when the French auto parts company's shares traded at 50 euros. Shares have declined to about 37 euros (as of July 27th), meaning PSA's interest is closer to about 2.2 billion euros due to the pandemic.
Regulatory Hurdles
Haggling between the two companies over the appropriate compensation of this interest and the special dividend isn't the only hang-up. FCA's Italian unit had been in talks with Rome over a 6.3 billion euro state-backed loan from Intesa Sanpaolo (Italy's largest retail bank) to combat the coronavirus crisis. Optically, a special dividend approaching this amount did not sit well, but the loan was ultimately approved. This was the largest crisis loan to a European carmaker. The state support should "preserve and strengthen the Italian automotive supply chain," according to Economy Minster Roberto Gaultieri. FCA's COO for Europe said "100% of the money this facility provides will be directed to our Italian business," though neither side indicated whether any conditions surrounding the special dividend had been imposed.
Europe is expected to be the main regulatory roadblock (or maybe more of a speed bump).
While the deal has received the green light in the U.S., China, Japan, and Russia, Europe is expected to be the main regulatory roadblock, though executives have categorized it as more of a speed bump.  In addition to earlier concerns in Italy about the special dividend, EU antitrust regulators began its investigation into the deal in June, citing potential to harm competition in small vans in 14 EU countries and Britain. So far, Stellantis has not offered any concessions. According to the European Commission, commercial vans are an "increasingly important market in a digital economy where private consumers rely more than ever on delivery services." Through a joint venture, FCA and PSA already hold 34% of the van market in Europe. On July 22nd, the European Commission announced its probe had been suspended as the parties failed to provide requested information. The EU was originally supposed to offer its decision in mid-November, which has now been delayed.
Will the Deal Happen?
Though both sides are confident that the merger will go through as planned, there are clearly some details that will need to be tweaked throughout this process. Merger arbitrage traders usually provide a pretty good real-time view as to the likelihood of a transaction. For example, if a company is to be purchased at $50/share in cash, but shares are trading at $35, that means the market doesn't think the deal will go through on those terms. However, the market's view on the success of the FCA-PSA merger is nuanced. Arbitrage traders typically need to be able to short one side of the deal to execute their trade, but France has temporarily banned short-selling. Also, as an MoE, swapping stock certificates means both sides retain equity in the combined company, so share prices give different insight than an acquisition anyway. This means the share prices likely have more to do with the operating environment of the pandemic than the likelihood of the merger, though it may offer hints to what adjustments to the exchange ratio, special dividend, or Faurecia stock may be looming. Because the synergies are centered around cost-cutting measures, and regulatory hurdles don't appear to be a deal backer, Stellantis will likely come into being if the two sides can hammer out the details.