January 2021 SAAR
SAAR Hit Highest Levels Since the Pandemic Began, but Several Factors Could Hinder February's Growth Prospects
January 2021 SAAR (a measure of Light-Weight Vehicle Sales: Auto and Light Trucks) increased to 16.6 million from 16.2 million in December. Though this is a decline of 1.4% from the same period last year, this is the highest that SAAR has been since the pandemic began. Light truck sales were behind this growth, as they captured 77.8% of all new vehicles sold in the past month.  Below is a full breakdown of vehicles sold by type for the month.
The year began with some inventory constraints (down 20% from January 2020), and as such, manufacturers have not had to spend as much on incentives such as those that were offered at the beginning of the pandemic.  According to JD Power, the average incentive from manufacturers on new vehicles is on pace to be $3,639 per vehicle, a decrease of $510 from a year ago.  Furthermore, lean inventories mean that cars are spending less time on the lots.
The average number of days a new vehicle sits on a dealer's lot before being sold is expected to fall to 51 days, down from 70 days from last year.  Average transaction prices, according to JD Power, are expected to be up 8.4% compared with January 2020.
Thomas King, president of the data and analytics division at JD Power noted this about January SAAR: "January continues the strong performance observed in Q4 of 2020 and points to a positive outlook for the balance of 2021. The growth in retail sales is encouraging, especially as it is being achieved with higher transaction prices and lower incentive levels. While retail demand remains strong, non-retail sales are still recovering, which is hampering total vehicle sales and SAAR."
As King noted, fleet sales are continuing to struggle as widespread travel is still down due to the COVID-19 pandemic. According to Ward Intelligence, retail sales are estimated to have increased by 7% from January 2020, as fleet sales dropped by 24%. Retail sales have been up year over year in four of the last five months, while fleet sales have declined for 13 straight months. For SAAR to fully recover, it might depend on a reverse in these declines. With vaccines being distributed, consumers may have renewed sense of confidence in their travels and could bring back demand.
With February's SAAR release coming in the next few days, there are already some insightful forecasts available for where the numbers will fall. Cox Automotive is anticipating February's sales pace to reach nearly 16.3 million, down from January's 16.6 million pace. Despite this projected decline, the circumstances in February could have made things much worse. The two most significant events being the chip shortage and the winter storms through Texas and the South.
Global Chip Shortage Continues
As recently mentioned on this blog, the chip shortage is a pervasive issue for auto dealers going forward. According to LMC Automotive, the global chip shortage is expected to reduce North American production by some 230,000 units in the first quarter. For perspective, multiplying this by 4 for a simple annualization would reduce 2021 volumes by nearly 1 million.  Consulting firm AlixPartners expects the shortage will cut $60.6 billion in revenue from the global automotive industry. Different manufacturers are anticipating different levels of impact (see table below).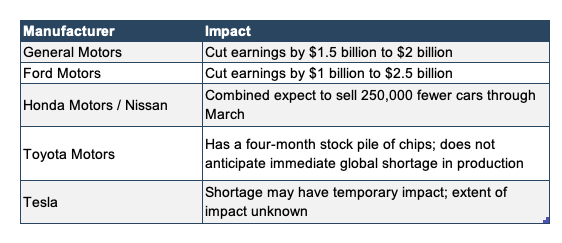 This is an unfortunate situation, as many dealerships were counting on inventory recovery in 2021 to help boost sales, and the full extent of the situation is still unknown. As we'll note in next week's post, public auto dealer execs continue to kick the inventory stabilization expectations can down the road now to mid-2021. With the February SAAR release on the horizon, those numbers may shed more light on this ongoing situation.
Storms Ahead for February SAAR (Literally)
The event that might have the most immediate impact on February SAAR is the winter storm that went through Texas and the South between February 13–17. I'm based in Mercer Capital's Dallas office and during that time we had no choice but to work remotely (the pandemic has given us lots of practice with remote working). Some of my coworkers were without power and water for days, sending videos of water pipes bursting in apartment buildings around them. Luckily, I only lost water for one day and my biggest tribulation of the week was forgetting to buy groceries before the storm and as a result, walking 2 miles to an open taco store and buying 15 to last me for a few days. Many were not so lucky, and we hope that everyone is recovering and getting back to normal from that time period.
As a result of the storm, the concerns of most people across the state were around making sure they had food, water, and energy, and probably not trying to get out and buy a new car.  This week of "shut down" may have an impact on overall February SAAR.  However, as Texas and the rest of the south continues to thaw, the industry is anticipated to recover, though, in some areas, infrastructure damage and continuing water scarcity could depress some Texas markets for days to come.
However, there may be a silver lining for Ford dealerships. Ford confirmed that it had seen an 18% spike in online searches for the F-150 during the power and water crisis in Texas. What could be driving these searches? News broke that Texas truck owners were using the generators on F-150s to heat homes. As one 2021 F-150 hybrid owner stated, "You're living your life normally, and all of a sudden, you're thrust into the dark… I think it got around 9 degrees. It's been in mid-20s and low 30s. You don't expect that in south Texas. You don't expect to lose power when we have nuclear, natural gas, wind, and solar power. The truck gave us light at night, TV access to catch the news and weather. It helped give us a little bit of heat and a good pot of coffee."
Furthermore, Ford sent letters to its Texas dealers encouraging them to use the hybrid trucks as needed. "Due to the urgent and unprecedented weather situation in Texas, a number of our local dealers are using all-new Ford 150s equipped with Pro Power Onboard to help in their communities. Approximately 415 trucks fall within this effort. We're proud to pitch in to help Texas in this time of need." Mike Levine, Ford North American product communications manager said.
We hope that this post finds everyone affected by the winter storms safe and with power and water, and that March has better weather in store. If you have any questions about SAAR and what it might mean for your dealership, feel free to contact any of the professionals on the auto dealer team at Mercer Capital.