SAAR reached a seven month high in January, totaling 15.0 million units on an annualized basis. SAAR was up 20.0% from last month but down 10.4% from January 2021. While the SAAR certainly improved, raw sales volume in January was the lowest since April 2020. January is typically the lowest selling month for dealers each year, so the seasonally adjusted nature of the metric can make it difficult to compare with other months; it puts a lot of faith in the math required to annualize sales. The bar chart below shows raw sales numbers in January 2022 compared with raw numbers in January since 2015.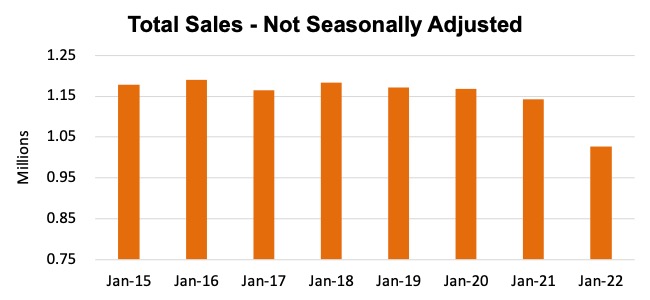 Source: Bureau of Economic Analysis
Unsurprisingly, many of the same trends that have dominated over the last year have persisted into early 2022. Auto manufacturers continue to prioritize retail deliveries over fleet deliveries. Sales continue to be held back by limited inventories. Light trucks continue to dominate, reaching 79.8% of all light vehicle sales over the last month. Within this popular category of vehicles, pickups and SUVs gained market share while the popular crossover segment's market share remained flat from December. Vehicle sales prices and profitability remained high. After reaching an all-time high of $45,743 in December, the average transaction price of a new vehicle is expected to cool slightly to $44,905 while still notching an all-time January high.
Due to these persistently high prices, trade-in equity also remains high for consumers, with average trade-in equity up 88% from this time last year. Incentive spending continues to fall. In January, average incentive spending per unit was $1,319, down from $1,598 last month and $2,163 a year ago, down more than 50%.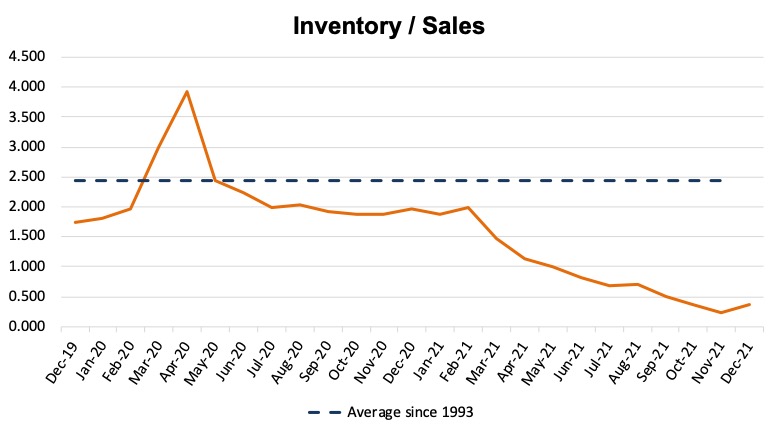 Source: Bureau of Economic Analysis
Reported beginning-of-month January inventory balances remained low but showed a marginal improvement from last month. Improvements aside, the industry's inventory to sales ratio remained well below its long-run average of 2.45x, emphasizing the fact that supply chain and production recoveries still have a long way to go.
Production Update – Stumbling Out of the Gate in 2022
After inventory shortages constricted sales volumes throughout 2021, the biggest question for auto dealers and manufacturers going into 2022 has been "when is the production process going to recover?". Optimists have been predicting that recovery would come in the second half of the new year, but marginal inventory decrements in November and December did not encourage those following the industry that a full recovery is likely in 2022. Over the last month, a couple of manufacturers have released production updates that emphasize the magnitude of these struggles, at least in the short run.
January started off well, with no reports of any auto manufacturing plants experiencing problems in the early days after the holiday break. However, it didn't take long before Ford reduced scheduled production at its Flat Rock, Michigan, Oakville, and Ontario plants due to chip shortages. Toyota Motor Corp. followed suit by cutting its worldwide February output forecast by 150,000 vehicles. In February, Toyota North America alone was reported to lose 25,000-35,000 vehicles to production cuts.
Domestic chip-manufacturing plants are not set to produce chips until 2023 at the earliest.
These types of announcements from manufacturers are not going away anytime soon, as domestic chip-manufacturing plants are not set to produce chips until 2023 at the earliest. While it seems the chip issue has been going on forever, we note it takes even longer to meaningfully increase chip production. Until that time comes, domestic manufacturers are going to have to continue to rely on international supplies of microchips, likely making for choppy conditions over the next year.
The Biden administration announced its intention to take action on the current microchip shortage in October, releasing a statement:
"As you know, we've been working on the semiconductor shortage since day one of the president's administration and it's time to get more aggressive. […] There are bottlenecks across the economy, mostly due to COVID. There's a disruption in the supply chain. Some of it will work itself out naturally but others like semiconductors will require investments so we make chips in America again. We have to make investments now so that never happens again."
Furthermore, at a September convening of semiconductor industry participants, the Commerce Department announced the launch of a Request for Information (RFI) that asked all parts of the supply chain – producers, consumers, and intermediaries – to voluntarily share information about inventories, demand, and delivery dynamics. The results of this RFI, which included 150 companies across several industries, were released on January 25th.
The Commerce Department concluded that "there is a significant, persistent mismatch in supply and demand for chips, and respondents did not see the problem going away in the next six months." The report also said that median inventory for consumers for key chips has fallen from 40 days in 2019 to less than 5 days in 2021. The hope is that this report will give legislators a more informed view as they consider taking action. For those that have lived through these daily struggles, the conclusions of this report are unsurprising, so hopefully, nobody was holding their breath.
It is projected that several chip manufacturing facilities abroad will come online by the summer of 2022.
It is projected that several chip manufacturing facilities abroad will come online by the summer of 2022 and take some pressure off of existing facilities to meet the current level of demand. An uptick in supply would certainly be welcome and perhaps the latter half of 2022 will bring some inventory relief. In either case, LMC Automotive forecasts 86 million chips will be manufactured in 2022, an improvement of 6.2% from the 81 million estimated to have been produced in 2021. It remains to be seen how those will be allocated to vehicle manufacturing, but multiplying the anticipated increase in chip production by 2021 volumes, vehicle sales in 2020 would only be 15.8 million.
Auto Forecast Solutions has aggregated vehicle production data following the chip shortage and its impact on auto manufacturing throughout the last month. The chart below shows the number of vehicles cut from production so far this year next to the full-year 2022 production cut projection:
From an auto dealer's perspective, not much has changed. Promises of structural changes to where microchips are produced and how many are available to auto manufacturers will take some time to follow through on, with the summer seeming like the absolute earliest that significant inventory relief might come. More updates should surface as the first quarter of the year is now in full swing.
February 2022 Outlook
Our outlook for February 2022 is that vehicle inventories will remain low and demand will remain high. Incremental inventory improvements are expected to accumulate eventually, but many of those improvements are not expected in the next several months. Also, the persistent Omicron variant of the COVID-19 pandemic could continue to affect supply chains and production facilities in the coming months as well, adding to the uncertainty.
Mercer Capital provides business valuation and financial advisory services, and our auto team helps dealers, their partners, and family members understand the value of their business. Contact a member of the Mercer Capital auto dealer team today to learn more about the value of your dealership.