March 2023 SAAR
Is North American Auto Production Lagging Behind?
The March SAAR was 14.8 million units, down 1.2% from last month but up 9.3% compared to March 2022. Year-over-year improvements in the SAAR continue to persist as inventory is more available compared to this time last year. In fact, this month marks the eighth month in a row of year-over-year improvements in the SAAR and signals consistency in auto production and auto demand trends. On an unadjusted basis, industry-wide sales numbers tell the same story. March 2023's sales significantly improved from last year but remain below the levels seen in 2016 through 2019.
The chart below details the last eight year's unadjusted sales in the month of March.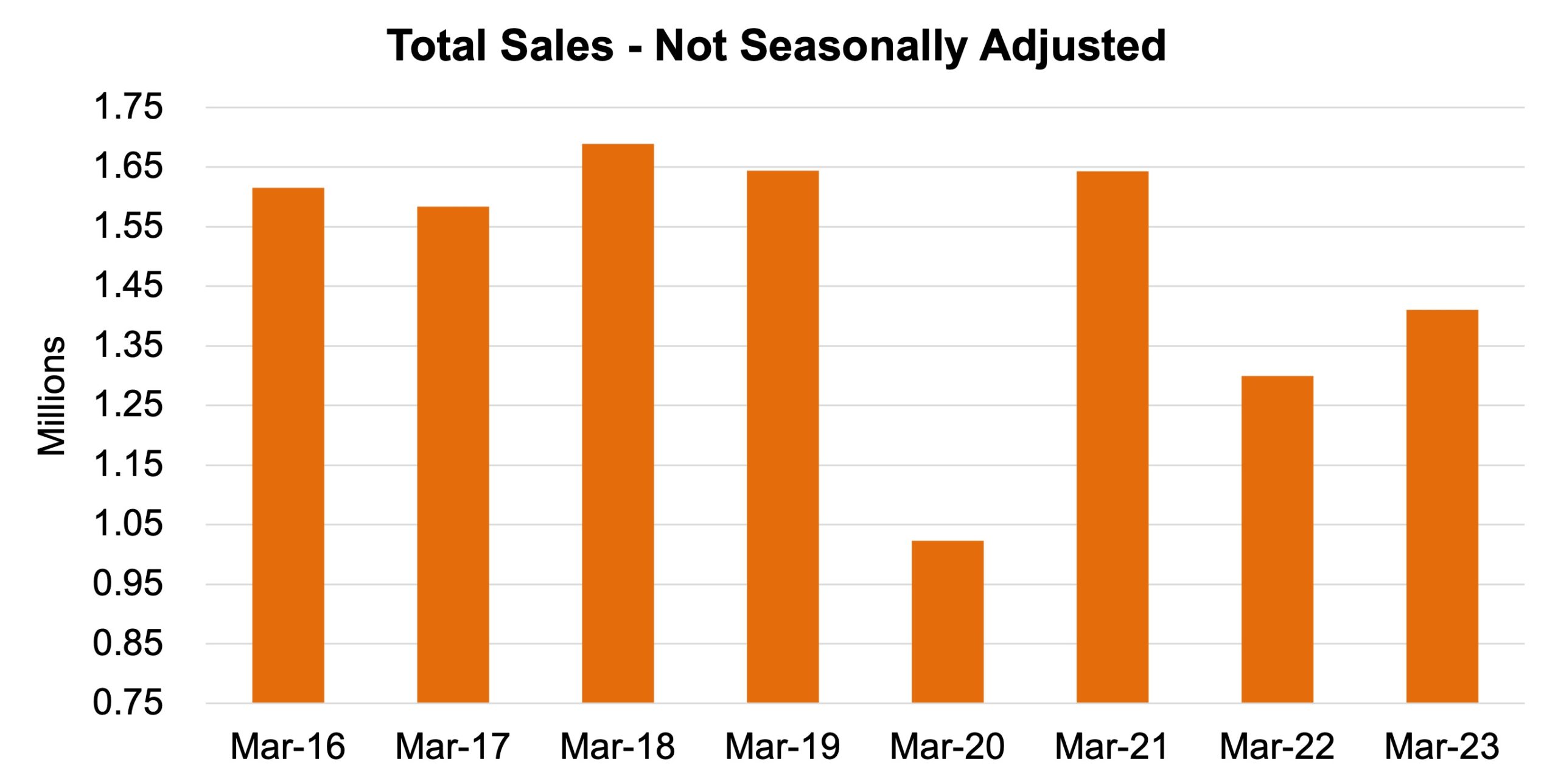 Inventory
The industry's inventory-to-sales ratio kept with the trends of the last few months. While we are seeing marginal improvements over the last several months compared to the first half of 2022, the ratio is still below the long run pre-COVID average of roughly 2.5x and the post-COVID average of roughly 1.3x. This month also marks two years since the ratio began its nosedive (as is shown in the chart below).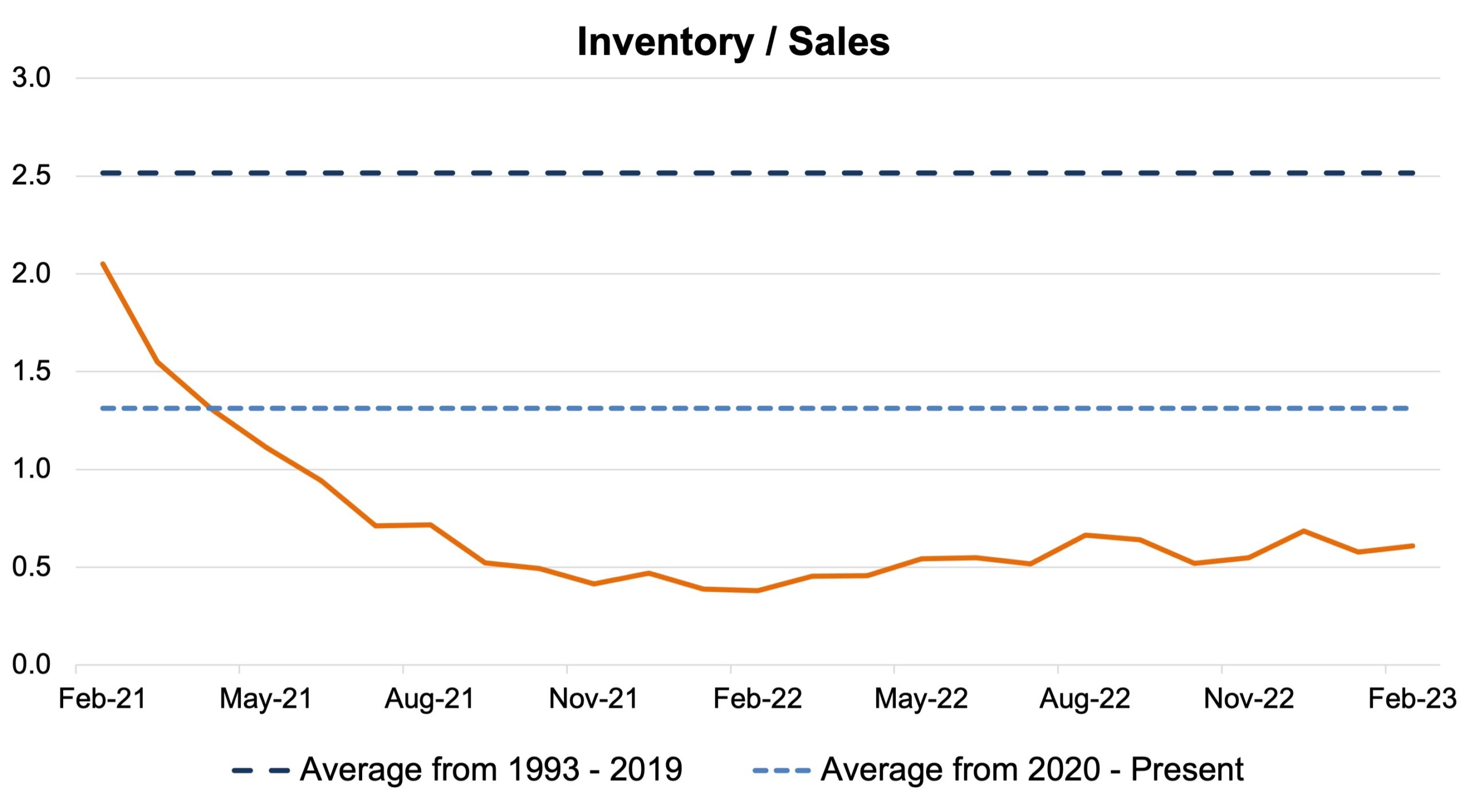 The persistence of a low inventory-to-sales ratio continues to strengthen the argument for pent-up demand. In the early days of the ratio's slip (late 2021 and early 2022), headlines were all about constrained inventory. However, the story has shifted to the demand side as inventory balances have improved over the last several months. Even more recently, the story has shifted from retail to fleet sales as fleet customers propped up demand in the face of reports of stagnant consumer spending.
Transaction Prices, Monthly Payments, and Incentive Spending
Transaction Prices: According to Cox Automotive, a nearly two-year trend in average transaction prices was broken this month. For the first time in 20 months, the average transaction price fell below MSRP to $48,008. For perspective, the average transaction price was nearly $1,000 over MSRP this time last year.
Rebecca Rydzewski, research manager of economic and industry insights for Cox Automotive, says that "Both luxury and non-luxury prices were down month over month. We've been anticipating transaction price declines as inventory has steadily improved and choice has expanded. More vehicles on dealer lots – and on their competitors' lots – means dealers simply don't have the pricing power they did six months ago."
Incentive Spending: Incentive spending rose to an average of $1,516 per unit in March 2023, the highest average in the last year. Despite this figure's recent high, incentive spending remains historically low as a percentage of the average transaction price. For example, average incentive spending represented 3.2% of the average transaction price in March 2023 compared to averages between 7.0%-11.0% from 2012 to 2020.
Is North American Auto Production Lagging Behind?
Over the last several months, a recurring topic in our monthly SAAR blogs has been a recovery in nationwide auto inventory. This topic has been supported by year-over-year improvements in both manufacturer production reports and industry-wide inventory data over those months. This recovery can be attributed to parts becoming available during 2022-23 that were scarce in 2021.
The most high-profile shortage over the last two years has certainly been microchips. Many that follow and write about the industry, including the Mercer Capital Auto Dealer team, have predicted that this infamous shortage will end in 2023. (As a side note, production numbers are trending in that direction, but we are not out of the woods yet.) While industry-wide improvements are certainly present, it is notable that the microchip shortage is more persistent in North America than in other parts of the world.
The following table compares 2023 year-to-date production cuts by region with the total 2023 projected production cuts, per AutoForecast Solutions, Inc ("AFS").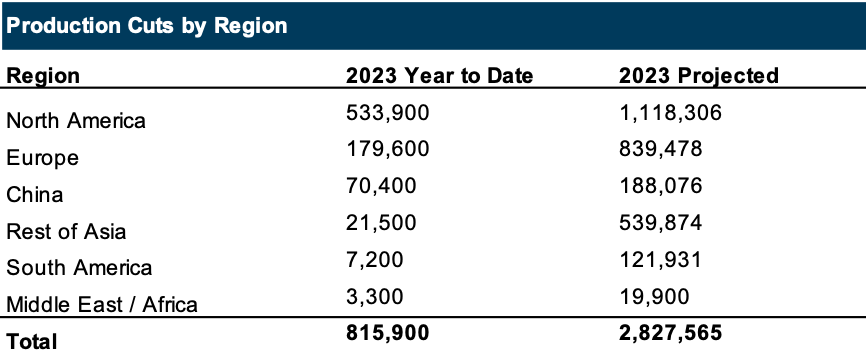 In the latest projection by AFS, there are expected to be about 2.8 million production cuts in 2023 (with North America accounting for roughly 40% of the total expected cuts). As a test of reasonableness, this figure aligns with Automoblog's projected range of 2-3 million units. While 2-3 million expected cuts compare favorably to around 10.5 million in 2021 and 4.3 million in 2022 and clearly outline the global trend of improved conditions, it is only natural for domestic dealers to be curious about why the United States, Canada, and Mexico have continued to disproportionately struggle with acquiring microchips and meeting production goals.
Perhaps the regional struggles come from the unique mix of brands that reside in North America. According to the same article by Automoblog, "the effects of the automotive chip shortage do not appear to have been evenly distributed between manufacturers". To provide further detail, the Q4 2022 Haig report highlights that Jaguar-Land Rover, Lincoln, Honda, Subaru, Nissan, Buick-GMC, Chevrolet, and Ford are struggling with inventory/microchip issues. Out of these eight brands, four have production operations primarily based in North America.
Another potential driver behind a regional disparity in production volumes is the relative importance of automobiles in the United States. According to Deloitte's 2022 Global Automotive Consumer Study, automobiles are the preferred mode of transportation globally, but especially in the United States (see the chart below from Deloitte's study). Given this backdrop, it makes sense that the United States would be one of the most impacted regions in terms of production cuts.
Mobility Modes to Meet Transportation Needs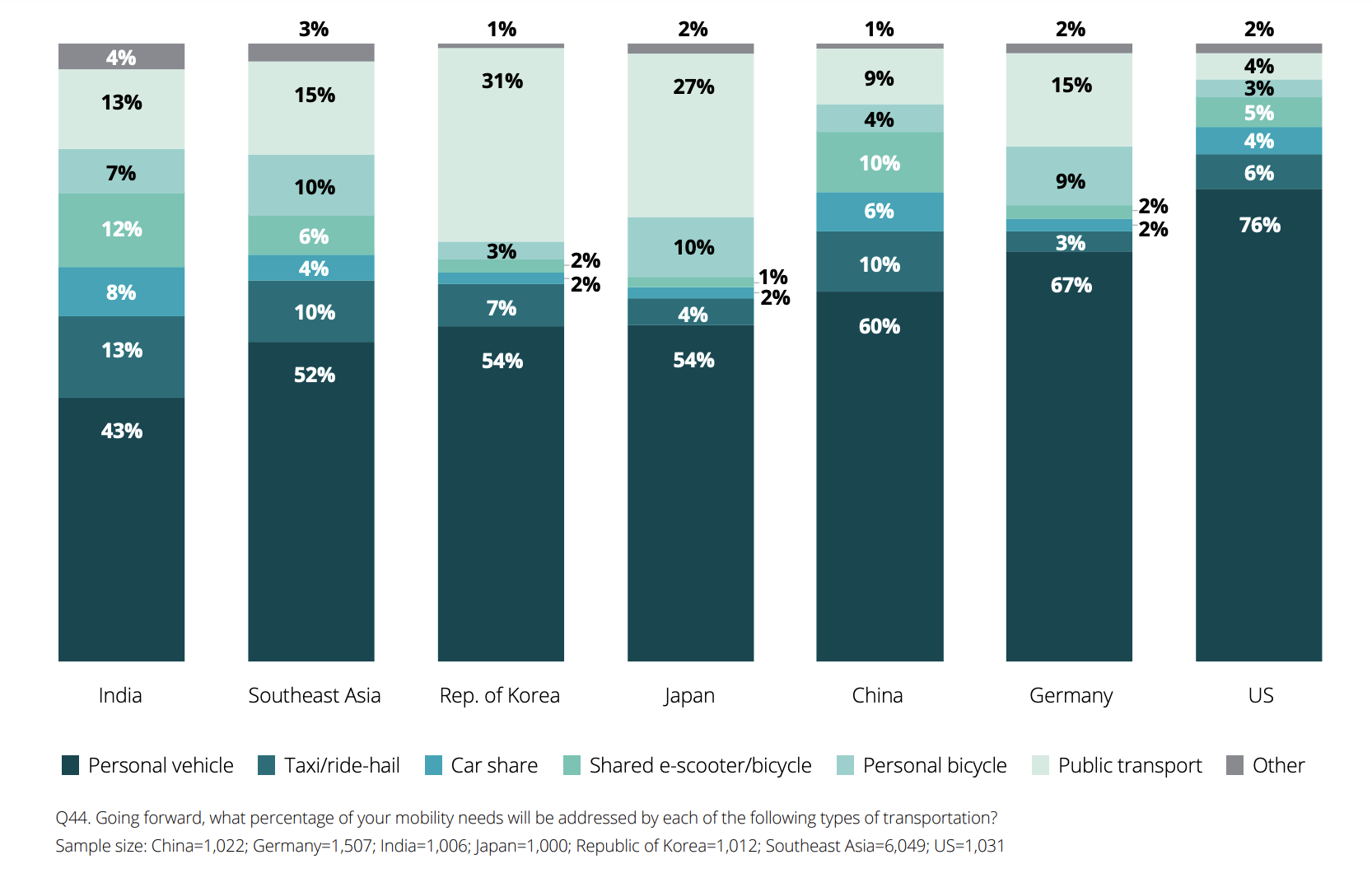 Deloitte's 2022 Global Automotive Consumer Study
To take this a step further, the OEMs struggling with microchip inventory are likely to be victims of specific issues. See below for two actions that successful OEMs have taken to avoid microchip shortages1
Timing of Purchases – Due to the timing of each OEM's microchip purchases, some manufacturers currently have a surplus of chips while others have shortages. Microchip manufacturers, most located in southeast Asia, have been unpredictable in their capacity over the last couple of years. This factor recognizes that OEMs who "over-ordered" at certain times have been rewarded during slower periods.
Manufacturing Adjustments – Some automakers have been able to limit the number of vehicles cut from production by rationing the chips they use. These OEMs have removed some features that rely on microprocessors. For example, Mercedes removed some features like premium audio and wireless charging from some models.
When Will North America Catch Up?
We are optimistic that supply chains will return to "normal" during 2023, even for North American OEMs. Furthermore, we look forward to the "new normal" that will likely begin once the United States chipmaking facilities come online in 2024 and beyond. According to the New York Times, more than 35 companies have pledged nearly $200 billion for chip manufacturing projects since the spring of 2020. The money is set to be spent in 16 states, including Texas, Arizona, and New York, on 23 new chip factories, the expansion of nine plants, and investments from companies supplying equipment and materials to the industry. If U.S. manufacturers continue to fall behind the global production pace, these new facilities should prop them up soon.
April 2023 Outlook
Mercer Capital's outlook for the April 2023 SAAR continues to be optimistic. Industry supply chain conditions are improving. Sales volumes will likely continue to be closely tied to production volumes, although less so than a few months ago. Consumer activity may begin to cool off as affordability becomes an issue for many prospective buyers, but we will have to see it to believe it.
Mercer Capital provides business valuation and financial advisory services, and our auto team helps dealers, their partners, and family members understand the value of their business. Contact a member of the Mercer Capital auto dealer team today to learn more about the value of your dealership.
---