Mid-Year 2022 Auto Dealer Industry Newsletter Release
We are pleased to release our Mid-Year 2022 Auto Dealer Industry Newsletter after taking a brief hiatus.
Beginning in the fall of last year, NADA suspended publication of its Dealership Profile data which was a helpful resource to industry participants and to our industry newsletter. We have pivoted by providing additional data from the public auto dealer groups, which we hope you will find insightful.
Recurring Trends and What They Mean to You
The first half of 2022 continued to present challenges to auto dealers.  Once again, auto dealers have proven their resilience and adaptability to continue operating at heightened profitability.
Recurring trends such as a lack of new vehicle supply and a shortage of microchips persist, while new challenges such as inflation, rising interest rates, and increasing gas prices began to emerge.  We highlight and discuss these trends and provide key industry metrics, including total retailer profit per unit on new vehicles, supply of new vehicles on dealer's lots, the average age of new cars, average trade-in equity on used vehicles, and fleet sales.
Additionally, we recap the second quarter earnings calls of public auto companies, which further touch on these trends.
Blue Sky Multiples Have Jumped for Some
Also included in this newsletter is a discussion of blue sky multiples across various franchise segments, including luxury dealerships, mid-line dealerships, and domestic dealerships.
While most blue sky multiples have remained flat for the last several quarters, there are interesting discussions on their application between buyers and sellers during continued periods of heightened earnings.  Several franchises have seen their blue sky multiples jump after a period of stagnant value.
What the Publics Can Tell Us
Finally, this newsletter provides financial data and metrics from public auto companies that we believe are informative to single-point or smaller private auto dealers.  Specifically, we analyze the market capitalization, dealership count, gross profit by segment, and the implied blue sky multiples from public earnings data for the second quarter of 2022 and the prior year-end 2021.
What Other Topics Would You Like to Know More About?
We hope you find this newsletter to be a helpful resource and appreciate any feedback along with way.  Please send suggested content topics or ideas that you'd like to see in future editions to Mercer Capital's Auto Dealer Industry Group Leader, Scott A. Womack, ASA, MAFF, at womacks@mercercapital.com.
Click the link below to download this latest issue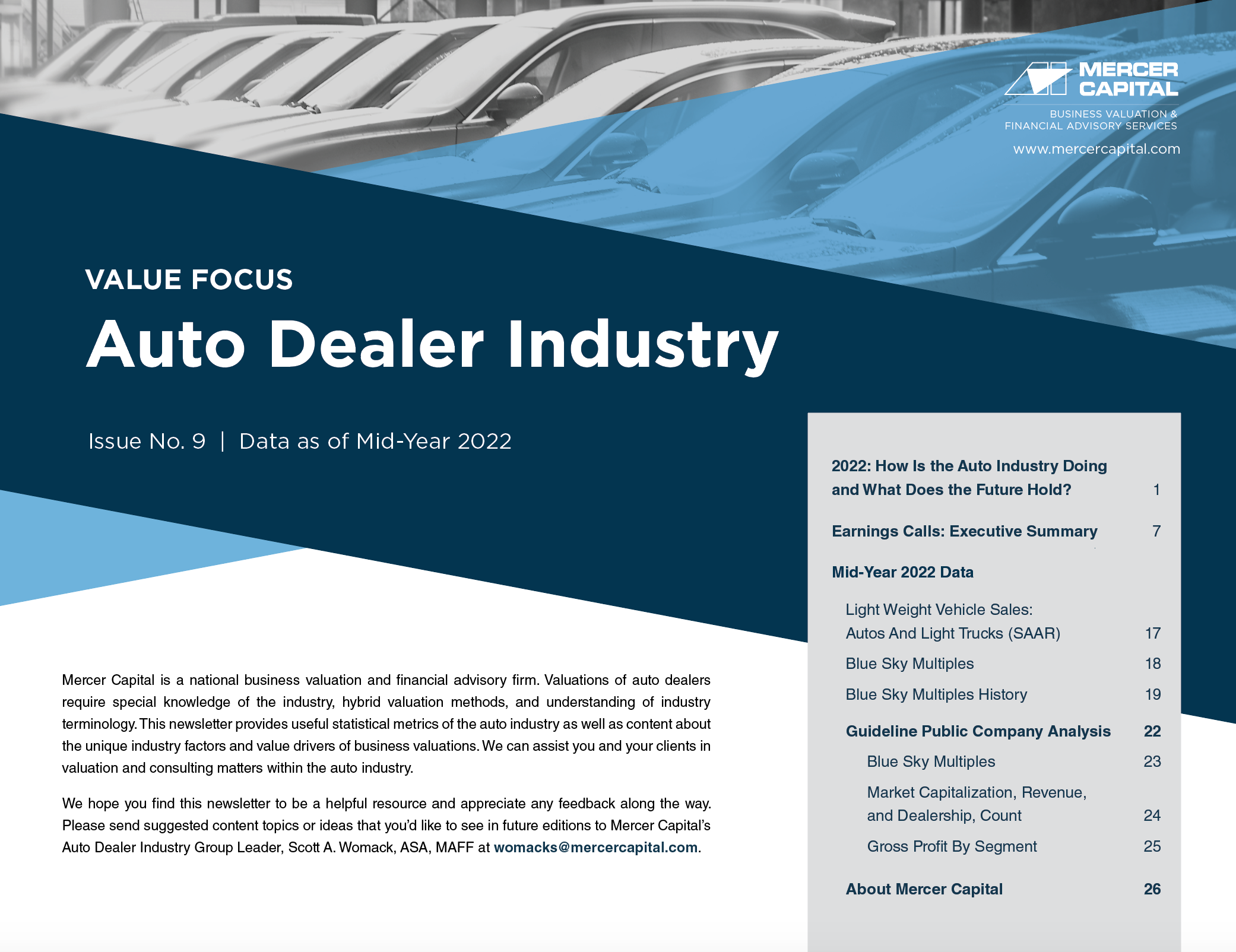 Value Focus:
Auto Dealer Industry