The November 2021 SAAR was 12.9 million units, down 0.7% from October and 19% from November 2020. This month's SAAR came in below expectations as the industry experienced only slight inventory improvement from the historic lows of September and October. This seems like old news, as persistently limited inventory on dealer lots has affected the industry for months now and has been the principal issue concerning auto dealers. In this environment, vehicle prices remain elevated, with the average transaction price paid for a new vehicle reaching a November record of $44,000 this month. Light trucks continue to be red hot, representing more than 80% of all new vehicles sold and leaving dealer lots at a record pace. The average number of days a vehicle stays on the lot fell to a record low of 19 days in November, down from 48 days in November 2020.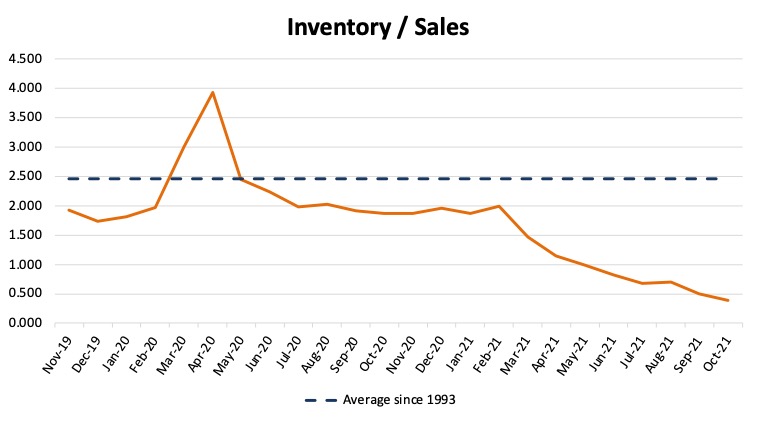 It is no secret that inventory issues at the dealer level are a consequence of production stoppages and supply shortages by OEMs. OEMs have all been subject to supply chain disruptions for some time, and these challenges have been met with a wide range of responses. Jeff Schuster, president of J.D Power's Americas operations and global forecasts recently addressed these responses by saying:
"The supply shortage is being managed in very creative ways, from building vehicles without certain content, to bringing chip development and production in-house for better supply chain visibility. However, the improvements in vehicle production are inconsistent around the world. China and India both saw stronger vehicle production in October, but North America and Europe remain constrained. Even as plants restart after being down for several weeks, they are not running near-normal levels. While the solutions are intended to minimize the disruption now or in the future, consumers will continue to find it difficult to purchase the exact vehicle they want for several months to come."
At least partially as a result of these "inconsistent" conditions across countries, the market shares of certain manufacturers have fluctuated a bit over the last month. Toyota, Hyundai-Kia, Honda, Nissan, and Mazda are among the manufacturers that experienced market share growth in November, while American manufacturers Ford, Stellantis, and General Motors all saw market share losses. This trend in auto public equities has been around for a few months now, but it shouldn't take long for American and European manufacturers to catch up with their counterparts in other parts of the world by establishing in-house microchip development and securing a consistent pace of production going forward.
What Could 2021 Mean to the Industry's Future?
For the last SAAR blog of 2021, we thought it might be valuable to reflect on the unique year that auto dealers and manufacturers have had. This is not a comprehensive recap of a year, but instead a commentary on what seemed to work well in 2021 and what changes might be around for a while.
2021 defied nearly everyone's expectations.
While 2020 presented its own set of challenges and opportunities, 2021 defied nearly everyone's expectations. Analysts following the industry watched as OEMs and dealers reacted to unprecedented conditions in almost every phase of their businesses. We saw dealer principals shepherd their auto dealerships through a choppy market environment and thrive in the current pricing and inventory environments. As the second half of the year wound down, new records were being set every month relating to low stocks of vehicles, elevated, and persistently rising gross profits, and consumer demand for autos of all classes. We also saw a red hot M&A market, with elevated Blue Sky multiples and record-high earnings driving mass amounts of industry consolidation by the public auto dealers like Asbury, AutoNation, Group 1, and Sonic Automotive.
The motivation behind a chunk of the sales volume in 2021 seems unique to the times.
On the other side of vehicle-buying transactions, vehicle scarcity and inflated sticker prices have left many consumers feeling uncertain about the future of car-buying and when they may choose to make that big purchase. Prospective buyers on the margins may have decided to hold off on buying their next vehicle in the hopes that prices will fall as inventory levels normalize. Others have chosen to take the opportunity to cash in on high trade-in values for their used vehicles that won't stick around for long. In either case, the motivation behind a chunk of the sales volume in 2021 seems unique to the times we are living through. Many consumers are under the assumption that when things "get back to normal" the car-buying experience will closely resemble what it was pre-pandemic. While that will surely be true for many aspects of the sales process, auto dealers and manufacturers would be remiss not to take the lessons learned in 2021 and make some of the changes permanent in how they do business going forward.
We aren't likely to see high margins on vehicle sales persist.
Could pre-orders on many models become more commonplace as dealers find the perfect inventory balance on their lots? Absolutely. Could record low dealer incentives persist in an effort to assist dealers in competitively pricing their vehicles when sticker prices inevitably fall off? Perhaps. But for changes like these to stick, factors like test drive availability and matching model-specific production volumes with the pent-up demand that exists will have to be addressed. It is also important to note that many local, full-service dealerships seek to gain loyalty through providing as great a personal experience for the buyer as possible. Repeat customers and parts and service revenues are very important to these dealers, and making customers feel like they are getting gouged is not in anyone's best interest. For that reason, we aren't likely to see high margins on vehicle sales persist. However, dealers and OEMs certainly learned there's been money left on the table in the past due to the relative inelasticity of demand for vehicles.
Forecast
While December is typically a big selling month for dealers, we don't see much changing the supply issues in the next couple of weeks to close out 2021. From a dealer's standpoint, inventories will most likely continue to be sold within days of arriving on the lot.
If you would like to know more about how these trends are affecting the value of your auto dealership, feel free to contact a member of the Mercer Capital auto team.