The November 2022 SAAR was 14.1 million units, down 6.5% from last month but up 7.9% from November 2021. Compared to this time last year, vehicle availability has significantly improved, and there seems to be hope around the industry that the auto inventory crunch is in its final act. If true, this would be good news for auto dealers and consumers alike, as more units on dealer lots seem to be the first step in a "return to normal" for the industry. While it's clear that a year-over-year improvement is present, a dip from last month's SAAR figure may raise red flags for some of our readers. However, an additional selling weekend in October and a marginal uptick in sales due to natural disasters in the Gulf of Mexico were both tailwinds that supported a surprising improvement in the SAAR last month. Given this perspective, November 2022's SAAR seems to return to the larger trend of improving conditions.
On a full-year basis, this month's SAAR moved the 2022 average from 13.76 million units at the end of last month to 13.79 million units, a relative drop in the bucket. Even if another improvement in the industry's sales pace follows suit in December, it's clear that a full-year SAAR of fewer than 14 million units is almost inevitable.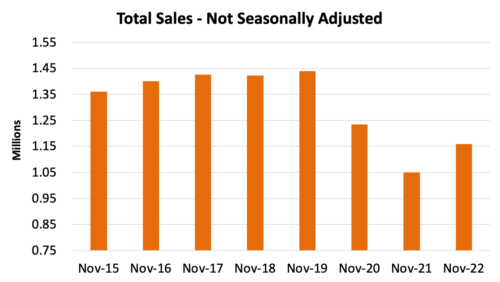 Unadjusted sales trends on a relative basis are in line with the last several months. November 2022 unadjusted sales are noticeably better than November 2021 but remain depressed compared to November 2015 through 2020. It's likely that the gap between the pre-pandemic sales pace and the current sales pace will continue to narrow in 2023, but the rate at which improvements are expected throughout the next year remains unclear. As we have learned over the past two and a half years, no one truly knows what to expect regarding geopolitical events and OEM decision-making that impact inventory availability and consumers' demand for automobiles. Simply put, expectations for the next year of selling should be cautiously optimistic.
Inventory
As we mentioned earlier in this blog, it's clear that inventory conditions are improving. According to the NADA, inventory on the ground reached 1.65 million units in November, which is up 6.5% from last month and 57% from last year. We believe it's likely that nationwide auto inventories will remain roughly flat through the end of 2022, with continuing marginal improvements expected throughout 2023.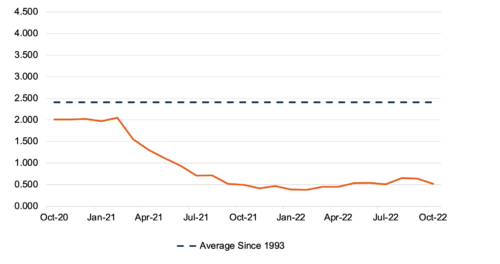 The industry's inventory-to-sales ratio, a metric released with a one-month lag, actually fell in October 2022 due to a significant improvement in last month's sales pace (as elevated sales outran inventory production over the month). Going forward, we believe that a return to the long-run average inventory-to-sales ratio of 2.41x is very unlikely in the near term or throughout 2023. Given how auto dealer profitability has thrived in the low-inventory environment, we find it increasingly likely that a fundamental shift in the industry has already occurred. What if auto dealers never return to the days of 2-3x monthly sales worth of inventory on the lot? The last two years have informed us that dealers can thrive in this environment, but only time will tell us how sustainable this success may or may not be, particularly considering how profits are split between dealers and OEMs.
Transaction Prices, Monthly Payments, and Incentive Spending
According to J.D. Power, November 2022's average transaction price is expected to reach $45,872, 3.1% higher than this time last year. While 3.1% doesn't seem egregiously high in this period of high inflation, we'd note that this is in addition to much higher prices from two years ago with no signs of meaningful price declines. The only way to know if prices will contract will be to wait for a complete recovery of nationwide inventory levels and the satisfaction of any pent-up demand that may still be lingering in the industry.
Alongside sticker prices, another affordability metric is the industry's average monthly payment. In November 2022, the average monthly payment is expected to be $712, an increase of $48 from last year. A few factors determine the average monthly payment made by consumers: 1.) the transaction price, 2.) the agreed-upon interest rate, and 3.) the term of the loan.
While we have already made it clear that transaction prices continue to increase, it is notable that interest rates continue to grow as well. The Federal Reserve raised the federal funds rate for the fourth consecutive time in November 2022, bringing the overnight lending rate to its highest point since 2008 and elevating all interest rates throughout the economy. According to Experian's State of the Automotive Finance Market Q3 2022 Report, the average auto loan rate in Q3 2022 was 5.16% (compared to 4.09% last year and 4.23% in 2020). Term lengths on auto loans, the final piece of the monthly payment puzzle, typically range from 12 to 84 months. According to Experian's report, the average term of auto loans originated in Q3 2022 was 69.73 months, trending toward the 72-month mark and largely in line with the past two years (69.51 in 2021 and 69.64 in 2020). According to Edmunds, the share of auto loans exceeding 73-month terms increased from 27% in October 2017 to 34% in October 2022.
Average incentive spending per unit is expected to total $1,009 in November 2022, down 35% from this time last year. Despite being down year over year, this month marks the end of a six-month streak where average incentive spending per unit remained below $1,000. Perhaps OEMs are beginning to relent and offer more incentives as spending across the economy cools off.
December 2022 Outlook
Mercer Capital's outlook for the December 2022 SAAR is optimistic. Industry supply chain conditions are improving. However, sales volumes will likely continue to be closely tied to production volumes, although less so than a few months ago. High profitability across the entire industry will likely continue as high prices boost margins on vehicle sales. Consumer activity may begin to cool off as affordability becomes an issue for many prospective buyers, but at this point, we have to see it to believe it.
Mercer Capital provides business valuation and financial advisory services, and our auto team helps dealers, their partners, and family members understand the value of their business. Contact a member of the Mercer Capital auto dealer team today to learn more about the value of your dealership.