The October 2022 SAAR was 14.9 million units, up 12.7% from October 2021 and up 9.8% from last month. This month's SAAR comes as a bit of a surprise, as the last three months' sales pace settled at around 13.4 million units and seemed to have stabilized at a short-term equilibrium. However, meaningful improvements in inventory balances and other tailwinds like natural disaster-related demand contributed to the second-highest monthly SAAR total this year. For perspective, from 2014-2019, there were zero months where SAAR was below this recent high in the inventory-constrained 2022.
On a full-year basis, this month's SAAR moved the 2022 average SAAR from 13.6 million units at the end of last month to 13.73 million units. Despite this turning of the tide, it remains unlikely that the full-year 2022 SAAR will exceed 14 million units, as there is not much time left in the year to pull the average up above that threshold. For perspective, the November and December SAAR would need to average 15.4 million units for the full-year average to arrive at 14 million units. Furthermore, as auto sales are a function of both supply and demand, it will also be interesting to keep an eye on the demand side of the auto sales equation as recessionary fears intensify. Stay tuned over the next two months to see if the national sales pace continues to improve.
Unadjusted sales trends on a relative basis are mainly in line with the last several months. October 2022 unadjusted sales are markedly better than October 2021 but remain depressed when compared to October 2015 through 2020. However, the gap between current sales and what was observed prior to the auto inventory crunch seems to be shrinking as the months go by, which is also an interesting trend to keep an eye on as 2022 winds down.
Total Sales – Not Seasonally Adjusted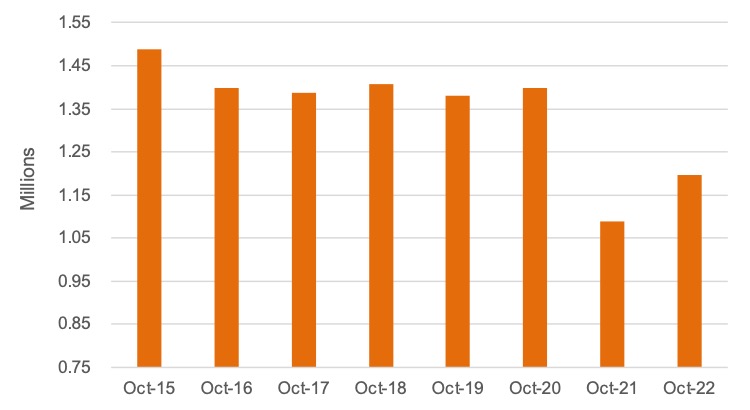 Inventory
According to the NADA, ground and transit inventory totaled 1.54 million units at the end of October 2022. The industry has not seen this magnitude of inventory flow since May 2021, which is right around when the industry's inventory crunch began to take hold. In our opinion, we should hesitate before assuming that vehicle availability has fully recovered, as the September 2022 industry inventory-to-sales ratio (0.64x) remains well below its long-run average (2.4x). We will get a better idea of this month's inventory levels when October 2022 I/S ratio data is released next month. Nevertheless, improved inventory balances are a good sign for consumers and dealers alike, as it seems like it has been ages since the days of full car lots and numerous options for consumers to test drive and choose from.
Inventory/Sales

Transaction Prices, Incentive Spending, and Monthly Payments
According to J.D. Power, the average transaction price of a new vehicle is expected to be $45,599 in October 2022. After numerous months of increasing transaction prices and new record highs each month, this month's average transaction price is roughly flat compared to September 2022. Rising interest rates and recessionary fears have cooled transaction activity in many areas of the economy, like the housing market and the mergers and acquisitions market, and we believe it is likely that the same trend will occur with respect to new vehicle purchases over the next several months. Keep in mind that these activities heavily rely on interest rates to support affordable pricing. For dealers, new vehicle prices are still so elevated that profitability can still be achieved at lower volumes. Still, many dealers should expect sticker prices to begin to slip modestly in an effort to keep monthly payments in a reasonable range for consumers.
According to J.D. Power, average incentive spending per unit is expected to total $882, down 44.7% from this time last year and marking the sixth straight month below $1,000. It is clear that OEMs are sticking to their guns and keeping incentives low, and we believe that this is likely to continue as long as GPUs remain historically high. However, incentives could creep back up for OEMs and dealers to keep transaction prices higher as consumers have become increasingly accustomed to these rising prices.
Hurricane Ian's Effect On the Automotive Industry
Hurricane Ian raked a path of destruction across the southeast United States on September 28, 2022, devastating the state of Florida and its Gulf Coast before making final landfall in South Carolina two days later. The hurricane is now considered the second-deadliest storm to strike the continental United States since Hurricane Katrina in 2005.
While the total damage done to the Gulf Coast and its people goes far beyond its effects on the automotive industry, some interesting auto-related effects are worth mentioning to our blog readers.
According to Cox Automotive, it has been estimated that the total number of severely damaged vehicles in need of replacement range anywhere from 30,000 to 70,000 as a result of Hurricane Ian. Considering the region's significant demand for replacement vehicles, retail sales in the affected area are expected to increase in the fourth quarter of 2022. Perhaps the uptick in sales that the entire industry experienced in October has something to do with this acute regional demand.
Cox Automotive also posits that about 80% of replacement vehicles will come from the used vehicle market due to difficulties acquiring new vehicles from dealerships. This demand for used vehicles is likely to apply upward pressure on regional pricing and make it more likely that flood-damaged vehicles appear for sale. Generally, totaled cars and trucks are given a "salvage title" and cannot be legally driven in the United States. However, some states allow buyers to repair totaled vehicles and issue a "rebuilt title," making them legal to drive. This process will likely produce fraudulently "title-washed" vehicles as opportunists can purchase a totaled car or truck at auction, move them to a state where re-titling is legal, and return the car to the Gulf to resell.
In any case, filling the void that Hurricane Ian left in the vehicle market should prove difficult in a time of inventory restrictions. While inventory balances seem to be improving on a macro level, a concentrated need in Florida and South Carolina will likely be challenging to fill. Dealers in the region should conduct thorough due diligence on used vehicles they purchase for resale and expect demand to remain elevated throughout the hurricane recovery process.
November 2022 Outlook
Mercer Capital's outlook for the November 2022 SAAR is cautiously optimistic. Industry supply chain conditions are beginning to improve. However, sales volumes will likely continue to be closely tied to production volumes as vehicles leave lots within days of arriving despite recent signs of improvement. Elevated profitability across the entire industry will likely continue as high prices boost margins on vehicle sales. Perhaps the November SAAR can continue to approach 15 million units and signal a true turning of the tide, but we predict that a 14 million unit SAAR for 2022 is unlikely in the current landscape.
Mercer Capital provides business valuation and financial advisory services, and our auto team helps dealers, their partners, and family members understand the value of their business. Contact a Mercer Capital auto dealer team member today to learn more about the value of your dealership.