October 2021 SAAR was just shy of 13.0 million, as new light vehicle sales saw their first month-to-month gain since April. The October SAAR is up 6.3% from last month but remains 20.8% lower than last October. Auto dealers began the month with record low inventory levels of 972,000 units, and low inventories continue to keep car buying activity constrained. Dealers are pre-selling a significant amount of the new inventory they receive as they attempt to satisfy demand. According to Thomas King, President of Data and Analytics, nearly 54% of vehicles will be sold within 10 days of arriving at a dealership.
As of now, there is no expectation that inventory on the lot will increase anytime soon. There is some optimism around the industry that inventory levels will slowly increase throughout 2022, but it is likely that these inventories will remain below pre-COVID levels for the foreseeable future. Based on our discussions with dealers and reading of the tea leaves, we think it's reasonable OEMs will see heightened profits under the status quo and seek to structurally tweak how much inventory is kept on dealer's lots going forward.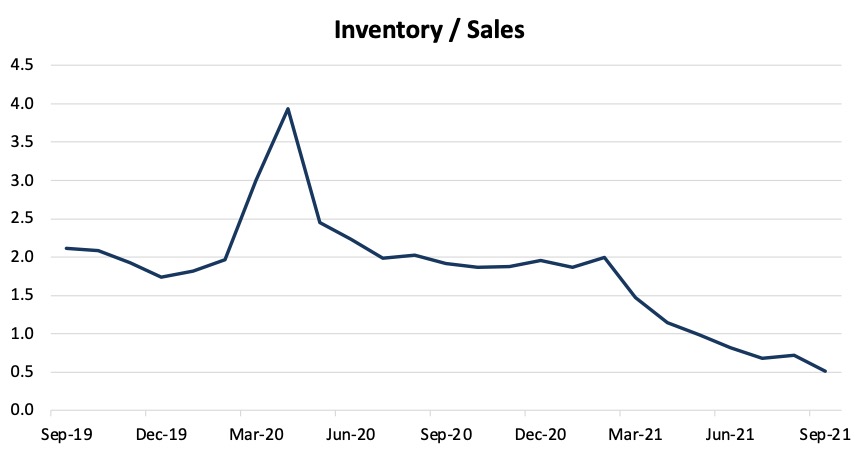 In October, prices have continued to rise and OEM incentive spending has continued to fall. This has been the case for several months now, and dealers have been realizing record profitability on vehicles sold for some time. If it seems like there are new profitability records being set every month, it is because there have been. Average incentive spending per unit has hit another record low of $1,628 in October. Total retailer profit per unit is on pace to reach another record high of $5,129 as well, the metric's first time above the $5,000 mark. For perspective, this is an increase of $2,937 (more than double) from a year ago, and total aggregate retailer profits, a measure of the industry's profitability as a whole, is up 213% from October 2019, reaching $4.8 billion. This October was the most profitable October on record for auto dealers, and it is likely that November will yield some of the same, if not better, results.
Inventory shortages and record profitability are not the only persistent conditions in which auto dealers are operating. Fleet sales continue to be outpaced by retail sales, accounting for only 142,000 units over the last month. Trucks and SUVs are on pace to account for a record high 80.9% of new vehicle retail sales in October as well. As far as new vehicle prices are concerned, transaction prices on the average new car reached another record high of $42,921. While supply and demand imbalance plays a role in these increasing prices, we note the mix of vehicles is also important. Trucks tend to be more expensive than cars, so the mix continuing to shift towards higher profit trucks leads to higher transaction prices. The moral of the story is that October proved to be more of the same for auto dealers across the country, and most dealers are still thriving in a low inventory–high price environment.
Microchip Background and Update
Many OEMs, dealers, and research analysts following the industry have been looking ahead to try and predict when the ongoing inventory shortage might begin to improve. As we have mentioned earlier in this blog and on previous blog posts, the current estimate seems to be around the middle of 2022 at least, depending on your definition of improvement. One important determinant that many are looking at is the state of the semiconductor industry.
Semiconductors, referred to by many as microchips or chips, are the brains behind electronic devices. As more electronic devices are being produced each year around the globe, the semiconductor industry has struggled to keep pace with demand for some time now. The rise of 5G technology can be blamed for increased demand, as well as increased demand from industries that have traditionally been semiconductor-free (auto makers can be included here, although chips have been common in new vehicles for years now). Another driver of increased demand is the rising number of semiconductors needed per manufactured unit across the many affected industries. For example, just one car can have anywhere from 500 to 1,500 different semiconductors. As we discussed previously, the pandemic exacerbated issues with people stuck at home reaching for electronics as a means of entertainment.
The increased demand mentioned above, paired with supply chain disruptions have set up the perfect storm for a semiconductor crisis. The crisis is hitting OEMs particularly hard, as many manufacturers are announcing major slowdowns and stoppages during the fourth quarter of 2021. We have not touched on the geopolitical ramifications of the semiconductor shortage, although the sourcing of these chips going forward will be an important factor to keep an eye on.
Toyota Motor recently announced that it was on pace to produce 40% fewer cars and trucks in October as a result of the chip shortage. This marks the second month in a row that Toyota slashed production estimates. GM, Ford, and Stellantis, who have all dealt with intermittent shutdowns over the last 6 months, account for 855,000 units of reduced vehicle production. Particular models from these OEMs that have been severely affected are Ford F-Series trucks, the Jeep Cherokee, the Chevy Equinox, and Chevy Malibu. Given that this crisis is becoming the single most important factor in getting vehicles on dealer lots, many executives are being asked when they think the supply chain for semiconductors will reach pre-pandemic levels.
A Volkswagen executive recently released a statement, saying that "Without a doubt, this shortage is going to go well into 2022, at least the second half of '22."
Likewise, Ford CFO John Lawler said that Ford is "doing everything we can to get our hands on as many chips as we can. We do see the shortage running through 2022. It could extend into 2023, although we do anticipate that the scope and severity of that to reduce."
Executives of the other major OEMs are echoing these concerns as all OEMs face similar challenges in securing chips for their vehicle production. That being said, the industry is prepping for an extended waiting game and cannot do much to produce more units in the meantime than what is allowed by current semiconductor inventories. While auto dealers are bearing the brunt of consumer frustration over the higher prices and lower availability, at least profits are up.
Forecast
Looking ahead to next month and the remainder of the year, we expect that the sales pace of the industry will continue to be constrained by the procurement, production, and distribution problems outlined above. From a dealer's standpoint, inventories will most likely continue to be sold within days of arriving on the lot. However, the number of incoming units is not expected to materially change in November. Essentially, dealers can expect more of the same.
If you would like to know more about how these trends are affecting the value of your auto dealership, feel free to contact a member of the Mercer Capital auto team.