Revolution or Evolution: COVID-19 Pushing Auto Dealers into the 21st Century
While making a trip to the grocery this past week, I came across a billboard that caught my eye, but not for the right reasons. An advertisement had been recently removed, exposing a much older advertisement beneath. It was a 3-videos-for-$5 ad from Blockbuster. It provoked an instant sense of nostalgia as I remembered going with my family to pick out movies on Friday nights. Unfortunately, this old ad now serves as a cautionary tale of what can happen to businesses that aren't able to keep up with ever-evolving consumer demands.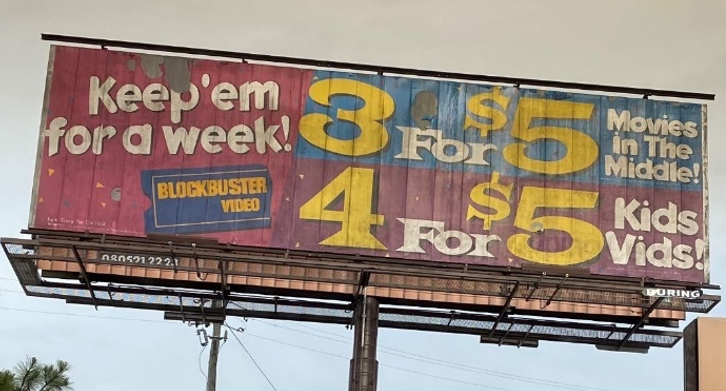 Blockbuster had the chance to keep up by buying Netflix for $50 million in September of 2000, but the CEO thought it was a joke.  Now with a market cap of $130 billion (as of May 1st), due to the influx of streaming demand, Netflix's worth now surpasses Disney's. The same cannot be said for Blockbuster, which shut down for good in 2014. Every industry faces the Blockbuster/Netflix dilemma at some point as they try to innovate to keep up with the changing times and stay relevant. The next big thing is always easier to see with the benefit of hindsight.
The most recent of these changes has been in the retail space with the "retail apocalypse," as brick-and-mortar stores are closing their doors as consumers opt for the ease of online purchases. Although initially evading the switch, the current COVID-19 pandemic has auto dealers scrambling to find ways to maintain sales as stay-at-home orders are keeping customers from the dealership. To move vehicles off the lot, dealerships have been pushed into a new era of online car sales. While many auto dealers have only somewhat dipped their toe into the digital space, they have now been pushed off the deep end. As Plato once said: "Necessity is the mother of invention."
Early Modelers of Online Car Sales
Before the coronavirus outbreak, the two major players in online car sales were Carvana and Tesla. Though both engage with their customers primarily through electronic platforms, their business models differ. Founded in 2013, Carvana now boasts an inventory of over 29,950 used vehicles that can either be delivered to customers or picked up in one of their vending machines.  Customers can even get approved for financing online. The company is now live in 146 markets and has doubled revenue in each quarter since its founding. Their ability to provide a larger selection of vehicles than traditional used car dealerships has helped it expand to the third-largest used-car retailer in the country. They also only sell used cars, which differentiates them from traditional dealers and may ultimately be more profitable. Gross profits for used vehicles are higher than for new vehicles. While Carvana operates as a virtual dealership for used cars, Tesla was founded in 2003 and operates as a manufacturer that eliminates the need for dealerships all together with its direct to consumer online sales strategy. Tesla has also experienced considerable revenue growth, and like Carvana, sports a lofty valuation compared to the traditional auto dealers.
Tesla's share price is up 88% and Carvana's is up 15% since the end of 2019.
While not frequently employed in the valuation of auto dealerships, Tesla's revenue multiple is 6.2x, compared to 0.5x or below for the five most traditional players. Carvana's revenue multiple of 1.7x is also significantly higher despite negative earnings even before interest, taxes, depreciation, and amortization (EBITDA). While both of these companies likely command higher multiples due to their growth characteristics, their business models also appear to be weathering the coronavirus as Tesla's share price is up 88% and Carvana's is up 15% since the end of 2019, while traditional auto dealers are down at least 25%.
How Auto Dealers Are Responding
While these two companies used to be the outsiders, the pandemic has forced many auto dealers to follow in their footsteps. Fiat Chrysler launched a new online sales program this month that allows customers to go through the car buying process online. The purchased vehicle can be delivered to their home without a visit to the dealership, similar to the model Carvana and Tesla follow. Mark LaNeve, Ford Motor Co.'s U.S. Chief of Sales told Reuters that "around 93% of Ford's 3,100 U.S. dealers are doing some or all aspects of sales online, from virtual tours to financing and home delivery, as the pandemic has shuttered showrooms in a growing number of states." General Motors has increased efforts toward their online sales program, "Shop, Click, Drive," that launched in 2013 but had not gained much traction. Other automakers such as Porsche have announced additional incentives for dealers to conduct digital sales as well.
Looking Long-Term
With all the different measures being taken to bring car sales online, it is clear that dealerships are willing and able to provide this experience to their customers. However, there are significant costs in these changes, such as technology investment and retraining costs. Furthermore, while dealerships may be able to cut costs in the long-term by not having to utilize personnel to sell vehicles, this would have an adverse impact on employment. An example of this is Amazon's effect on retailers with total retail employees declining by nearly 200,000 since 2017.   The main concern and million-dollar question keeping auto dealers from fully investing in online business is this: Will consumers buy into an online model for the long-haul?
Although a heavy investment into online technology may prove beneficial during this pandemic, if things return to "normal" and consumers revert to old buying preferences, dealerships might end up with large sunk costs.
For many dealers, the switch to online vehicle shopping has been a long time coming.
There are differing opinions regarding whether COVID-19 will lead to a long-term switch in consumer vehicle purchase preferences. For many dealers, the switch to online vehicle shopping has been a long time coming. With consumers being more tech-savvy than ever, e-commerce retail sales as a percent of total sales has grown steadily over the years, reaching 11.4% in Q4 2019.  Rhett Ricart, CEO of Ricart Automotive in Columbus, Ohio, and chairman of the National Auto Dealer Association, believes that the coronavirus pandemic "is going to fundamentally change how people view buying a car." Additionally, he predicts that "By the end of the year, you're going to see 80%-90% of U.S. new car dealers with full e-commerce capability in their shop" to handle everything online except for the test drive and maybe the final signature.  Online sales at his dealership have doubled since the pandemic started to ramp up.  Certain data points support this assumption.
Before the pandemic struck, 61% of car buyers say that the car buying experience was not better, and sometimes worse, than the last time they purchased a vehicle. A key area of frustration for buyers is how long it takes to purchase a vehicle from the paperwork to negotiation. The cross-selling many dealerships employ to increase profits can also grate on some consumers who don't want to be upsold. With digital retailing allowing dealerships to reduce the time it takes to buy a car, this could end up alleviating a consumer pain point.
While some dealers are more bullish on their predictions for the online vehicle sales market, others remain skeptical.  David Smith, CEO of Sonic Automotive, has noted that although consumers can conduct a majority of the sales process online, he has doubts over whether this sales model will be long lasting.  "It is such a large purchase for most people," he said. "It's not like going to the grocery store. It's a big deal. It's a big purchase. People like to see it and browse." He might be onto something, with 79% of buyers waiting but still willing to buy, there are a whole lot of potential car buyers holding out even though many dealers have gone online.  And with the average monthly car payment for a new car being around $550, it's reasonable that a customer wants to see the car in person before they make such a big commitment.  Furthermore, considering that Carvana has yet to turn a profit, and Tesla has only achieved a narrow profitability in the past year, there are still many uncertainties on the success of online vehicle sales.
Conclusion
Ultimately, the jury is still out on whether we are witnessing a revolution in the auto industry such as we saw with  Blockbuster and online streaming, or simply an evolution into more tech-savvy dealerships. While we doubt the pandemic will be enough to radically push the entire process online for all consumers, we do believe certain benefits of digital are here to stay.
Most auto dealers are trying to find ways to offer customers vehicles in any way they can. The adoption of e-commerce tools for dealerships, even in the short-run, can help to show consumers that dealerships are willing to go the extra mile in order for them to be comfortable making a purchase during this difficult time.
After beginning with a Plato quote, I thought it would be fitting to end with one as well: "There are two things a person should never be angry at, what they can help, and what they cannot." In the midst of this unprecedented global pandemic, I find it to be a timely reminder.