Smart Connected Cars, OTAs, and Their Impact on Auto Dealers
The Future of Automobiles
Lost in all of the headlines surrounding electric vehicles is another trend that has emerged in automobiles over the last several years: Connected Cars.
The presence of connected features transitions the car (or light-weight truck) from just a vehicle getting you from point A to point B to a computer-like device with customizable technology features, making the trip an experience. Just as mobile phones and appliances have gone from single-function devices to smart devices, so have cars.
(Why the moniker "connected" cars, and not "smart" cars.  With apologies to the discontinued venture between Swatch and Mercedes Benz, the term "smart" car has historically been synonymous with a compact, fuel-efficient design.)
In a previous post, we discussed the future of auto dealerships and how they will be affected by inventory shortages and electric vehicles/direct selling.
In this post, we examine the size and growth of the connected car segment and discuss the struggle between auto manufacturers/OEMs and auto dealers over servicing these features.
Connected Cars and Size of the Market
Connected cars are vehicles with their own connection to the internet, usually through a wireless local area network (WLAN) that enables the vehicle to share data with other devices inside and outside the vehicle.
Connected technology features can include satellite-navigation systems with traffic monitoring capabilities and remote features that utilize smartphone apps such as starting the engine, warming or cooling the car, or locking/unlocking the car. In theory, connected cars could also communicate with other smart products opening up a whole new world of possibilities.
These features are not without limitations in the current automobile manufacturing environment. As we have discussed on this blog, automobile manufacturers have faced numerous production challenges including COVID-related plant shutdowns and, more recently, shortages of microchips due to supply chain issues. Modern automobiles continue to use more microchips for features such as emergency brakes, back-up cameras, and airbag deployment systems. Not to be overlooked, microchips are also used in connected features such as touchscreens and are present in engines to improve engine efficiency and lower emissions.
There were 84 million connected cars on the road in 2021 compared to ~3 million electric cars. And the number of connected cars is estimated to grow to 305 million by 2035.
What is the size of the connected car segment and how does that compare to the size of the electric vehicle (EV) market? According to estimates by Hedges Company, there were approximately 286.9 million cars registered in the U.S. in 2020. The figure was expected to climb to 289.5 million by the end of 2021. Most prognosticators estimate that the number of electric vehicles on the road in the U.S. is less than 1% of the total cars, SUVs, and light-duty trucks. Using these figures, total electric vehicles would top out at less than 2,895,000.
By contrast, Statista estimates there were 84 million connected cars on the road in the U.S. in 2021. Based on the numbers and despite all of the headlines about electric vehicles, the majority of connected cars would be traditional ICE (internal combustion engine) vehicles. Over the last few years, all major OEMs have been introducing new models with connected features. According to projections by Statista, there will be over 305 million connected vehicles on the road by 2035 in the U.S. alone.
Size of the Global Connected Car Fleet in 2021, With a Forecast for 2025, 2030, and 2035, by Region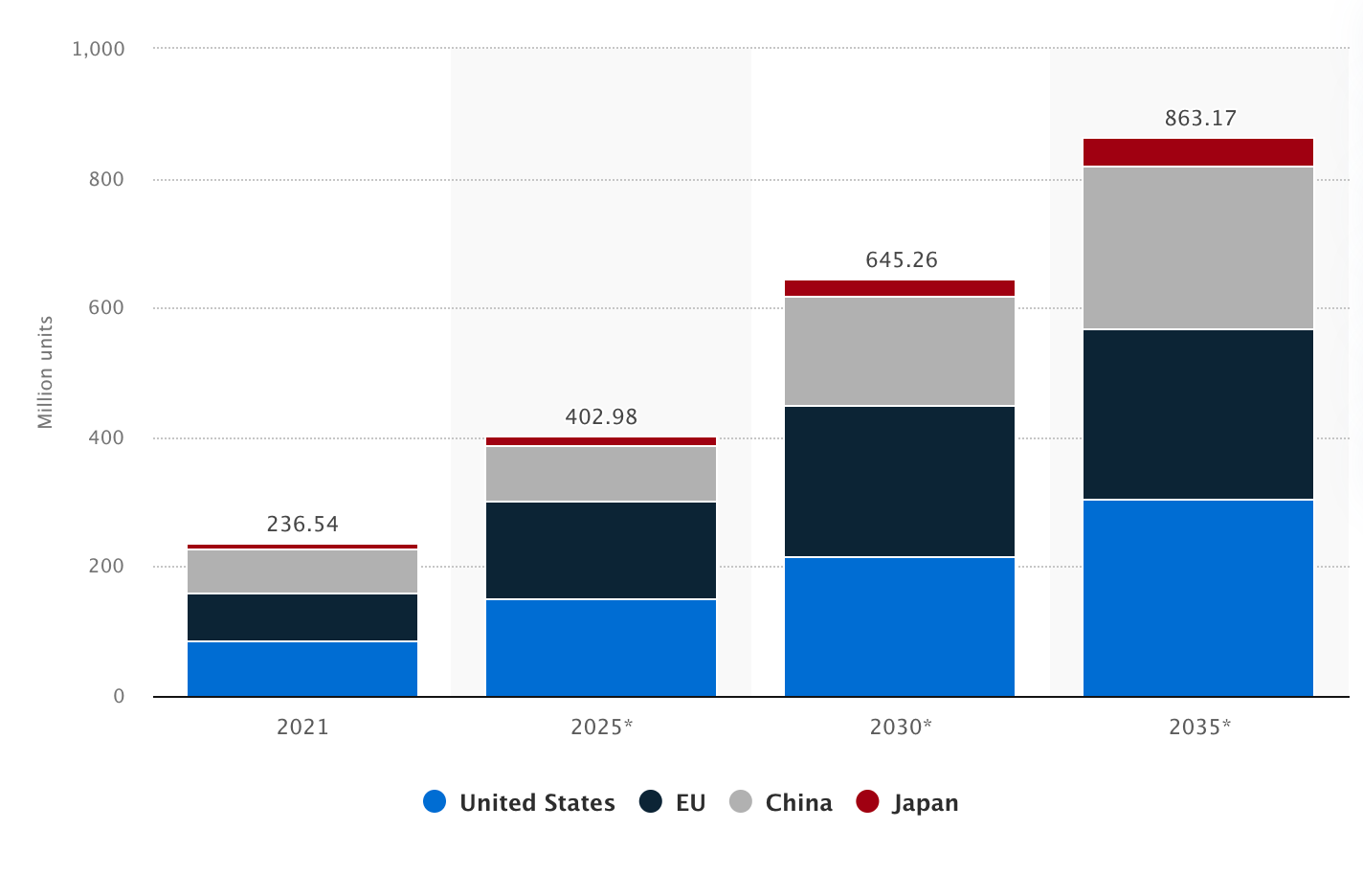 Source: Statista
This implies that while EVs are expected to be a growing percentage of future vehicles produced, the vast majority of vehicles being produced today are connected cars.
OTAs and Service Departments
Like smart phones and smart appliances, the connectivity features of cars can be controlled and updated through a technology referred to as Over the Air updates (OTAs). An OTA is a software improvement or upgrade that is sent from an OEM or industry software company directly to the vehicle through a wireless internet connection.
We are all familiar with technology updates sent to our phones that most of us initiate at night so we can wake up to their successful completion and implementation (if we remember to keep them on the charger). With connected features in automobiles, the technology is very similar. OEMs or product manufacturers can deliver updates or communicate directly with these features in times when the software is not working properly.
Auto-related OTAs are usually grouped into two broader categories:  infotainment and drive control. Infotainment refers to the touchscreen and features that combine information and entertainment to improve the in-vehicle experience. Examples of infotainment include maps/navigation, phone calls, and Bluetooth connection, music, and podcasts. Drive control refers to safety protocols to improve the performance of the vehicle such as system enhancements or corrections to powertrain systems, fuel efficiencies and engine emissions features, and advanced driver assistance systems.
This spring, West Virginia became the first state to introduce a bill that would ban auto manufacturers from offering OTA updates directly to vehicle owners – forcing visits to dealerships. Will other states follow?
Drive control features are typically less noticeable to the average driver. For perspective, MARKETSANDMARKETS estimates that the size of the global infotainment market is $20.8 billion and is expected to grow to $38.4 billion by 2027, at a compound annual growth rate (CAGR) of 10.8%. Another study by Acumen Research and Consulting estimates the entire global automotive OTA update market will grow by a CAGR of 18.1% through 2028.
What are the advantages to OTA updates?
Less or no in-person recalls – For software-related issues on connected features, an OTA could eliminate the need to visit the dealer.
Cost Savings – Vehicle owners can save time and money without having to visit the dealer, and OTA updates could mean significant savings for automakers in labor costs.
Additional Features – With OTA updates, certain features on the vehicle will continually be improved, potentially leading to a slower depreciation rate on aging vehicles.
Safety/Compliance – As new legislation and standards are enacted, such as emissions standards or autonomous driving, OTA updates would be able to address changes in a timelier fashion.
What are the disadvantages to OTA updates?
Fewer visits to auto dealers – What can be an advantage to a vehicle owner can be a disadvantage to an auto dealer. Service departments in traditional auto dealers rely on service visits to assess and recommend other service items in addition to the primary reason for the visit, such as tire rotations, brake repair, oil changes, and other routine and scheduled maintenance. The service department allows the dealer to maintain an ongoing relationship with the customer through these frequent touchpoints. The service department is historically the most profitable department in the dealership in terms of margin. To spin this positively, happier consumers may lead to more brand stickiness for dealers.
Cybersecurity – As with all technology and wireless internet connections, OTAs present risks of technology malware and theft or exposure of personal information.
Who will seek to capture and monetize the OTA update market? Just as Tesla has been the poster child for innovation and technology in the electric vehicle market, they have also implemented OTA updates as part of their operating strategy and ongoing revenue. Will the traditional OEMs try to monetize and capture some of the market through a subscription model, and will it be at the expense of auto dealers? A few other key players in the automotive OTA updates industry are Airbiquity, Continental AG, Blackberry QNX Software, and Hitachi, among others.
We recently attended the Spring Conference of the National Auto Dealer Counsel (NADC), and the topic of OTAs was discussed in a session presented by NADA. Specifically, Andrew Koblenz shared that the OEM's strategy regarding technology revolved around three premises:  improving the overall customer experience through such measures as single price selling, driving efficiency and eliminating unneeded costs, and optimizing downstream revenue opportunities through OTAs.
Perhaps the "right to repair" battle over OTAs is just beginning to intensify. This spring, West Virginia became the first state to introduce a bill that would ban auto manufacturers from offering OTA updates directly to vehicle owners – forcing visits to dealerships. The provision was later dropped as part of a larger bill. It will be interesting to see if other states will seek to address OTAs or whether OEMs and auto dealers can share the same vision for the increasing number of connected features in automobiles and how these features will be serviced and maintained.
Conclusion
Connected cars are here to stay. We will continue to monitor the issues presented by connected cars and their impact on auto dealerships. In the meantime, feel free to contact a member of the Mercer Capital auto dealer team today to discuss a valuation issue in confidence. Mercer Capital provides business valuation and financial advisory services, and our auto team assists dealers, their partners, and family members in understanding the value of their business.