The Electric Vehicle Race
Tesla vs. Everyone
Is Tesla's Grip On the EV Market as Iron Clad as It Once Seemed?
Electric vehicles have continued to gain momentum, forecasted to reach 3.55% of the U.S. market share of total vehicles by the end of this year. While this is still a relatively small portion of total auto sales, manufacturers continue to invest in their electric technology to prepare for a future in which electric vehicles may be the norm.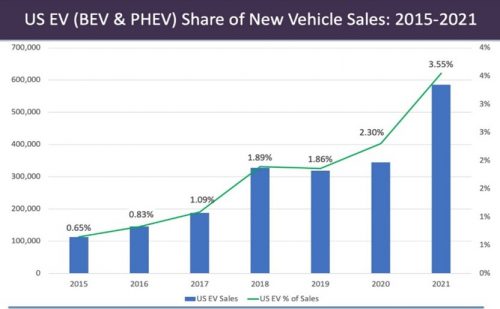 When you think "electric vehicles," there has been one brand that has established itself as a clear leader: Tesla.
Elon Musk, Tesla CEO, when he's not tweeting about Dogecoin or other memes, is solidifying the company as the go-to manufacturer for electric vehicles. According to data from Experian, Tesla accounted for 79% of U.S. EV registrations in 2020, with 200,561 of its electric battery operated vehicles registered.  This is an increase of 16% from 2019 when owners registered 172,438 Teslas.  Tesla has dominated the industry, with the three highest selling EV models since 2018 as seen in the graph below.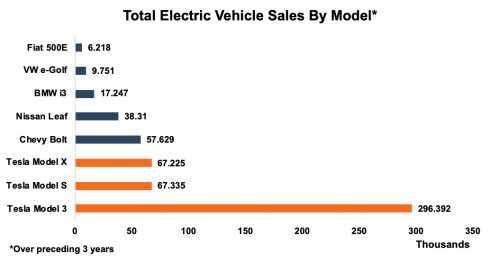 Tesla's Model 3 alone has more sales than all the other electric vehicles combined and when you consider the Model S and the Model X, there have been three times more Tesla vehicles sold than the trailing top 5 competitors.  While Tesla's dominance in the U.S. is clear, the graph below helps illustrate that Tesla's lead may not be as iron clad as it once was when looking at market share on a year-to-year basis.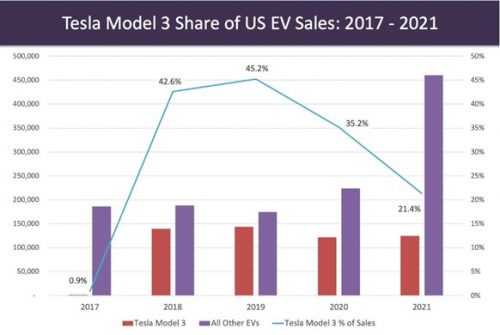 Tesla's Model 3 has been losing market share since 2019, largely attributable to the influx of new EV options in the marketplace.  In 2021, Model 3 market share is anticipated to drop even further, with expected new EV options diluting the market.  With more auto groups intent on gaining a slice of the pie, competition is expected to continue to steepen going forward.
Competitors
Who is challenging Tesla in the EV space? We have laid out the top competitors:
Volkswagen
After half a million diesel Volkswagen models were cited for violations in the 2014 emissions scandal, the company is clearly trying to clean up its image.  One way they are doing this is in electric vehicle initiatives.  In 2020, the brand delivered nearly three times as many pure-electric vehicles as they did the year before, up to 134,000 electric vehicles and 212,000 electrified cars in total worldwide.  By 2030, the company hopes that their fully-electric vehicles will account for more than 70% of the brand's European sales and a market share of over 50% in U.S. and China.
Deutsche Bank analysts have bullish predictions for Volkswagen.  As a team of analysts led by Tim Rokossa noted that with a new target for electric vehicles of 1 million this year, the majority of which will be electric battery vehicles, the German automobile maker should come "very close to Tesla's battery electric vehicle sales."  Volkswagen is already taking a lead in European markets, as they accounted for more than 22% of the market shares after 10,193 vehicles were registered.  This compares to Tesla's market share in 2020 of only 13% across the pond.  Looking forward, Volkswagen's ability to convert customers in the U.S. market will be crucial in gaining market share.
Stellantis
Like Volkswagen, Stellantis presents a substantial threat to Tesla's electric vehicle dominance in the United States after it has performed impressively in Europe.  The world's fourth largest car maker's electric vehicle share accounts for nearly 17% of the market share in Europe, trailing only Volkswagen. The company announced last Thursday that it would invest more than $36 billion through 2025 as a plan to accelerate in the EV race.  The company had already announced in April that they set out targets to offer an electrified version of nearly 100% of its models by 2025.  With this investment initiative is the bold plan of targeting 70% of European sales and 40% of U.S. sales coming from low emission vehicles by 2030.  The company has significant ground to make up in the U.S. markets in order to achieve this goal, and like Volkswagen, will need to focus efforts on conversion in this market.
Ford
Ford's sales of EVs expanded 117% in June, reaching a new first half sales record of 56,570 vehicles. Behind these figures were the success of Ford's fully electric Mustang Mach-E and F-150 PowerBoost Hybrid.  More importantly than just the recent increase is the fact that 70% of customers who bought the battery electric SUVs are new to Ford, meaning the additions may be helping them to capture market share.
Ford's ability to produce an electric pick-up, the F-150 Lightning Electric truck, makes them dangerous in a U.S. auto market driven by light truck sales (light trucks accounted for 75.9% share of U.S. auto sales in 2020). With Ford having the second largest total vehicle market share in the U.S., trailing only GM, their ability to convert current users of their traditional vehicles to electric will be just as important as gaining new customers in expanding their EV market share reach.
General Motors
The largest auto manufacturer of traditional vehicles in the U.S. is hoping to have success in the EV space as well.  The Chevy Bolt has the highest number of sales in the U.S. of non-Tesla brand vehicles. Additionally the company has committed to becoming an all-electric vehicle company by 2035, meaning there is significant investment in this business line that is occurring.  The company is also hoping to cut costs through making their own battery cells through a joint venture with LG Chem in Ohio.  A  facility is under construction and expected to be completed by 2022.  Like Ford, a key component in gaining electric vehicle market share will be converting some of their current users of traditional vehicles.
Batteries Are Key
Despite the encroachment of other traditional OEMs on Tesla in the EV space, the hurdle that they will have to overcome to catch up lies in one specific part of the vehicle: the battery.  It is currently a race to the bottom, with the battery costs in an electric vehicle being a primary reason that electric vehicles continue to be pricier more costly than traditional vehicles.  However, this price has been dropping, with Tesla leading the way.  Tesla has managed to drop their cylindrical cell battery pack down to around $150 per kWh last year, nearly an 87% decline from 2010 as seen in the graph below: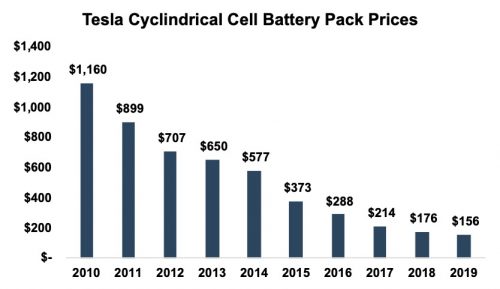 Tesla is the only automaker to use this type of cylindrical battery cells in its battery pack.  Its competitors, like those discussed above, use battery packs containing pouch or prismatic battery cells.  According to Cairn, these cost on average more than $200 per kWh in 2019.  Automakers are aware that even though they are throwing billions of dollars at batteries and EV production, Tesla's lead on the technology of these vehicles is undeniable. Colin Rusch, auto analyst for Oppenheimer notes, "At core there is really incredible battery technology within the organization and that is material science that they have been working on for well over a decade.  We think they have some substantial advantages on that."  Tesla competitors eager to get the edge on the EV giant will have to continue to invest in their battery technology in order to drive down prices.
The Real Winners
Though uncertainty remains surrounding whether or not Tesla will be dethroned in the U.S. EV space, there is one clear winner among all of this investment and competition: the consumer.  More investment into EV technology and competition between brands means that electric vehicles likely will become more readily available to car buyers at more affordable prices.  While Tesla is the largest player in the U.S. market, their image of luxury vehicles prevents many people interested in electric from joining the market.  Larger offerings of mass market vehicles will help to show the true demand that is there for these types of cars and trucks.
Additionally, auto dealerships also stand to benefit from this push.  With two thirds of car consumers interested in electric vehicles, they may present a unique opportunity for dealerships particular those whose OEM is able to produce the most attractive models.  However, there are some concerns about how EV's will affect the bottom line on the service portions of the business. A 2019 report from AlixPartners estimates that dealers could see $1,300 less revenue in service and parts over the life of each EV they sell.  If electric vehicles ultimately gain the market share that they are anticipated to, dealerships may need to become more savvy in mitigating these service and parts revenue declines.  Like NADA, we remain bullish on the role of auto dealerships in the EV sales process despite concerns regarding direct-to-consumer sales channels from the OEMs.  Additionally, dealership owners have expressed some concern over how OEMs will handle the EV units from their traditional dealership models. If OEMs continue to allocate units to each dealership, this presents an opportunity.  However, if they instead follow Tesla's lead and adopt a more direct to market approach to selling new units, this may pose a problem for dealerships.
If you would like to know more about the electric vehicle industry and what this all may mean for your auto dealership, feel free to reach out to anyone on Mercer Capital's Auto Team.