2018 NAPE Expo Observations & Thoughts
---
Mercer Capital again attended the NAPE Expo in Houston this past week.  People, information, and ideas abounded with over 11,000 participants and 800 exhibitors.
We met and had numerous discussions with company representatives, dealmakers, and service providers alike.  The marketplace remains excited about the potential for 2018.
A recurring theme of the Wednesday conference was restructuring and bankruptcy in light of the continuing bankruptcy activity in 2017.  The ramp up in M&A activity in 2017 was also discussed. We summarize that information here.
Restructuring & Bankruptcies
Success stories were presented, such as Samson Resources' CEO Joseph Mills discussing their successful emergence from Chapter 11 bankruptcy whereby approximately $4 billion of debt and $300 million in interest expense was discharged.
A panel discussion on navigating the distressed oil and gas world was thought-provoking.  The panel participants provided an overview of the 2017 bankruptcy environment as well as where we are headed in 2018 (including statistics and commentary).  From 2015 through October 2017, there were a total of 116 U.S. producer bankruptcies representing $80 billion of secured and unsecured debt.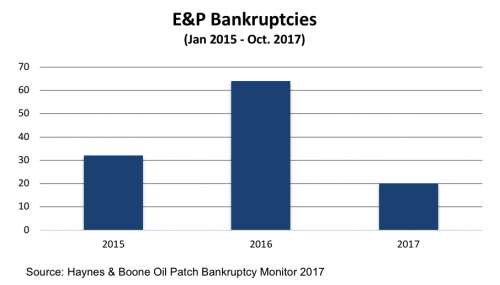 Because some of these bankruptcies were very large and complicated, the panel discussed the cost/benefit factors of various restructuring and bankruptcy scenarios.
Cautionary commentary acknowledged that it's expensive to file bankruptcy (sort of an oxymoron) and that even the best laid plans can fall apart when various creditors and equity holders come into contact in a bankruptcy court.  One panelist (Jason Binford) noted that it's also expensive and potentially fatal to wait to file bankruptcy. Many times there's a lot at stake as the table below demonstrates.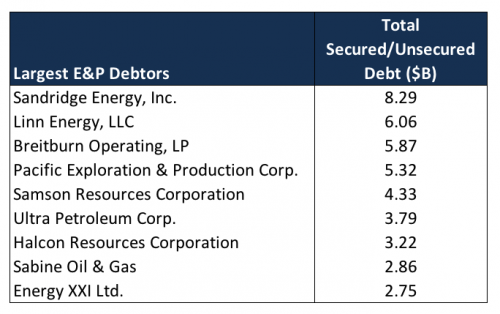 Strategies to avoid bankruptcy were categorized between internal & external options.  Internal options included (i) operational improvements, (ii) portfolio management, and (iii) liquidity management. External solutions included (i) capital markets/M&A, and (ii) liability management – including Chapter 11 bankruptcy, in which the audience was reminded that a company does not have to be insolvent to enter into Chapter 11.
3rd Party Valuations Can Be Critically Important in Bankruptcies
The importance and contentiousness of valuations was emphasized, particularly when equity committees believe that there is more value to the company than what other participants may think.  In those situations, a quality and persuasive valuation can be critical and be the difference between the court wiping out prior equity holders and replacing them with new equity holders.
The panel also advised not letting short-term price movements overly dictate strategy in this volatile priced industry.
Increasing M&A Activity Pace in 2017
Upstream M&A activity accelerated quickly in 2017; however, deal activity declined as commodity prices increased during the year.  There were 224 deals in 2017 (a 13% increase over 2016) totaling $181.97 billion (a 10% decrease).
Of the 224 deals, 106 were shale deals valued at $66.55 billion.  The most active basins were the Permian (unsurprisingly), followed by the Marcellus and then Eagle Ford.
From our standpoint, it was notable that on the Expo floor, away from the conference where shale plays took precedence, there was an incredible array of conventional, offshore, and international prospects that were still attractive and receiving attention.
Our Takeaways from 2018 NAPE Expo
Again, the marketplace remains excited about the potential for 2018.  The rise in commodity prices will likely not last through the year given the potential supply that is available to come online – whether through OPEC policy changes, reduction of DUC well inventory, or another means of changing supply and demand dynamics.
The U.S. upstream segment is well-positioned to continue to have positive economics due to increasingly efficient operations, technology, and innovation.
Thanks again to everyone we connected with this week.  The conversations were terrific, and we enjoyed getting to know all of you.  If you were there, let us know your thoughts and comments about NAPE.  We would love to hear them.  Have a great Valentine's Day!