What a Biden or Trump Presidency Might Mean for the Oil & Gas Industry
With the presidential election less than a week away, we believe it is timely to identify the potential domestic and international implications of each candidates' agendas as they relate to the oil and gas industry.  The election comes at a pressing time in the industry, with the next four years of U.S. oil and gas policy at stake.  Uncertainty continues to build as the election awaits and as two contrasting platforms face off.  As if COVID-19 and the Saudi-Russian price rift weren't impactful enough to the industry, an election year adds to the eventful list.  In this post, we discuss each candidate's political platform for the oil and gas industry.  The major topics and issues at stake include domestic production, infrastructure plans, OPEC+ engagements, and international sanctions.
U.S. Upstream
Prior to the COVID-19 demand destruction, U.S. oil production increased 3.9 million b/d from Trump's inauguration in January 2017.  President Trump's production initiative aims to increase domestic output to pre-COVID levels, aligning with his historical policies to maximize U.S. energy production while constraining the supply of international players.  The industry has a general consensus on what the next four years may look like under a Trump administration.  The last four years have been filled with unrestricted oil production and relaxed crude export barriers.  The greatest domestic impact could come from Joe Biden's initiative to oppose fracking on federal lands and waters.  Biden denied claims that he would ban fracking outright, instead stating that his platform would favor a ban on new fracking on federal lands and waters.  According to S&P Global Platts Analytics, eliminating the issuance of drilling permits for federal lands has the potential to shrink U.S. oil production by up to 2 million b/d by 2025, primarily from the Delaware Basin and the Gulf of Mexico.  During the final presidential debate, Joe Biden called for the U.S. to transition away from oil to address the environmental harm of climate change.  A Biden administration would look to re-enter the Paris Climate Agreement, which Trump pulled out of during his term, in order to prioritize the movement away from fossil fuel energy sources.  The push towards alternative energy sources could hinder domestic oil production compared to Trump's vision for the industry, which supports fracking initiatives.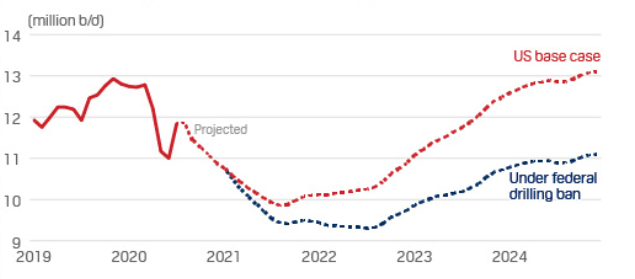 Source: S&P Global
Infrastructure
During his term, President Trump signed executive orders, making efforts to ease permitting for pipelines, ports, and other energy infrastructure projects.  His actions were challenged by many state governments and projects continue to face legal obstacles.  If Joe Biden is elected, he would likely raise the bar for infrastructure project permits by considering climate impacts.  For example, it is possible that Biden may deny the 570,000 b/d Dakota Access Pipeline a new permit, a move initiated by the Obama administration, leaving Bakken producers without capacity to transport roughly 300,000 b/d to market.  U.S. crude exports that rely on certain pipelines will be affected by these future build-out decisions.  Infrastructure orders that are initiated by either candidate will face pushback as it is common for state and local authorities to get involved.
OPEC+
According to the Dallas Federal Energy Survey, 74% of industry executives believe that OPEC will play a bigger role in the determination of the price of oil going forward.  This year has further illustrated the impact OPEC+ participants can have on the global oil and gas market, shown by the Saudi-Russian price rift.  During his term, President Trump urged OPEC+ to increase or cut supply on a number of occasions.  Most would agree that President Trump has been more engaged with OPEC+ than most of his predecessors.  Trump's international sanctions, which we will touch on below, have weakened the influence of OPEC's Venezuela and Iran, which in turn concentrated power with Saudi Arabia and Russia.  A Biden administration may not be as aggressive with OPEC+ compared to President Trump.  Although Biden has not detailed his approach to the OPEC+ players, some assume he will attempt to rely on quiet diplomatic channels behind the scenes.
International Sanctions
In November 2018, President Trump imposed economic sanctions on Iran and withdrew the United States from the Iran Nuclear Deal.  President Trump's approach to international sanctions on OPEC members Iran and Venezuela have decreased international oil production by approximately 3 million b/d, slightly more than 3% of world supply.  If President Trump is re-elected, he is expected to continue the sanctions pressure on the two countries, restricting Iran and Venezuela's oil exports.  If Biden is elected, Iranian oil exports could rise 1.8 million b/d by the end of 2021.  There is a possibility that Biden would amend the sanctions imposed on Iran, creating a partnered approach, assuming conditions are met, that would be similar to the deal struck under the Obama administration.  Global oil supply has the ability to dramatically shift, depending on each candidate's international sanctions approach.
Conclusion
We have examined only a number of categories of each candidate's proposed agendas and the impact each will have on the oil and gas industry.  As with all industries, the oil and gas sector is affected by many macro and micro factors that transpire over a long period of time.  The true impact of each candidate's policies, along with the policies that are already enacted, may not be measurable for years to come.  A summary of the key differences discussed above in each candidate's proposed agendas are as follows: