Eagle Ford – 2017/2018 Acquisition & Divestiture Commentary
---
Transaction activity in the Eagle Ford Shale has been fairly steady over the past 12 months, with the majority of transactions in the $100-300 million range.  The seller's rationale has most often been about balance sheet management and re-allocation to other plays, usually the Permian Basin.  However, the Eagle Ford area has some quality economics of its own, which has been attractive to buyers.  Many argue it has the best shale production economics in the U.S. next to the Permian Basin.  These differing strategy based swaps have been at the heart of transaction flow.  This has also led to consideration that Devon may sell its Eagle Ford division in search of returns elsewhere.  The chart below, drawn from Mercer Capital's newsletter, shows some details in regards to the transactions including some comparative valuation metrics.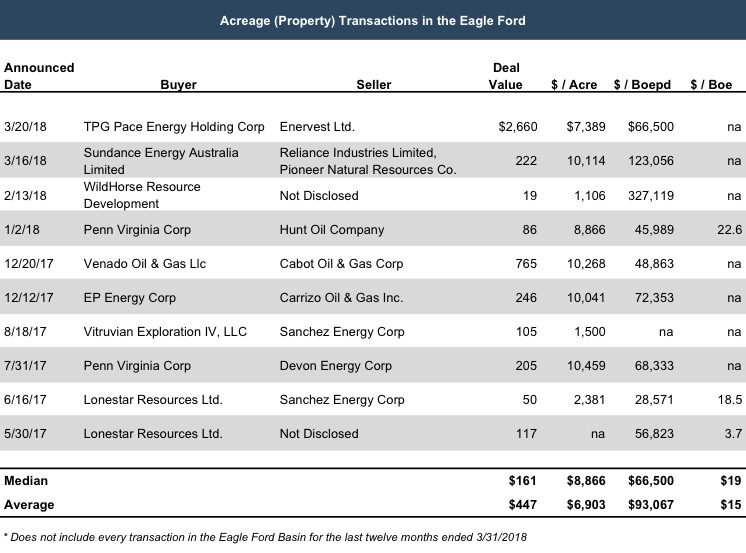 Magnolia – Blank Check Company forms a New South Texas Producer
The largest transaction in the past year was the recent announcement of a special purpose acquisition entity ("SPAC") coming to an agreement with certain Enervest controlled funds.  The result of the merger is the creation of a pure play Eagle Ford and Austin Chalk company with 360,000 net acres in South Texas.   The majority of that acreage is in what is known as the Giddings field which is an oil play in the Austin Chalk (mostly held by production).
Break-evens are claimed to be in the low $30's per barrel with one year (or less) paybacks in Karnes and Giddings field.  Magnolia1 is led by a former Occidental Petroleum executive, Steve Chazen, who has both short and long-term optimism for the opportunity.  Estimated EBITDA for 2018 is projected at $513 million including approximately $240 million of cash flow after capital expenditures.
Highest and Best Economics
Denver-based Sundance Energy Australia Ltd. struck a deal with Pioneer Natural Resource Co. to buy almost 22,000 acres and 1,800 boe/d of production in the Eagle Ford Shale, bolting on to an existing leasehold in South Texas.
The pure-play Eagle Ford player agreed to pay $221.5 million for the leasehold, which runs through McMullen, Atascosa, LaSalle and Live Oak counties. The transaction would give Sundance 56,600 total acres in the play, with an inventory of 716 gross undrilled locations.
Meanwhile, Pioneer was exiting to focus on the Permian Basin.  Pioneer announced in February it would put most of its resources going forward into the Permian and planned to sell nearly all "non-Permian" projects, including in the Eagle Ford, Raton Basin, and West Texas Panhandle.  The table below demonstrates why its desire to focus on the Permian was warranted.  However, one thing to note is that purchasing acreage in the Permian is much more expensive than the Eagle Ford, so drilling most likely needs to be based on existing acreage positions.

Overall, the Eagle Ford's economics are improving (Venado – a KKR backed Austin firm, made a $765 million purchase from Cabot that was based on this optimism).
About 61,500 net acres of the Venado position, which is located primarily in Frio and Atascosa counties in South Texas, is operated and about 9,400 net acres are non-operated. Production from the properties during third-quarter 2017 was 15,656 barrels of oil equivalent per day.
An interesting discussion on this acquisition can be found in this video:

Have a great week!
Endnote
1 In case one was wondering – Chip and Joanna Gaines are not involved.