M&A in the Permian: The Trend Continues
Last week, we looked at the recent transition of E&P companies out of the Bakken and the Eagle Ford to the Permian.  We concluded that E&P companies are moving to the Permian for its (1) upside potential, (2) low break even prices, and (3) diversity of resources.  This week M&A activity reinforced this idea.  In the last week, there were 18 E&P deals in the U.S.1  Seven of those transactions were in the Permian and over half of the total deal value generated ($768 million in total) from September 30 to October 6 was in the Permian.  Today we focus on two transactions: Resolute Energy's acquisition of Delaware Basin Acreage and Apollo and Post Oak Energy's merger to form Double Eagle Energy Permian.  Before we drill down the details of these transactions, here's a breakdown of total announced deal value generated in the U.S. this year.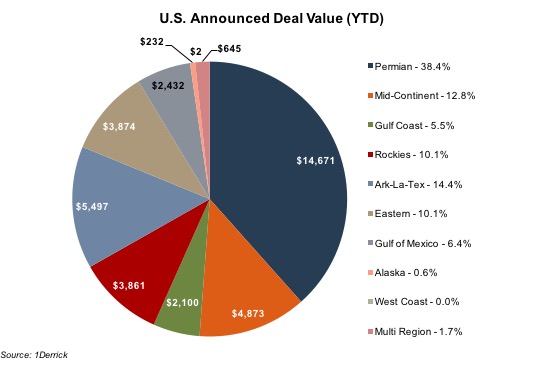 Resolute Energy / Firewheel Energy Transaction
Resolute Energy, a Denver based company, received notice twice in 2015 that it was at risk of being delisted from the NYSE and its EBITDA fell so low that the Company considered a Chapter 11 restructuring in late 2015.   The Company sold its Powder River and Midland Basin assets for $275 million which allowed it to reduce its debt and increase its drilling activity in the Delaware Basin. Since then they have more than tripled their Delaware Basin output.  They estimated third quarter output for 2016 to be between 16,000 and 16,500 Boe/d, which is a 37% increase from the second quarter of 2015.
On October 4 Resolute announced its acquisition of 3,293 acres in the Delaware Basin from Firewheel Energy, a portfolio Company of EnCap Investments. The acquired acreage will increase Resolute's position in Reeves County in the Delaware Basin by 25%, according to their press release.  The acquired acreage includes thirteen horizontal and fifteen vertical wells, which produce approximately 1,200 Boe/d.
Resolute's purchase price consisted of $90 million payable in cash and $45 million payable in common stock.  Although Resolute's stock had been at risk of being delisted just 9 months prior, the Company was able to increase the value of its stock by refocusing operations in the Permian, which investors have lately placed a premium on, and by participating in a one-for-five reverse stock split. This allowed the Company to fund this transaction with common stock and generate cash to fund the acquisition with an offering of a new class of preferred shares.
Resolute reported the value of the Proved reserves as $45.8 million and Undeveloped Acreage as $79.8 million.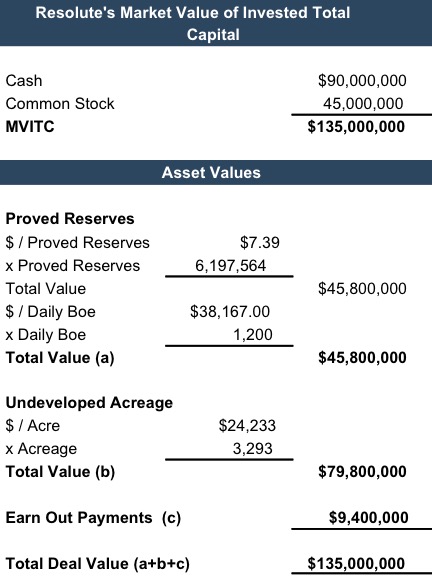 Double Eagle Lone Star LLC / Veritas Energy Partners Holdings LLC Merger
Two private-equity backed E&P companies recently merged their Permian focused operations.  Double Eagle Lone Star LLC, an affiliate of Apollo Global Management, assembled a portfolio of assets in the Powder River Basin, the DJ Basin, Mid-Continent, Eagle Ford and Permian. The Company sold its SCOOP (South Central Oklahoma Oil Province) and STACK (Sooner Trend Anadarko Basin Canadian and Kingfisher Counties) assets for $250 million in order to transition its focus away from Anadarko Basin in Oklahoma to the Permian in west Texas.  Veritas Energy acquired acreage mainly in the Midland Basin and Fort Worth Area and formed a partnership with Post Oak Energy Capital to focus on increasing acreage in the Midland Basin.  The two announced their merger on October 3rd.  The new Company will have more than 63,000 net acres in the Permian's Midland Basin.  The deal values were not disclosed.
Analysts with 1Derrick predict that the Company was formed in order to prepare for an IPO in order to take advantage of the high equity valuations of pure play Permian producers.  Industry averages of EV/ Boe of proved reserves are estimated to be $13.45, while Permian producers multiples are often higher than $25 / Boe.2
In order to prepare for an IPO, however, Double Eagle Permian will have to focus on developing its assets as only 70% of the assets are currently operated. The Texas Railroad commission reports that the combined Texas production of both Double Eagle and Veritas is about 3,000 Boe/d. The appeal of the Permian to market participants is the low cost of drilling. Thus in order to reach its full potential, the Company must be able to achieve the double-digit production growth that many of its peers have.
These two transactions demonstrate that market is currently placing high value on the equity of companies located in the Permian and E&P companies are doing what they can to take advantage of this.  Mercer Capital has significant experience valuing assets and companies in the energy industry, primarily oil and gas, bio fuels, and other minerals.  We have performed oil and gas valuations and associated oil and gas reserves domestically throughout the United States and in foreign countries. Contact a Mercer Capital professional today to discuss your valuation needs.
---
End Notes
1Only includes packages valued at greater than $100 million.
21Derrick