Each quarter, Mercer Capital's Exploration & Production Industry newsletter provides an overview of the E&P sector, including world demand and supply, public market performance, valuation multiples for public companies, and a region focus.  Mercer Capital closely follows oil and gas trends in the Permian Basin, Eagle Ford Shale, Bakken Shale, and Marcellus and Utica Shale.  Last quarter our E&P newsletter, focused on the Bakken Shale.  Today, we take a step back and review the broad characteristics of the Bakken Shale. Download this information in a convenient PDF at the bottom of this post.
Bakken at a Glance
First Discovered
1951
Discovery as Viable Play
2000
Primary Production
Oil
Oil Type
Sweet, Light Crude
Play
Unconventional Shale
Drilling
Horizontal, Multi-Stage Hydraulic Fracturing
Top 3 Production Companies
Continental, Whiting, Hess
Breakeven
$29 – $77 per barrel 1
Abnormal DUCs
526 2
Production Since 2007
2,517 MMBOE 3
Issues
Cost of Extraction & Cost of Transportation
Potential
Improving Technology, Dakota Access Pipeline Project, and Large, Undiscovered Quantities of Oil & Gas
1 North Dakota Dept. of Mineral Reserves Sept. 2015 county-level estimates
2 Drilled Uncompleted Wells with > 3 months in inventory as of January 2016; also referred to as fraclog (Bloomberg Intelligence)
3 EIA as of June 2016
Overview
At 14,700 sq. miles, the Bakken and associated Three Forks formation is the largest continuous crude oil source in the U.S. Discovered in 1951, it remained largely unproductive until 2000 when technological advances such as hydraulic fracturing and horizontal drilling enabled economically viable production of its sizable reserves.The region has struggled recently due to falling oil prices.
Geography & Drilling
The Bakken is primarily an oil producing region. It is made up of three layers: top and bottom shale layers, and a siltstone and sandstone middle member. The two shale layers function as source rock that traps oil in the middle member. Even this middle member, however, has low permeability and low porosity, making this a tight, unconventional play. Multi-stage hydraulic fracturing and horizontal drilling are used to extract oil, and pad drilling is commonly used to enhance efficiency. Underlying the Bakken shale layers is a more extensive, thicker shale play called the Three Forks. This layer is accessed using the same unconventional techniques, and is estimated to hold a little over half the undiscovered, recoverable resources of the total Bakken/Three Forks petroleum system.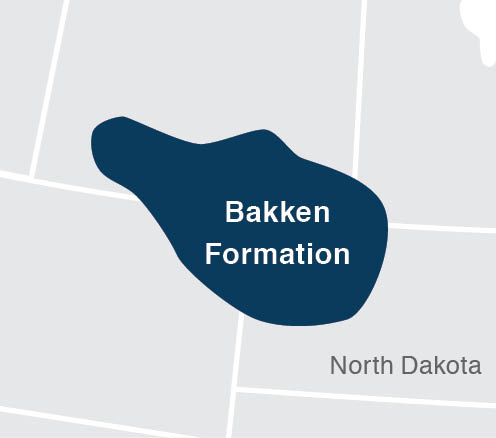 Issues & Future Potential
Limited shipping options from the Upper Midwest create high transportation costs in the play. In combination with the low price of oil and the use of advanced drilling techniques, this lack of transportation pushes the cost of production above the realized wellhead price for most wells in the play. Looking to the future, the Bakken will benefit from new pipelines, continued technological improvements, the likelihood of eventual increases in oil prices, and the formation's large remaining quantities of oil and gas.
Bakken Production

Undiscovered, Recoverable Resources in Bakken
Resource Estimate*
Oil
7,383 MMB
Natural Gas
6,726  BCF
Liquid Natural Gas
527 MMB
*Mean estimates in the 2013 USGS report.
---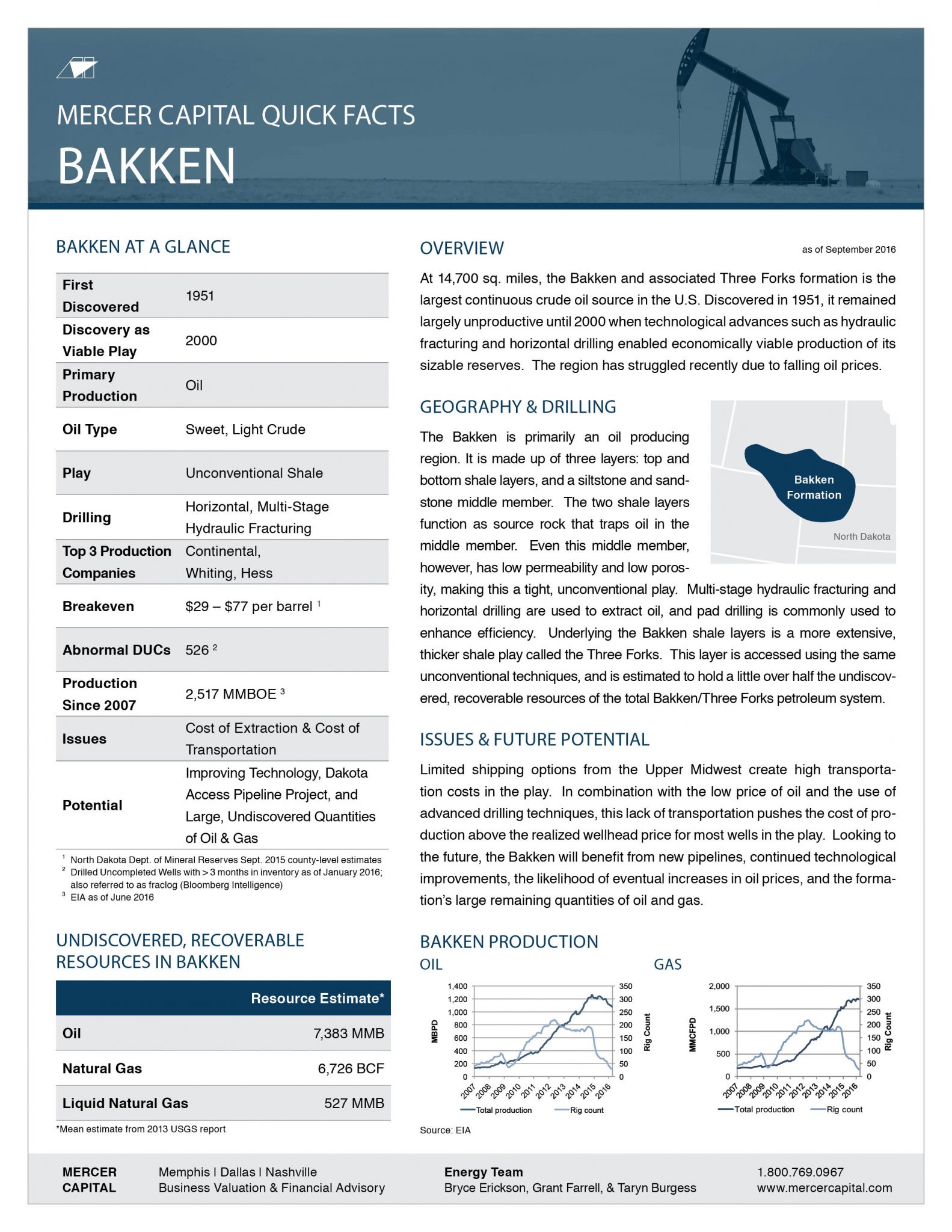 AVAILABLE RESOURCE
Quick Facts: Bakken
Download this information in a convenient, one-page PDF.
Download