Summer NAPE Expo: Observations & Thoughts
---
Mercer Capital attended the Summer NAPE Expo in Houston this month.  Founded in 1993 by AAPL, with the addition of IPAA, SEG, and AAPG as partners over the next several years, NAPE is a well-known venue for oil and gas professionals to meet, network, and do business; it was a terrific event.  The Expo also included a conference covering various industry issues.  The session speakers were mostly a mix of company executives and industry analysts, including Wood Mackenzie.  The presentations covered a number of supply and demand issues including:
Market efficiencies in light of the low-cost environment
Comments on various basins (Permian, Eagle Ford, Haynesville)
Continued growth of drilled uncompleted wells ("DUC's")
Market Efficiencies
There continues to be a relative market oversupply in both oil and gas.  According to Wood Mackenzie, there may be approximately 1700 TCF of natural gas that could breakeven at $3.00/mcf.  That's a 20-year supply for the U.S.  LNG is oversupplied because the U.S. is putting a ceiling on LNG prices.  However, there are signs of a move towards more of a balance; for example, we are starting to see some slight inventory drawdowns and the market may find creative ways to create demand for some of these plentiful resources.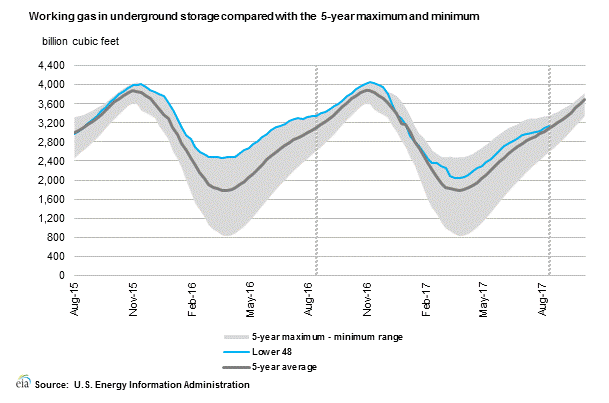 All of this is being accomplished in light of significant industry capex drops since 2014. However, we are starting to witness growth again in 2017 for spending. This is corresponding with the increase of rig counts.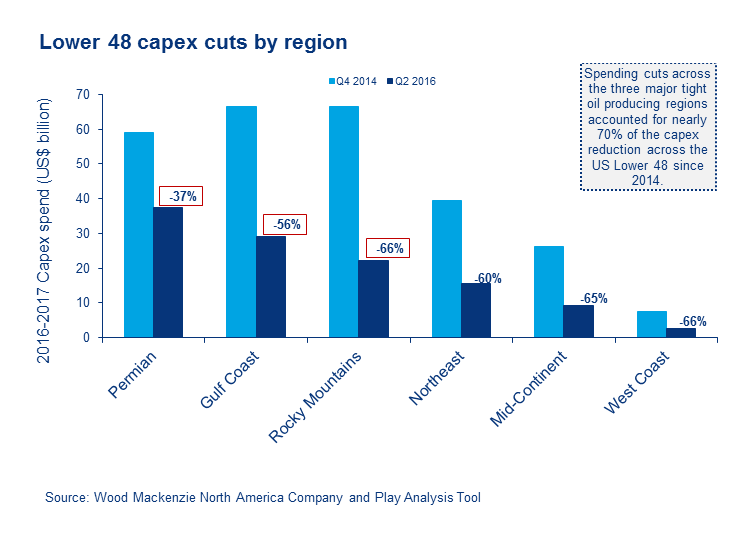 Basin Commentary
Analysts from Wood Mackenzie noted that the breakeven for new wells in the Permian Basin was at the bottom of the global cost curve.  Some areas of the Permian are at a $35 per barrel breakeven level.  In addition, it was mentioned that the Permian could match the Marcellus shale in natural gas production (to say nothing of oil and liquids) in the future.  This significantly differentiates the Permian Basin in comparison to other plays.
However, the Permian is not the only basin with favorable economics.  Technology and innovation have pushed other areas along.  For example, the Eagle Ford shale play is sustainable at today's prices and the Haynesville Shale has had a "roller coaster" of activity lately.  Some areas of the Haynesville can model gas as low as $2.40/mcf and still have a profitable well.  BP, Exxon, and Exco all have activity in the Haynesville area.
Continued Growth of DUC's
DUC's are growing quickly and the market continues to pay more attention to them.  In fact, the EIA this month included the Anadarko basin for the first time in its DUC data and drilling report.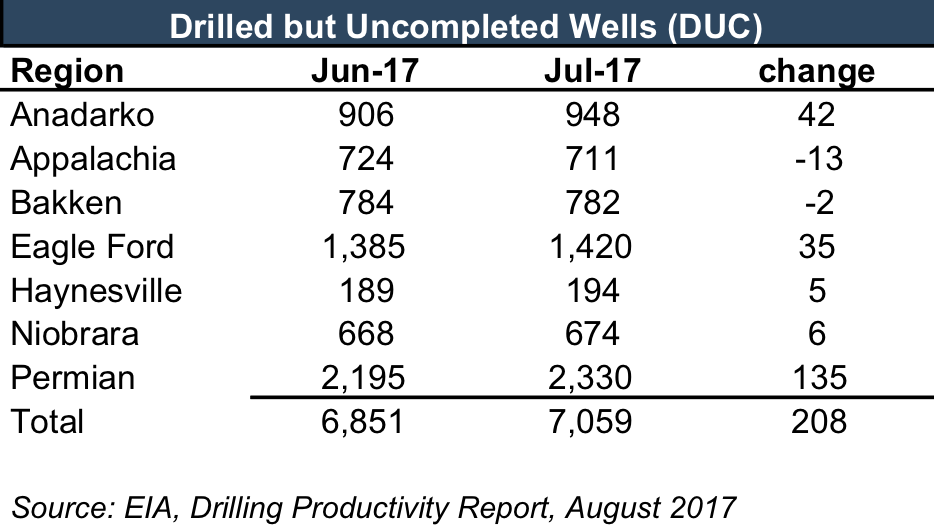 Two years ago this metric caught the industry's attention.  However, there are questions as to exactly how much potential inventory these DUC's represent.  It was noted that DUC wells may be comprised of lower estimated ultimate recovery (EUR) and may not have as much excess inventory as otherwise thought.
In addition, completion crews are taking longer to perform jobs than before (6-7 days as opposed to 4-5).  With drilling times going down and completion times going up, we are seeing a higher DUC count.
One other interesting drilling related note from the conference was that an emerging theme (previously rarely, if ever, discussed) on analyst calls for publicly traded companies has to do with the percentage of acreage controlled by companies that is held by production (HBP).  In fact, most of the Permian is 95% HBP – due to decades of prior drilling.  It appears companies want investors to know that there isn't as much of a requirement for companies to drill going forward.
Takeaways
The marketplace remains excited about the potential for the Permian Basin.  Although there continues to be a supply glut, the U.S. is well positioned to continue to have positive economics due to increasingly efficient operations, technology, and innovation.  More and more basins are beginning to catch up to the Permian in terms of efficiency and rig counts reflect this.
However, our biggest takeaway was meeting and getting to know a plethora of new people.  The conversations were terrific, and we enjoyed getting to know all of you.  We look forward to seeing you at future NAPE events as well.
If you were there, let us know your thoughts and comments about NAPE.  We would love to hear them.  Have a great week!