A Tale of Two Bakkens: Cashing Out or Doubling Down
---
Transaction activity in the Bakken shale was both busy and revealing in the second half of 2017.  Many of these deals marked the departure of a number of companies that were known to be active in the play, particularly Halcon Resources. Other companies, however, have remained. The table below, drawn from Mercer Capital's 3Q17 Bakken-focused newsletter, shows some details in regards to recent transactions, including some comparative valuation metrics.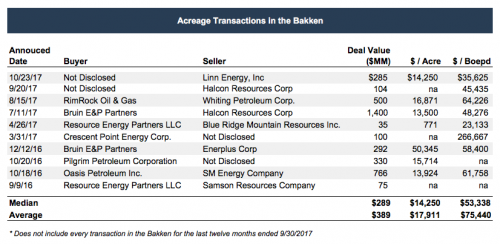 Cashing Out
The first major transaction was Halcon's $1.4 billion sale of the majority of its North Dakota operations to Bruin E&P Partners LLC (a private company).  Through this sale, as expected while resurfacing from bankruptcy, Halcon shifted focus to the Permian Basin.  In addition, the Company cited the possibility of an outright sale as well.  Two months later, Halcon sold its remaining Bakken assets (about 2,300 boe/day of production) for $110 million.
In addition Earthstone Energy, and more notably, Linn Energy exited the Bakken in the past several weeks. Linn entered the Bakken play in 2011 by buying out a position previously held primarily by Concho Energy for $434 million. They exited for $285 million which was approximately a 1.5x multiple of the PDP value of $186 million as of YE 2016.  It appears that Linn struggled with maximizing its production profile in light of the major price shift in 2014.  Earthstone Energy also left, with a small $27 million non-operating sale.  They, too, are shifting their focus to the Permian Basin.
Valuations for these transactions were relatively tight. The Linn and larger Halcon sales were priced around approximately $14,000 per acre. The Earthstone deal was much smaller, and its valuation on a per acre basis was much smaller as well at around $1,100 per acre.
Doubling Down
However, amid the struggles of these other operators, Whiting and Continental demonstrated signs of commitment and improvement in the Williston Basin.  Whiting sold its acreage position in Dunn County, North Dakota for $500 million. This amounted to a pricing of around $17,000 per acre, a premium to the Linn and Halcon sales.  This, of course, is a relative bargain on a per acre basis compared to the pricing in the Permian these days. Then again, the economics between the two basins at current pricing is also a far cry from each other, with the Permian having clearly superior characteristics.  Nonetheless, this did not signal an exit for Whiting, but was a signal to reduce leverage and give it balance sheet flexibility for its remaining Bakken acreage.  Whiting is optimistic that recent improvements in oil pricing differentials and improved enhanced completion techniques will press to its advantage going forward in the play.
While Whiting has not yet been able to scale its optimism, Continental has surprised many in the past year with its recent performance.  In light of the challenges of the play, Continental has continued to improve its drilling and completion techniques, while elements they can't control (such as oil prices) begin to swing back in their favor.  As such, they have dropped LOE's and G&A to the lower end of their peer range, while netbacks are rising.  All of this has happened, while many peers (as demonstrated above) have struggled or are leaving the area.

Not all is the same.  Performance and valuations in the Bakken appear to be mixed and right now it appears that the operator's skill and knowledge is as important a value driver as the acreage they drill on.
Mercer Capital has significant experience valuing assets and companies in the oil and gas industry, primarily oil and gas, bio fuels, and other minerals. Our oil and gas valuations have been reviewed and relied on by buyers and sellers and Big 4 auditors. These oil and gas-related valuations have been utilized to support valuations for IRS estate and gift tax, GAAP accounting, and litigation purposes. We have performed oil and gas valuations and associated oil and gas reserves domestically throughout the United States and in foreign countries. Contact a Mercer Capital professional today to discuss your valuation needs in confidence.