A Lifelong Succession Plan
Lessons from the Arnault Family
A recent series of articles from the Wall Street Journal has profiled the career of Bernard Arnault, founder of French luxury goods conglomerate LVMH Moët Hennessy Louis Vuitton (LVMHF).  The company produces and sells 75 brands of high-end consumer goods covering wine, jewelry, hotels, and fashion.  Mr. Arnault serves as CEO and Chairman and is the controlling shareholder.  The company's stock has been on an extraordinary run since the onset of the COVID-19 pandemic in March of 2020, as affluent consumers flush with cash snatched up the company's products in the absence of other alternatives during the various pandemic lockdowns of 2020.  More recently, China's loosening of COVID restrictions unleashed a massive market for luxury goods, further propelling the stock's performance.  This performance has made Mr. Arnault the world's wealthiest person, overtaking tech giants Elon Musk and Jeff Bezos for this claim.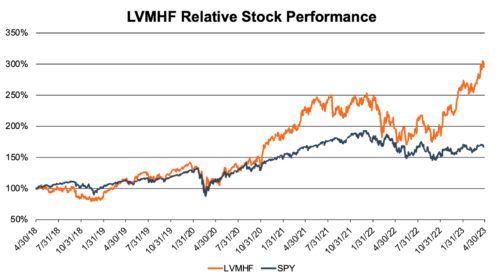 Mr. Arnault is revered worldwide for his business acumen.  While nurturing generations of artists and designers within the company, Mr. Arnault has also led numerous corporate takeovers of struggling luxury brands throughout Europe and abroad, earning him the moniker "Wolf in Cashmere." Mr. Arnault's rare combination of creativity and pragmatism has built LVMH into the world's foremost purveyor of luxury goods over its 35-year history.  Mr. Arnault is currently 73 and has reportedly consumed himself for decades with preserving his empire by succession.  While LVMH is presently the largest company in Europe by market capitalization, Mr. Arnault has steadfastly run the company as a family business.  With five children, all of whom are heavily involved in the senior leadership of several of the company's most visible brands (Dior, Tag Heuer, Vuitton), Mr. Arnault has a built-in team ready to take over LVMH once he decides its time to retire and play tennis full-time with Roger Federer.
The most practical family business applications of Mr. Arnault's career come in his relationship with his children.  While Mr. Arnault has not yet publicly named his successor nor even acknowledged if his successor will be one of his children, he and his advisers have taken careful steps over the years to ensure that the company remains under family control.  Recently, Mr. Arnault restructured the family holding company that owns a 97% stake in Dior, which in turn owns roughly 47% of LVMH and over 60% of the LVMH voting rights.  This restructuring gave each of his five children a 20% stake in the holding company.  In addition, the agreement stipulates that the children cannot sell these interests for at least 30 years without the unanimous consent of the board and that the interests must be sold to direct descendants of Mr. Arnault (i.e., his grandchildren).  The restructured commandite (the French equivalent of a limited partnership) also has a two-year rotating chairmanship, which passes among the five children.
The children have literally grown up in the business.  From tagging along with Mr. Arnault to negotiations at an early age, they can quickly resolve disagreements, given their early indoctrination that the company should always come before any personal interests or conflicts.  This early training, combined with world-class educations from institutions such as MIT, Imperial College London, and École Polytechnique, has paved the way for Mr. Arnault's children to ascend to their current leadership roles and created well-qualified candidates for the eventual replacement of Mr. Arnault himself.  Mr. Arnault's careful (he deliberately avoids pitting the siblings against one another as rivals) but deliberate internal succession planning serves as a model to which family business owners across all industries can aspire.     
With this in mind, recall the post from last week recapping Mercer Capital's attendance at the Transitions 2023 Conference.  There, Travis Harms and Nick Heinz presented five questions about developing good family business owners.  In the section below, we expound on these questions in the framework of Mr. Arnault's stewardship of his legacy and business through the deliberate succession planning processes he and his children have undertaken over the past several years.
How has your family encouraged shareholders to take a long-term perspective?
Mr. Arnault and his family have taken the long-term perspective regarding their business, particularly through the recent restructuring of the holding company.  However, Mr. Arnault distilled this perspective in a recent quote to the Wall Street Journal: "When you create desire, profits are a consequence." This maxim speaks to the family's dismissal of near-term results, profits, and stock performance as indicators of success.  To truly create something meaningful, Mr. Arnault and his family first focus on cultivating great brands and products that will inherently generate profits, given their impact and desirability.
What steps does your family take to prepare individuals to become shareholders?
Creating stewards of his wealth and legacy through family ownership has been one of the primary objectives of Mr. Arnault's life.  From taking a personal interest in his children's educations by tutoring them himself to giving them increasingly important roles in the organization, Mr. Arnault has been preparing his children to become shareholders their entire lives.
How much financial information does your family business share with owners? How often?
While this question is not directly applicable to the Arnualt family, as LVMH is publicly traded and therefore subject to disclosure requirements, Mr. Arnault has repeatedly demonstrated the ability to remain focused on long-term product and brand-based goals rather than short-term financial results. He's even gone so far as to say: "You cannot dream when you talk numbers." Mr. Arnault has claimed he doesn't even look at the LVMH stock price.  While we encourage family business owners to remain grounded in the financial realities of their companies, Mr. Arnault's relentless focus on long-term objectives and outcomes is something to admire.
How does your family deal with shareholders who are not being good owners?
This question can be answered by examining the recently restructured Arnault family holding company.  The rotating two-year chairmanship creates a level of accountability among the children, making it nearly impossible for them to be bad owners.  While taking on the leadership of a multi-billion dollar enterprise is not a practical means to hold most family business owners accountable, increased responsibilities among owners can foster a spirit of accountability throughout a family ownership group.  The onus of shouldering such a burden on behalf of the family business, and ultimately, the family legacy, can often be a powerful motivating force for family business owners.
How does your family solicit input from non-director shareholders?
A defining aspect of the Arnault children's upbringing in LVMH has been their relationships with the company's senior managers from outside the Arnault family.  In part, Mr. Arnault's success as a manager can be attributed to the autonomy he gives managers of the 75 brands to make decisions within their realm.  These managers have, in turn, imparted wisdom from their independence to the Arnualt children through mentor-based relationships.  This model for knowledge transfer can be applied in many family businesses.  Non-family experts, whose processes and experiences are free of the bias sometimes created by family dynamics, can be valuable resources to pass on business knowledge and success to potential up-and-comers from within the family.
Bernard Arnault and his children present a unique, large-scale case of clearly defined and equitable succession planning to ensure their family business's future for generations to come.  If you'd like to explore what this could look like in your own family business, please feel free to reach out to one of our seasoned family business professionals.