For hundreds of years, various Chinese dynasties prevented the dissemination of their sericultural secrets along the Silk Road by punishment of death. If anyone were caught smuggling a silkworm egg or cocoon or revealing any information about silk production, well, it would be off with their head. While axes have fallen out of fashion as the weapon of choice for protecting intellectual property, some might argue that they have been replaced by the equally controversial non-compete agreements (NCAs).
In an attempt to promote innovation in technology industries, Massachusetts is considering the adoption of policies to all but eliminate employee non-compete agreements (certain sales of a business are one exception), modeled after California legislation where courts have essentially refused to enforce them. The business sale exception would permit non-compete agreements when the restricted party owns at least 10% of the business. Massachusetts is also considering adoption of The Uniform Trade Secrets Act as part of the same bill, which allows former employees to join or start competitors but still provides a legal framework for the protection of proprietary secrets.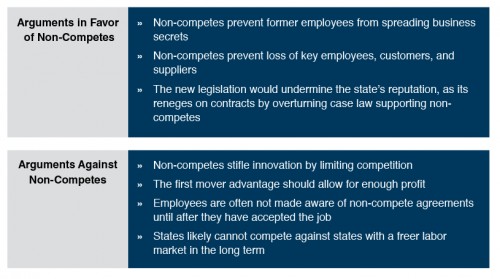 The value of a NCA in the context of a transaction is its ability to reduce the risk of business acquisitions by minimizing loss of employees, customers, and suppliers. For employers, NCAs can protect against employee and client poaching when employees leave for a competitor. When valuing a NCA, an analyst would consider the impact of competition (amount and duration) projected into the future, multiplied by the likelihood of competition (ability and willingness), discounted back to the present at an appropriate discount rate. Enforceability has always been an issue with NCAs, but threat of action is often enough to prevent a seller or former employee from reentering the market. This new legislation would highly limit the enforceability of employee NCA's and could bring NCA's in buy-sell agreements into question, removing any value of the former and potentially reducing the value of the latter.
While opinions are split, the winds of change may be blowing against covenants not to compete: California and North Dakota have already adopted similar policies and some data suggests that Massachusetts's inability to compete with its tech-rival California is because of its rival's freer labor market.
Mercer Capital regularly values non-compete agreements and other intangible assets in the context of financial reporting and tax-related engagements. Please contact us to discuss your valuation issues in confidence.
---
Mercer Capital monitors the latest financial reporting news relevant to CFOs and financial managers. The Financial Reporting Blog is updated weekly. Follow us on Twitter @MercerFairValue.