We started writing weekly about fair value reporting on this blog in 2013. While not knowing exactly what we were getting into, we hoped that the discipline of weekly commentary on topics related to fair value measurement would keep us sharp and prove helpful for our clients and friends.  Looking back over more than three years and 150 posts, it seemed an opportune time to review our posts and compile what might, for lack of a better term, be called a "Greatest Hits" collection of our favorites.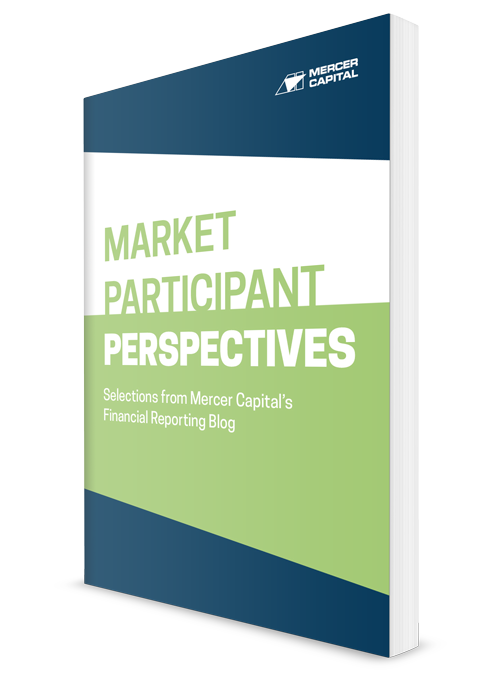 To that end, we have published a collection of these posts in a book entitled Market Participant Perspectives: Selections from Mercer Capital's Financial Reporting Blog. The posts in this collection are grouped by primary topic:
Fair Value & Regulatory
Impairment Testing
Purchase Price Allocation and Intangibles
Portfolio Valuation
Equity Compensation
For our existing clients and blog subscribers, we hope that the book uncovers a post or two of interest that you might have missed the first time around.  For clients that we haven't met yet, there's probably no better introduction to our team than the collection of posts in this book.  As you will see from the breadth of contributors to this effort, we have assembled a great group of thoughtful, hardworking professionals focused on serving our clients.  Ordering information for the book can be found here, as well as below. Let us know how we can help you.
---
Format: Paperback
Price: $14.99
Page Count: 197 pages
Publication Date: November 2016
---
Mercer Capital monitors the latest financial reporting news relevant to CFOs and financial managers. The Financial Reporting Blog is updated weekly. Follow us on Twitter at @MercerFairValue.