SAAR has continued its impressive run in 2021, increasing for the second straight month to 18.5 million.  This is a 3.1% increase from March 2021.  As we have mentioned in our previous SAAR blog post, comparing spring 2021 SAAR to 2020 does not hold much merit, especially in April which experienced the weakest sales of the pandemic in 2020.
For those of you who are curious however, April SAAR is up 112% from last year.
Compared to April 2019, a better comparison in our view, April 2021 is up 12.1%. Because of strong demand, OEMs continue to rely less on incentive spending. According to JD Power, average incentive spending per unit in April is anticipated to be $3,191, a decline of $1,762 from April 2020 and $382 from April 2019.  Still, average transaction prices are expected to reach another month high, rising 6.8% from last month to $37,572.  This is the highest ever for the month of April and the second highest of all time behind December 2020. Incentive declines and price increases serve as a major win for dealerships this month.
In regards the expected April statistics, Thomas King, president of the data and analytics division at JD Power notes:
"While falling numbers of vehicles in inventory at retailers is the primary risk to sales results in the coming months, to date, low inventories have not had a material effect on aggregate sales results. Instead, they have enabled manufacturers and retailers to reduce discounts and consumers are demonstrating a willingness not only to buy vehicles closer to MSRP, but also to buy more expensive vehicles."
Inventory Scarcity Continuing to be in Play
Though pent-up demand and higher levels of disposable income continued to drive SAAR growth this month, a surprising factor we considered to be a headwind may have actually boosted sales for the month: the microchip shortage. As the shortage continues to drag on and has started affecting other industries and big names (such as Apple), the shortage has become a household topic and consumers are taking notice. Behind the increase in April SAAR may be consumers rushing to dealerships to snag a vehicle before they become more difficult to find in the coming months.
Automakers, keen on not having to completely shut down productions, are trying to work around the chip shortage by removing features, which may be incentivizing consumers to pay up for them now.
As Automotive News reports, Nissan is leaving navigation systems out of thousands of vehicles that typically would have them because of the shortages. Ram no longer offers its 1500 pickups with a standard "intelligent" rearview mirror that monitors for blind spots. Renault has stopped offering an oversized digital screen behind the steering wheel on its Arkana crossover. All of these feature cuts being for the same reason: to save on chips.  This may become more prevalent going forward this year as the chip shortage is anticipated to continue.
Despite automaker's best efforts, inventory levels are suffering. While April inventory levels are not available yet, NADA forecasts that they likely will be at a decade-long low with no relief in sight.  According to BEA, the inventory to sales ratio for March (the most recent data available) is at the lowest levels of the reported data going back to 1993, at 1.36 (though the chart below only shows data through 2015).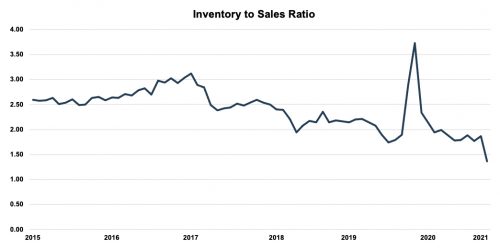 According to Auto Forecast Solutions, the semiconductor microchip shortage has caused worldwide production to fall off to 2.29 million vehicles.  Current forecasts put projected total vehicle production losses from the global chip shortage at 3.36 million units, with 1.11 million from North American production.
With production flagging, dealers are having to draw down inventories to maintain and grow sales. However, April's strong sales figure is unlikely to be sustainable as inventories cannot be drawn down forever, which explains why NADA forecasts 2021 SAAR of 16.3 million, or 11.9% below the April figure.
Fleet Customers Suffering
While the inventories of auto dealers are down,  inventories for fleet customers are down even more, as OEMs continue to prioritize production for retail customers over fleet customers. Retail sales in April are estimated to be up 114% from April 2020 and up 23% from April 2019 according to Wards Intelligence. Meanwhile, fleet deliveries increased by 88% from April 2020, but fell by 42% from April 2019.
This is especially poor timing for fleet customers as travel has begun picking up again and rental car companies and other fleet buyers are in need of inventory as many had to sell chunks of their fleets in order to preserve money during Covid-19, creating a situation that many are referring to as "car-rental apocalypse." Due to the new car shortages, they are having to look elsewhere.
As Yahoo News reports, Hertz is "supplementing its fleet by purchasing low-mileage, pre-owned vehicles from a variety of channels including auctions, online auctions, dealerships, and cars coming off lease programs," a Hertz spokesperson told Insider in an email statement.
The result of all of this is that rental cars may cost consumers over $500 a day for an SUV, compared to prices of $50 a day 2 or 3 years ago.  Until the chip shortage is back under control, travelers may be stuck having to pay sky high prices for rental vehicles on their next vacation.
Looking Forward
The best phrase we can think of to describe the auto industry going into May is "something's got to give." While demand for vehicles is still being fueled by pent up demand and traveling picking back up due to Americans getting vaccinated and a return to normalcy, the microchip shortage isn't going away anytime soon.
According to Mike Jackson, AutoNation's CEO, that expiration date might even be 2022, as he notes "we performed despite the disruption from the shortages created by the chip disruption, which we expect to fully continue for the rest of this year."
Stay turned for our blog next week when my colleague David Harkins breaks down the Q1 earnings calls and what the other leaders in the industry are noting about this year's prospects.
However, despite the lack of chips, if consumers are willing to make some sacrifices in terms of the number of features their vehicle has, SAAR may not see huge declines. If that is not something they are willing to do, the supply constraints may hinder SAAR's recent run.